What is in a Fairy Garden Anyway?
Have you ever heard of a fairy garden? Are you wondering what they are and what is in a fairy garden? In essence a Fairy garden is a miniature garden space complete with living plants (usually) and other fairy features.  They are really fun to create and with these tips surely you will lure some fairies to your garden space as well!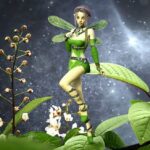 Every fairy garden is unique but each one usually has the following basic staples;
Soil, plants, ground cover, and ornaments!
It seems simple, however the combinations of these four components are limitless!
Once you have these basics, your fairy garden is off to a great start! You can always add more elegant details later. There are many fairy legends from all over the world . Fairies supposedly are good luck and are said to be drawn to spaces that have been lovingly arranged just for them.
So let's get started and learn about our first component:
Soil
When it comes to soil, keep it simple! Unless you want to use a particularly finicky plant like orchids or indoor azaleas, basic potting soil will do fine for most projects.
I prefer organic potting soil that does not have any harmful chemicals in it for several reasons. (The main one is that I have small children.)
Helping to set up the fairy garden can be a fun way to introduce children to plants and gardening in general! Children, in most cases, are already drawn to nature. The wonder of the world around them has not yet lost it's allure. With this in mind, you can set up the garden project on a tabletop so you can both be on the same level, and show them how to connect with the natural world around them.
This also means, however, that since this will potentially be a relatively easily accessible miniature garden, that the likelihood of a mouthful of fairy garden dirt being unexpectedly and quickly ingested out of curiosity might be higher. (We have not yet experienced anything of the like… yet, but just in case.)
Whatever basic indoor potting soil you prefer to use will surely get the job done. You also want to consider drainage. If you water your garden too much, the roots can get water-logged and start to rot and die -which is no fun.
Putting a small layer of rocks on the bottom of your planter or pot will help. Then the soil on top of that and you are good to go! Now your fairy garden is ready for some greenery!
Plants
Fairies love nature! You don't need to have the best or most exotic plants in your fairy garden. Just make it a growing, thriving space for a fairy to call home, or vacation spot!
Which plants will you put in your very own fairy garden? The first thing I consider when selecting plants is the level of maintenance, then secondly the appearance.
If you want a easily maintained garden, but install a high maintenance plant, you will end up with a stagnant or dying garden. Plant selection is a thing one should put just a bit of forethought into.
(For the purposes of this article and ease of reference, I will be using the common names for plants.)
Low maintenance plants
Devil's Ivy/Pothos (Probably the easiest of all!)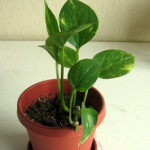 Taller plants for a little dimension and height variety:
Vipers Bowstring Hemp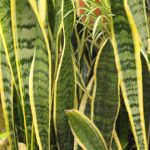 ZZ plant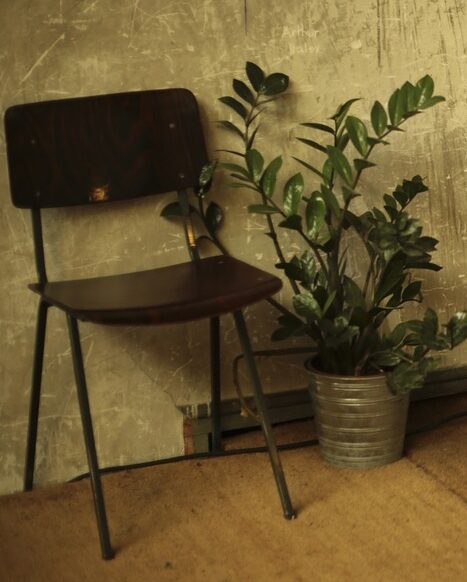 For those that want to try a flowering fairy garden:
Begonias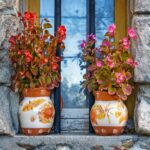 African Violets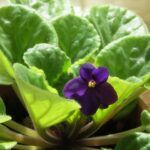 Medium maintenance plants
(Keep these out of direct sunlight.)
Asparagus fern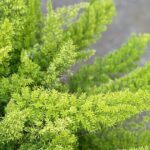 Peperomia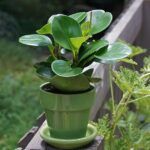 (Let the soil dry out completely before watering again.)
Succulents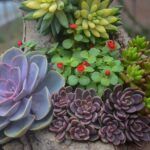 English Ivy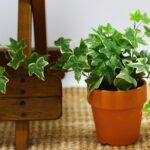 Heartleaf Philodendron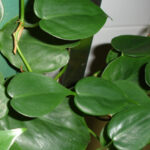 Flowering plants that have specific needs:
Christmas cactus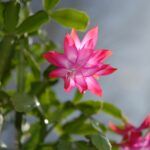 Desert Rose
High maintenance plants
Appealing color from foliage:
Zebra plant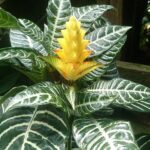 Croton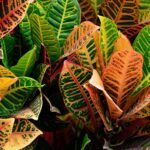 Wandering Jew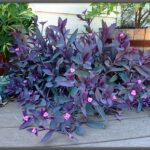 Full foliage plants, these can be a bit finicky:
Boston fern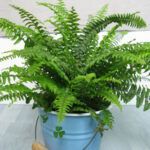 China doll plant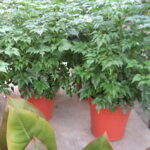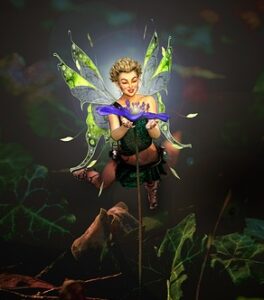 Whichever plants you choose to place in your fairy garden, the basic space, light, humidity/moisture and pruning requirements  must be remembered to ensure a well tended and flourishing oasis.
Ideally the plants that are taller will be in back, with low ground covering plants in front. If you have any ivy you want to place, try to put it near the edge to allow for it to drape over the side.
Ground Cover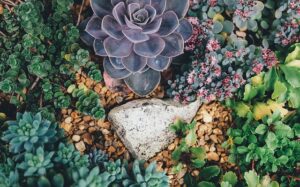 You've got your foundation for healthy growth in your soil, and your plants in place… now what?
Ground cover! Fairy garden ground cover is a category that can be widely varied. You can have a rocky outcrop or a lush jungle!
You can use things like grass cut from sod or a well maintained lawn for larger installations, a patch of moss or clover, or some larger ground cover plants like mini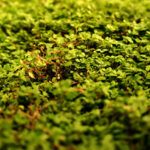 stone crop or green baby tears to fill in small spaces. You could also use stones, pebbles, or sand.
Use a variety! Using moss on two sides with sand or pebbles placed in between is the perfect way to create a fairy garden path!

Ornaments
Finding Ornaments
When it comes to furnishing your tiny magical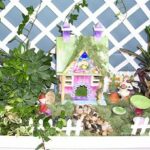 creature's living space, don't feel bound by any convention or particular idea… unless you've got something specific in mind of course.
You have the ability to be spontaneous and creative using things you go out and find in your very own backyard or park! You can order entire setups online that include everything you need, or just a particular figurine you have your eye on.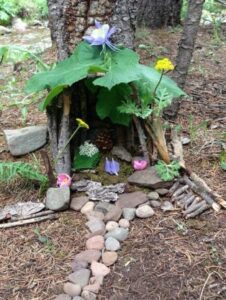 Items made from nature are sometimes harder to plan out, because you have to go with what you find/what's available to you.
You also have the ability, in today's online marketplace, to find others who might just have that crescent shaped rock you've been looking for to use as a cave for that fluorite carved bear figurine in your next fairy garden project.
Or you can just go out on a gathering adventure to your local creek and see what strikes your fancy.
Think tiny! For example someone looking to create a fairy garden project and looking around the yard might have the following realization.
"Those smaller acorn tops all over the ground sure do look like stepping stones. And those pine cones look like little brown trees that would contrast nicely against the green of that ivy!"
Items found around your home or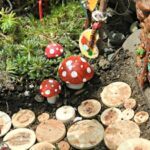 office can add a nice touch to the space and show off your creative fortitude in a forest of cubicles. Bottle caps, buttons, pencils, paper clips, earrings, candle holders, dishes, and the list goes on and on.
You can use just about anything if it's small enough and you have a vision for it.
Buying Ornaments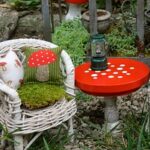 Sets and figurines are available in specialty stores, arts and craft suppliers, and- of course- online! If you want everything you'll need for a particular theme in one go, there's a plethora of options online.
Even if you are looking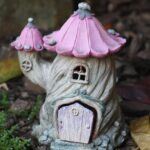 for a general type of figurine or statuette, your resources online are seemingly endless.
Etsy, eBay and Amazon are the top three in the online retail fairy garden arena for many. There are many others out there that have exactly what you're looking for.
What is in a Fairy Garden? Whatever You Want! – Let Your Inspiration Guide You!
The fairies aren't the only ones who benefit from creating these fairy gardens. You get a lot out of it too! The joy that comes from working with the earth. The satisfaction of the creative process. The contentment from doing something for someone else (a very tiny someone). It's good for us all!
All of  this is brought together by the process of creating your own fairy garden. They are really cute and fun to make.
Are you ready to create your own fairy garden paradise?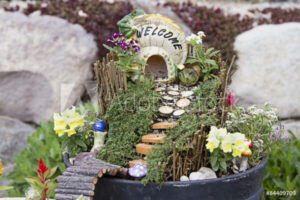 Now that you know exactly what is in a fairy garden, you have everything you need to start planning out your own little escape for our winged friends, get going! Maybe you will feel inspired and throw one together using what you've got right now!
Do you need some more ideas to get started? Check out our Top 10 Gardening Ideas for Fairy Gardens!
Either way I hope you have the best time and I can't wait to see what you come up with! Please share your questions, pictures and stories about your very own fairy garden with me by sending an email to randi@fairycirclegarden.com!
Leave a comment below with any questions or tips for our Fairy Circle Garden community.
And please, if you enjoyed this article, share it on your favorite social media platform! Help us grow! <<< (lol, see what I did there?) 😄
Gratefully,
Randi
Skip back to main navigation