Creating A Fairy Garden With Plants
A fairy garden with plants is a beautiful and affordable accent for any home! You can make very creative and lovely fairy gardens with fake plants but fairies prefer real plants, of course! Not only are they bursting with life, beautiful, and magical, but also there are many other benefits you might not have initially considered.
Benefits of Using Real Plants
For example, decorating can be one of the most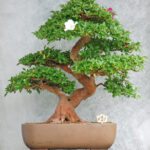 fun and satisfying activities to work on in and around your home.
There is a certain appeal to a cute fairy garden with plants growing in it that you don't get with other decor options.
Along the same lines, gardening has been the hobby of choice/necessity for a huge percentage of the population for all human history due to its limitless uses in both decor and sustenance.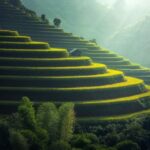 From beautification to industry, as well as enjoying the literal fruits of your labor, plants are essential to our daily lives. Personally I would love decorating and gardening all day long, however I have two small children so however alluring all-day-gardening may be, other priorities win out.
We make it a point to create learning opportunities and family fun memories that we all can enjoy doing. So this activity -making our own fairy gardens- was one that checked all the right boxes for me.
---
Getting Started Checklist
When you decide to create a fairy garden with plants, there are a few things that need to be considered initially.
Hold off on getting supplies together just yet.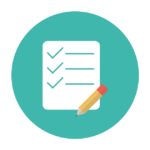 First, here is a preparation checklist:
What is your purpose for wanting a fairy garden? Kids? Decoration? Hobby? Assigned project?
Will your fairy garden be indoors or outdoors? There are different things you need to consider for both options.
The scale of the garden; i.e. how big do you want it to be? There are a range of sizes and complexities depending on what you want your initial resource investment to be as well as your future maintenance needs. Speaking of…
How much time do you want to have your fairy garden require in order to stay a thriving garden paradise for our magical winged friends?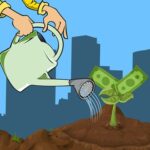 Figuring these basic elements out before running headlong into your local craft store or online retailer will save you a significant amount of time and-arguably more important to some- money!
The Purpose of Your Fairy Garden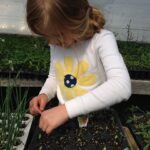 Why do you want a fairy garden with plants? Is this just a fun thing to do with the kids to touch on several educational areas? This type of project allows for so many teachable moments!
You can go with the obvious gardening/plant biology (roots, soil, water, leaves, light, etc.) or swing into a lesson about the seasons and how they affect both the weather and the plants! Color identification, scale identification (large, small, tall, short, long, etc.) and so much creativity!  If you can't tell, this is my preferred teaching method!
Or is this more of a choice of decor? Bringing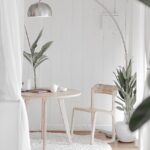 some living plants to a space to bring a healthy energy and purify the air while injecting a bit of fancy into your world? Fancy which can be significantly lacking in most of our lives.
Are you a fan of the fantasy genre, and would love to bring elements of that world into our-less magical realm?
Knowing your purpose helps to guide you on your first few steps down the path to becoming your very own fairy garden master.
Outdoor or Indoor
Outdoor: There are as many climates in the world as there are places; and plants grow, go dormant (if they do at all) and put out new growth at different rates.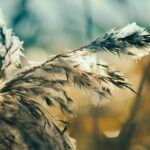 Some plants cannot survive a single frost, and some can hold fast through a deep freeze only to burst forth with an explosion of energy in the spring.
In order to help novice gardeners know which will work where they are located, there are things called hardiness maps. These maps tell you what "zone" you are in. When looking up a plant to potentially use, you'll often see a zone reference.
This tells you which zones this particular plant can survive in. You can pull up these zones on any number of websites, but this one is the official USDA website for my local growers, and this website in particular is good to use no matter where you are from in the world! (including the US)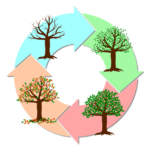 It's also important to know your time frame. Because of the lack of control we have over the weather conditions and mildness/severity of any particular season, knowing when you are going to plant is essential.
These hardiness zone maps are helpful in knowing your average frost dates and ranges of temperatures where you live. There is a website I like to use that has a good garden plant list that includes flowers, vegetables, herbs, and fruit.
According to the internet ( here, here and here), the best time to plant trees and shrubs is in the fall. So make sure you look up what the best time is to plant your chosen plants, or a lot of hard work will be for naught. If you are mid-winter, and you still want to do a fairy garden ASAP, you might want to go indoors.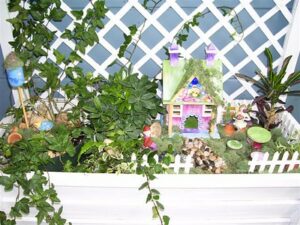 Indoor: Hardiness maps are less relevant for indoor fairy gardens. You'll mainly need information about the light requirements and watering schedules for most. Excepting the more exotic and specialty indoor plant varieties.
You will need to know where you will be putting the fairy garden in order to determine what size container to get. This leads directly into the next consideration on the list.
Scale of Your Fairy Garden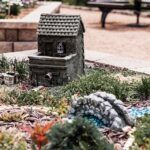 Know your space allocations. Typically, fairy gardens are smaller in order to fit an entire "fairy environment" into a specific location.
There are installations that are full sized gardens with fairy elements placed throughout, or even human-sized decorations… for a giant fairy? (Or more likely the owner of the garden… but use your imagination to your own liking!)
For your smaller scale, you can go with basic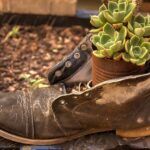 planters. f you feel the desire to use a decorative container not originally intended to grow a plant in, make sure you have prepared the inside for it's future use as a holder of soil, water and plants.
Lighter materials can be damaged if moved too much or around kids or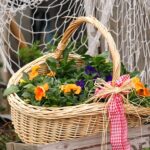 pets. The container itself can be damaged by the watering, sometimes a planter not properly prepared can damage your plants.Typical damage to plants from containers comes from not allowing for drainage. Even if using the age-old gardening trick of putting a layer of rocks in the bottom of your planter, don't over water!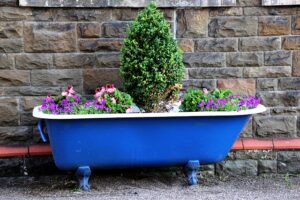 If your roots are sitting in water for long periods of time, your plant will suffocate. Your plant's root's need air as well as water.
It is wise to know the watering needs of your plants. Many gardeners recommend using the trick of simply sticking a finger about 1 inch into the soil. This is done to determine if it needs to be watered. If the soil is still damp, you're good. If it's bone dry, you can perhaps add watering that particular plant to the schedule for that day.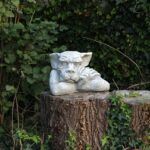 For outdoor fairy gardens, you have a bit more freedom, but also potentially more of a financial requirement due to our vertical nature.
There are many fairy gardens on ground level, but if you are doing a standard small stature fairy garden and want any part of your it at or around eye level, you will need either a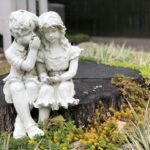 tall/larger planter, or some other type of surface for the fairy garden to rest upon.
Old tree stumps are perfect for this! They play on the whimsical nature loving facet of fairies, and also can transform an eyesore into a fun, creative accent!
Knowing how big your container will be will also have a bearing on which plants you choose to use. The next item to consider on this checklist has to do with plant selection in a big way!
Garden Maintenance
Knowing how much time, money, and energy you want to invest into your project long term will pay off significantly! Some plants need no actual watering- only a good misting every so often. Others plants have very specific time and temperature needs.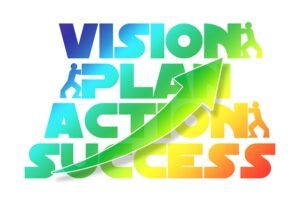 You don't want to put two plants together that have drastically different maintenance routines. For more information on some different types of low, medium and high maintenance plants (including examples of each) check out this article on the subject.
Learn about the care instructions for each plant you will be putting in your fairy garden. Then learn to know how they will grow.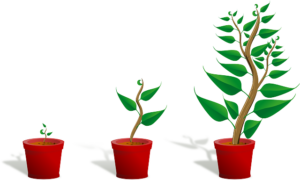 Some plants can grow consistently throughout the year, and some go into a mild winter/dormant stage, even if kept at relatively stable temperatures. Some grow explosively right in spring, just filling out the rest of the year. Others grow at a more steady pace.
Plan your garden so that it's not too overcrowded in a year, but not looking sparse or bedraggled either!
The Benefits of a Fairy Garden With Plants!
Putting just a bit of planning into this fun project of creating your own fairy garden (with plants of course!) can make the execution of it seem a breeze! Throughout the planning process, you may realize some ideas you were entertaining would have been disastrous in execution.
Benjamin Franklin is credited with the rather well-known saying, "If you fail to plan, you are planning to fail". With this in mind, you can adjust your plans continuously until you're ready to start making your own projects.
There are so many reasons to want a fairy garden with plants!  I hope this has helped to make it easier for you to get started on your very own gardening adventure! Now go find your reason and start creating!  Send any pictures, stories etc of your own fairy garden adventures you'd like included on our site to me at randi@fairycirclegarden.com
If you enjoyed this article please share it on your preferred social media platform and help us grow!
If you have any questions, comments or tips, please leave a comment below and I'll get back to you right away!
Gratefully,
Randi
Join the Fairy Circle Garden Club
Get exclusive access to our blog posts when they are released and awesome gardening tips for your gardens and fairy gardens!