Top 10 Gardening Ideas For Fairy Gardens

Are you considering making your very own fairy garden? There is a seemingly unending supply of tips and tricks for how to go about it. With so much information it can sometimes be hard to sort through it all! Well no need to worry, because here are our top 10 gardening ideas for fairy gardens!
---
Use Broken Items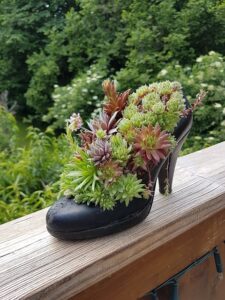 Whether or not it was originally an item for the garden, you can make use of it! Really good items are things that won't fall apart or get damaged by water due to occasional watering.
This can include things like a broken earring for a chandelier in the fairy house. A chipped coffee mug would make a cute house for the fair folk.
A broken picture frame can add a fun element to your fairy's garden decor by highlighting a particularly colorfully foilaged specimen. (A great place to find broken knickknacks is garage/estate sales!) The only limitation is your imagination! So get creative!
Re-pot Struggling and Overgrown Plants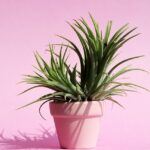 Sometimes you've got a houseplant that just doesn't like it's corner, or needs more or less light. Other times there's a plant that has done a little too well and needs a little breathing room.
This is the perfect opportunity to start a fairy garden! (Make sure you look up how to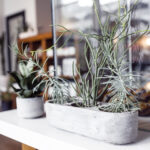 thin out and re-plant your plant without killing it first!) This is also a good idea because if you've got a plant that is thriving under the current care conditions, then you're more likely to have a thriving fairy garden!
Add Elements to a Current Houseplant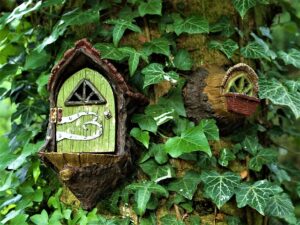 You can also simply add to one of your existing potted plants and have the beginnings to a tiny fairy oasis within minutes!
It can be as simple as adding a door to the base of a thicker part of the plant, or a welcome sign that leads towards the underside of the foliage.
You can order entire themed sets online or find them in specialty or craft stores and just throw them in with an old friend. This is probably the easiest and fastest way to have a complete fairy garden right away.
Use Kitchen Scraps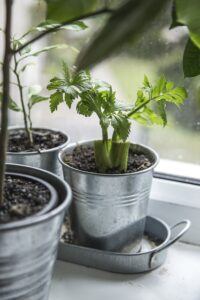 There are a number of produce varieties that will continue to grow after purchased at the supermarket. Some prime examples of this are potatoes, green onions, celery and pineapple.
If you are going to have an indoor fairy garden, why not make it useful too?! Under a window in the kitchen can be the perfect place for a multi-purpose money saver!
Things like green onions (when bought with the roots still attached) celery and pineapple can be planted after the ripe- "good to eat" part has been removed by simply putting the green onion's roots, the bottom of the celery's stem and the bottom of the pineapple's stem about an inch below the surface of the soil.
You could even buy several types of herbs that will grow well if tended in the kitchen and go for a full herbal fairy paradise!
Provide Adequate Drainage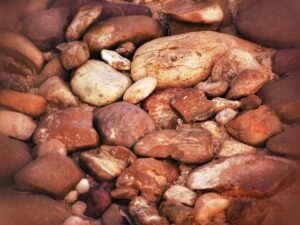 You can put together a beautifully arranged and meticulously detailed miniature garden and end up with a bunch of dead plants if you don't make sure you provide some room at the bottom of your pot for your roots to breathe.
A small layer of rocks at the bottom of the planter gives your roots that breathing room they need. You always want to make sure you know the kind of plant you're putting in, but even knowing, accounting for, and caring for will not help if your roots sit in water.
They don't have to be any particular kind of rock, but if you keep them between 1/2″ and 1″ sized stones, you'll usually be good on the drainage. Here's to preventative measures! Some plants like more water, and some like less.
The best way to keep a thriving space is to do a bit of research beforehand to ensure your garden gets exactly what it needs in the time each needs it. Allowing for drainage is a safeguard against the occasional double water day, or busy weekend that the garden got neglected for.
Life happens to us all, and this step will make sure your plants don't pay too dearly.
Keep an Eye Out When You're Out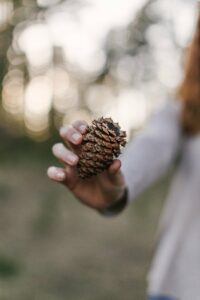 One of my favorite accents in any fairy garden is the pine cone. There are surprisingly a lot of different kinds of pine cones. I never really thought about the variety of pine cones much before, but I do now!
Having 2 or 3 different kinds interspersed through the landscape of your fairy garden can really "spruce" up the joint (pun intended)!
Acorns, pine cones, rocks, shells, broken off parts of flagstone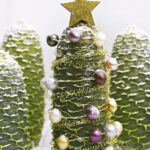 or brick, bottle caps, all sorts of stuff that you can find when you're out and about can be used for your fairy's space.
So just keep your eye out and your fairy garden in the back of your mind. You'd be amazed what jumps out at you that would be perfect for one space or another.
Put in a Water Feature

I know it can sound intimidating, but water features can be super simple and super easy! The trick is to find a plant that loves water, but is also very hardy!
My favorite is Pothos, also known as Devil's Ivy. When you learn to recognize it, you'll notice that you see this plant everywhere.
Most of the time (in my experience) a doctor/dentist's office, waiting room, or lobby will have one or two of these tucked in a corner or on a desk/table somewhere.
It is one of the most popular indoor potted plants because of its resilience and it's good growth rate when tended well. In my first ever fairy garden, we put a couple holes in the bottom of a small circular Tupperware container, and put a layer of 1/2 inch rocks on the bottom, followed by a 3-inch section of a 6-inch pothos vine (with 2-3 leaves on the end of it) that was curled in on itself, and followed by several 1-2 inch larger stones.
I buried the Tupperware up to the rim in the soil of my planter, and surrounded the outside with more of the same 1-2 inch rocks. So it looks like a rocky outcrop with a pool in the center.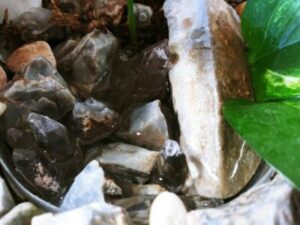 (I also added a few quartz points to make it even more magical, but you do whatever you feel is good for your space.)
Then just fill the Tupperware up to the rim and over the next few days, the water will go down. Some water will go into the soil out the bottom drainage holes, and some will get absorbed by the plant. (make sure your holes are not too big that all the water falls out the bottom right away.)
You can get more fancy and add a pump for a flowing river or miniaturized waterfall or a bubbler to make it look like a spring! Don't be afraid to try something over and over again until you love it!
Use Smaller Plants That Look like Larger Plants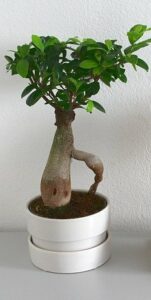 Have you ever heard the phrase, "as above, so below"? There's a large and small version of everything! For example, the Dwarf Primo Arborvitae looks a lot like a tiny spruce or pine tree!
Similarly, the commonly known Desert Rose is a small potted plant. However it transforms into a larger tree when placed next to fairy-sized house or little bench.
Use regular houseplants to make it seem as though a fairy is moving in, or create the space to make it seem like it was plucked from right outside!
Using the smaller plants to enhance the illusion of an entire fairy environment lends itself to the fanciful nature of this kind of project. It's not that the fairies are small, it's that we are too big.
Get Creative with Ground Cover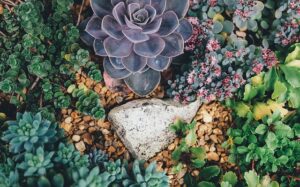 Ground cover can be intimidating for first time gardeners, and so a little space-saving and low maintenance hack is to use other types of ground cover that aren't living plants!
You can put pebbles surrounding the bottom of the plants, or sand to create little foot paths. Even having the occasional larger rock in the midst of the open space of the planter adds dimension and depth. Do you love the low maintenance of succulents? If so then ground cover that is mainly rocks will work well as they like to grow there!
Plants that require daily watering might do better with a living moss. This can serve as a nice green lawn for the tiny tenant. It depends on the time, energy and resources you want to both initially invest, and the maintenance going forward.
Plant selection is key in that regard for both ground cover and the larger plants. For more advice on how to go about figuring that out, check this out and let me know what works for you!
Use Crystals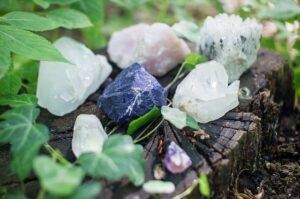 I have an obsession with crystals in the garden! I think it adds an elemental feature that makes the magical world of fairies just jump right out at you.
There are so many types, colors, sizes and shapes of crystals, that the possibilities are endless!
A word of caution, there are some crystals that can be damaged or even dissolved by water! So make sure you know what kind of crystal you will be using, and how it interacts with water.
Most crystals will be totally fine,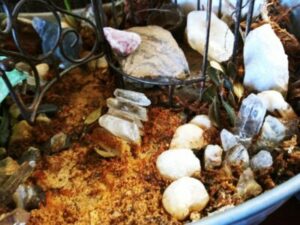 but there are some like selenite and pink Himalayan rock salt that will literally dissolve with regular watering.
I get crystal carved figurines for a fun way to bring color and decorative accents to my fairy's abode!
My favorite places to get crystals for the garden are online or at the local crystal or craft supply store. Make sure to verify they are natural stones, and not plastic imitations. Plastic can of course work, but if you're looking for real stones, they can be deceptively similar.
---
Enjoyed These Top 10 Gardening Ideas For Fairy Gardens? There Is So Much More!

There are so many things you can do with these beautiful creations. These top 10 gardening ideas for fairy gardens can make the sailing much smoother while preventing the potential pitfalls of poor planning!
What have you found to be essential information when it comes to designing, preparing, or maintaining your fairy garden? Please share your stories, pictures and the rest with me by sending me an email at randi@fairycirclegarden.com
If you enjoyed this article please share it on your preferred social media platform and help us grow!
If you have any questions, comments or tips you'd like to share, leave a comment below and I'll get right back to you!
Gratefully,
Randi