More Ideas for Indoor Fairy Garden Fun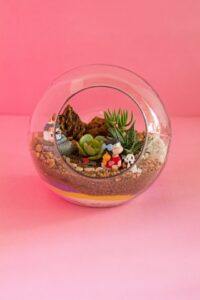 We have put together even more ideas for indoor fairy garden magic! A little known secret to creating a fairy garden, is that often times you have everything you need already! It's just a matter of putting the imagination to work, and seeing things a little differently.
This post will be geared more toward taking a look at what might be lying around already that would make a great start to get ideas for indoor fairy gardens.
Ideas for Indoor Fairy Garden Fun 1  – The Perfect Planter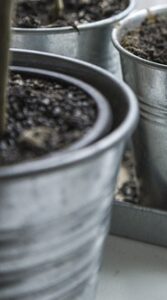 When it comes to an indoor fairy garden, there are some basics to be taken into account. Most indoor planters are comprised of two pots.
There is the cachepot, which is the decorative planter that oftentimes has no drainage, and is intended strictly for decorative purposes. Then there is the grow pot, or drainage pot.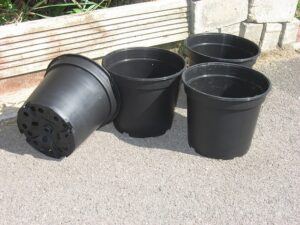 These are pots that are often plastic or some other less expensive material that has good drainage (holes in the bottom to allow excess water to escape so the roots don't rot) and actually contains the soil and the plant.
If using an outdoor planter, I make sure to have a water dish under the planter to avoid a mess of water on the floor (potentially causing damage) after giving the plant a thorough watering.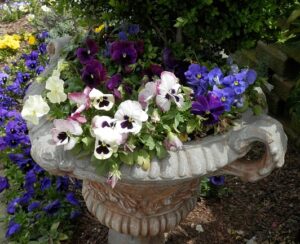 Outdoor planters used inside is a good way to mix up the indoor fairy garden fun!
Elevated Planters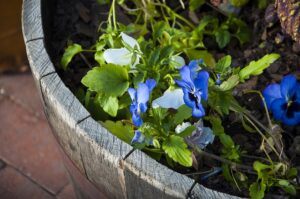 Elevated planters that are up on "legs" or have longer base are great for allowing a bit more variety in the height of the fairy garden. Wine barrel planters also play into a lovely design motif that can provide a larger area to create the fairy space.
Galvanized Steel Planters
Galvanized steel planters are a great way to use a material that is not only resistant to rust, but also adds a tiny bit of zinc to the soil, which can be beneficial to the health of the soil.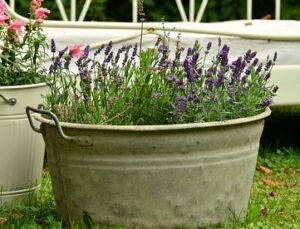 (Zinc ingested in large amounts is toxic, but studies have shown that galvanized steel planters and garden beds do not produce enough zinc in the soil to be harmful.) These planters are often much lighter than similar sized planters, and therefore are easier to move; as long as they have not been filled with soil and plants yet.
Hanging Baskets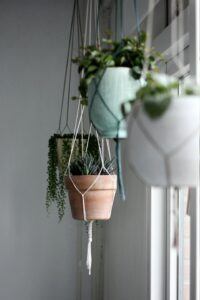 Hanging baskets are always a favorite way to add dimension to any indoor garden, but with fairy gardens, they add a whole new layer of magic! Sitting fairy figurines are a favorite of many, and a hanging basket is the perfect place for one of these sweet little statuettes. Some fishing line and a couple dangling fairy garden accessories also make for a lot of added fun!
Different Ways to Use Planters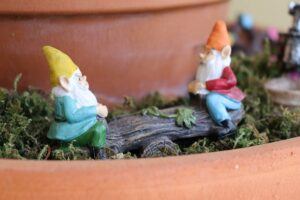 One of my favorite ways to make regular planters have more dimension is to create a tiered tower. Simply taking a large planter, and placing a smaller planter (usually buried about halfway to provide stability) towards the back edge of the larger one. Then repeat the process with an even smaller planter, and there is an immediate 3-level tiered garden created by nothing but different sized pots.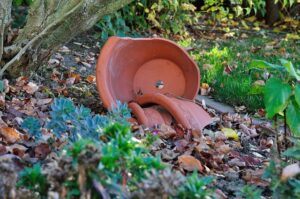 Are there any broken pots lying around? Those make fantastic self-contained tiered planters. The pieces are also good to be used within the garden itself up against the lip of a planter or on its side with a small plant growing out of it.  As long as you can imagine a use for it, there is a way to make it work!  Let the creativity flow!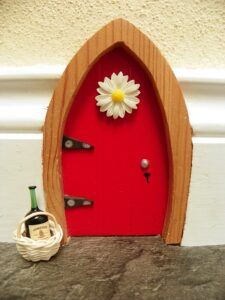 Another way to make seemingly boring pots pop with magic is to decorate the outside of them with fairy garden stuff! Glue a fairy door and surround it with a bunch of small stones glued to the outside of the pot makes the fairy magic inescapable.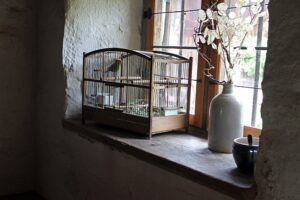 Window sills are not only a good place for indoor fairy gardens to get the needed light, but also as a staging area for an entire fairy garden! Using multiple smaller pots or low planters arranged with fairy garden accessories all around and surrounding them makes for a lot of fun!
Ideas for Indoor Fairy Garden Fun 2 – Everyday Items to Use As Indoor Fairy Gardens
There are all sorts of items that can be turned into fairy garden planters, and their inexplicable use as such makes them that much more whimsical! For example:
a wicker basket
a terrarium
a mason jar
a tea cup
a vintage lantern
an old suitcase
a birdcage
an old clock
an empty fish tank
a bird bath
Ideas for Indoor Fairy Garden Fun 3 – Beautiful Things
when it comes to fairy garden accessories, there are plenty to buy online. When looking for things that are already available, or are not as expensive, try some of these…
Cheap Small Birdhouses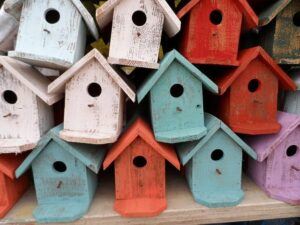 Dollar store bird houses often come in plain wood color, without much adornment. With a glue gun, some paints, and a bit of imagination, that can change! Try getting a pine cone and carefully breaking off the pieces. Use the hot glue gun to glue them back on the roof as shingles. Or even a few pieces of bark that fell off a tree. Some twigs glued to the walls of the house would look neat. Some moss falling out of the hole for the bird could make it look nice and cozy.
Colored Glass "Rocks"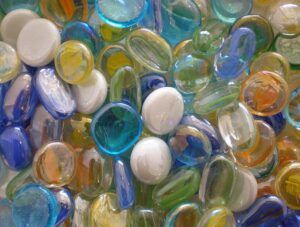 Bags of colored glass "rocks" are fairly inexpensive, and add magic to any fairy garden! In a shallow depression in the potting soil, they can easily be a magical pool. If arranged as a pathway between plants, the fairies now have a walkway. They even make great walls when glued to the top half of popsicle sticks and placed side by side up against the lip of the planter. So many uses!
Popsicle Sticks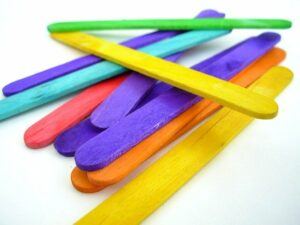 Popsicle sticks are great for making all sorts of fairy garden accessories. Paint them however you like and glue them together to make a little bench for the fairies to rest on. Glued together with a little glass bead on one side they make a great fairy door. They are especially good for letting the kids get involved with both arts and crafts as well as gardening!
Lights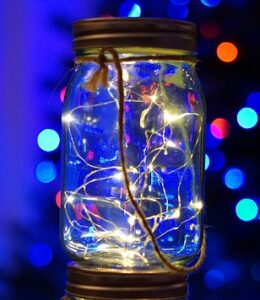 One of my favorite ideas! Twinkle lights or LEDs are a great way to add that little bit of extra magic to the fairy garden. The LED lights even come in strips now that are easy to adhere. Make sure if using lights in the fairy garden to maintain safety and place the planter near an outlet (or have battery operated lights).
Ideas for Indoor Fairy Garden Fun 4 – Great Plants
Indoor fairy gardens are so much fun and having healthy, happy plants makes them even better! Here are some suggestions for good indoor plants that work well in fairy gardens. I hope you love these plants as much as I do, if you have any suggestions on other plants let me know!
ornamental grasses
bonsai trees
azalea
desert rose
succulents of all sorts
pothos
snake plant
zz plant
Ideas for Indoor Fairy Garden Fun Conclusion – Fairy Garden Magic Awaits…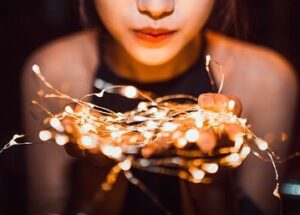 These tips and ideas for indoor fairy garden fun will make it easier than ever to get started on your very own magical paradise! With an assortment of planters to use, different ways in which to use them, as well as ideas about different things to put in the fairy garden, all that is left is you! The most magical time of any fairy garden is when the creativity and imagination is coming together!
Are you looking for even more fairy garden ideas? Just click to check out our articles, Top 10 Gardening Ideas For Fairy Gardens as well as Outdoor Fairy Garden Ideas! I included a lot of planning advice on how to get started in these articles.
Have any recommendations or feedback to add to the discussion? Please feel free to comment below! I answer every comment. You can also email me at Randi@FairyCircleGarden.com.
Did you like this article? Please share it on your favorite social media page! For more great content please check out our other articles and follow our social media pages on Facebook, Instagram, Pinterest and more!
Gratefully,
Randi