Best Sitting Fairy Garden Statues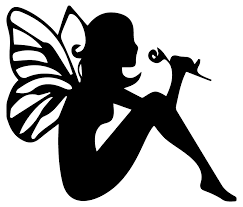 I've always loved the beauty and simplicity of sitting fairy garden statues haven't you? They seem to invoke a sense of wonder, as if we have happened upon the fairy taking a rest in whichever cultivated corner we've prepared for them and, being caught unaware, they simply froze in place and will go about their merry way once we have gone on ours.
Statues in the garden can be a simple decision of decor, or an honorary place you wish to mark special with an immortal fairy visitor. They can be placed on the ground, in a pot or made a centerpiece, so they work well in either purpose. The possibilities are only limited by your purpose and imagination!
As with any garden decor, there are things that have to be considered. What is the ornament made of? How big or small do you want it to be? Do you want one that comes painted? What is your price range? Do you want a single fairy, or part of a set? What are the reviews like of those who have already purchased that particular fairy? While there are a vast array of options to choose from, after extensive research here's my top 6 favorites!
Want to see even more awesome fairy statues for your garden? Check out our complete guide to outdoor fairy garden statues here for more information on decorating your outdoor gardening spaces with fairy statues. The statues we feature below are from our friends at Design Toscano, they are a quality company with excellent customer service and if you purchase any of these statues by clicking the links below, a small portion will go to support this website at no cost to you!
The Sunflower Fairy Statue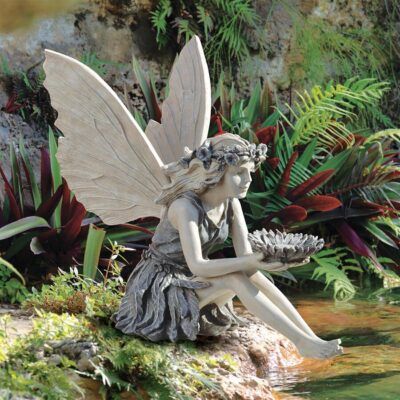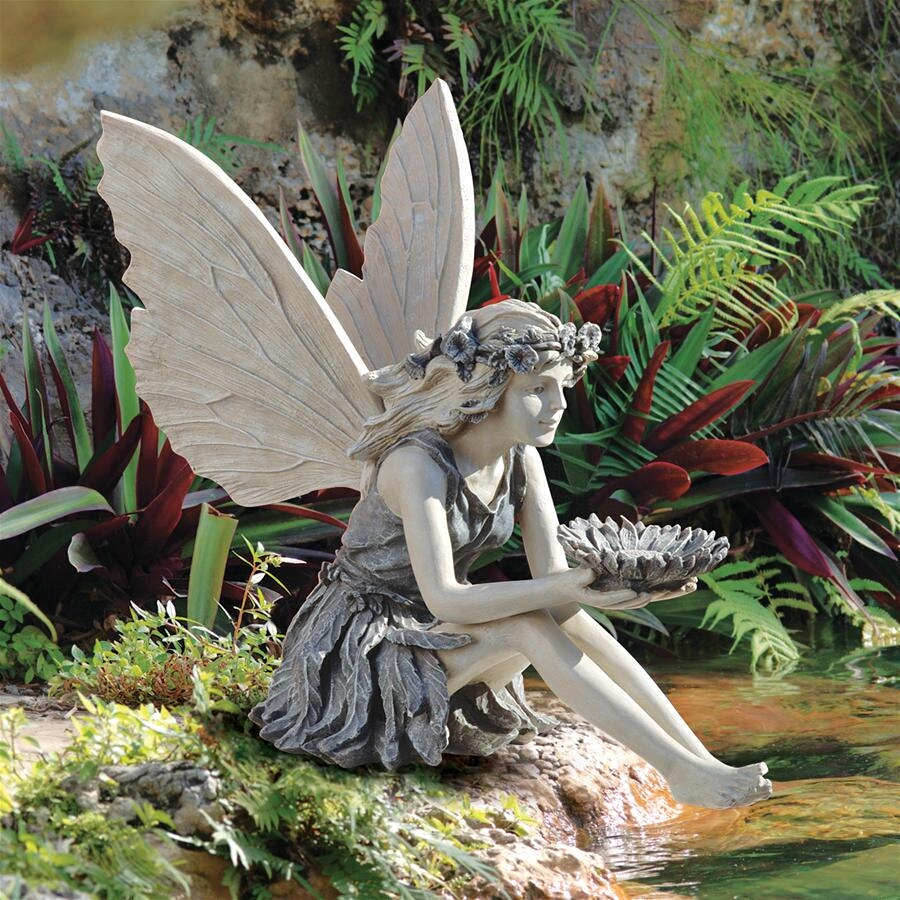 This gorgeous fairy statue is the perfect accent to any garden area. Artist Evelyn Myers Hartley brings forth a mesmerizing blend of realistic features and ethereal fancy with her Sunflower Fairy. The flower wreath adorning her head adds to the beauty of this collectible piece. The sunflower bowl in her outstretched hands is an elegant yet functional detail.
The Sunflower Fairy is a sturdy statue coming in at 19 1/2 inches high and weighing a hefty 10 pounds. She can withstand a breezy day, but her broad wings could catch some blustery wind gusts and should be taken into consideration. She is made out of designer resin and has a beautiful 2-tone finish.
With an average customer review of 4.7 stars, she's an excellent choice! Here are a couple customer remarks out of the more than 30 comments made.
Lisa D from Lakeville, Minnesota, USA says, "I purchased this item for my garden about a month ago. It is truly lovely, with much detail. It is heavy/solid and appears well constructed. The wings are separate and slide in grooves on her back, which makes it less awkward to carry around and probably less likely to break. I am very satisfied!" – 5 stars
Fairy Godmother from Rochester New York, USA says, "Just received this beautiful fairy statue. Came packaged very well and the wings were easy to attach… just be sure you put them on the correct side, facing the correct way and they slip in easily. Can't wait for the children in the neighborhood to see my new addition to the fairy garden!" – 5 stars
You can get this beautiful statue for yourself, see more information about her here!
The Enchanted Garden Fairies Sculptures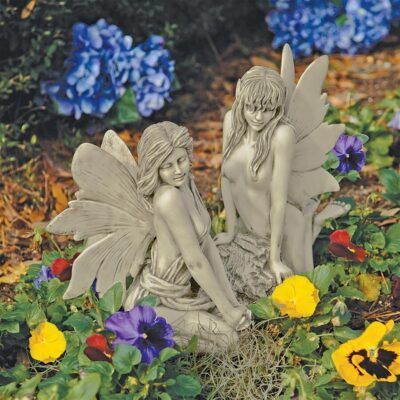 Meet Colleen and Marilee by artist Evelyn Myers Hartley. These demure, delicately carved fairies will be the talking point of your garden! Colleen is 8 /12 inches high and Marilee reaches a full 11 inches. They both carved from designer resin and are a solid 4 pounds so there's little risk of them being blown over by wind or a friendly garden critter.
These lovely ladies boasts 4.9 out of 5 stars with over 25 customer reviews. The most common positive statement by reviewers was not only the beauty of the statues themselves, but the quality of the packaging.
You can now buy Marilee (fairy on the right-hand side of the photo) or Colleen (fairy on the left-hand side of preview) separately! This comes in handy in the case of lost fairies!
Jesse from Maine, USA says, "I get compliments on it every day." -5 stars
Samir from California, USA says, "I recommend these two for anyone! Especially fairy believers!!! And the customer service was Excellent!!!" -5 stars
You can find more reviews about these lovely fairies here!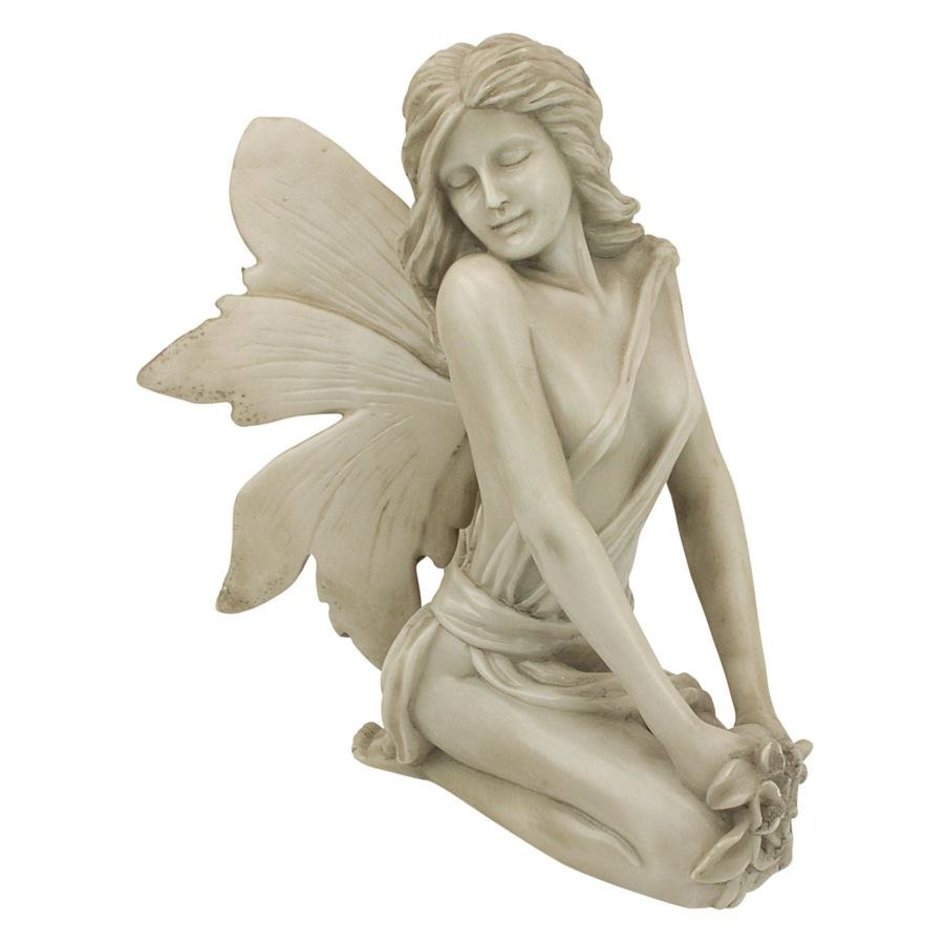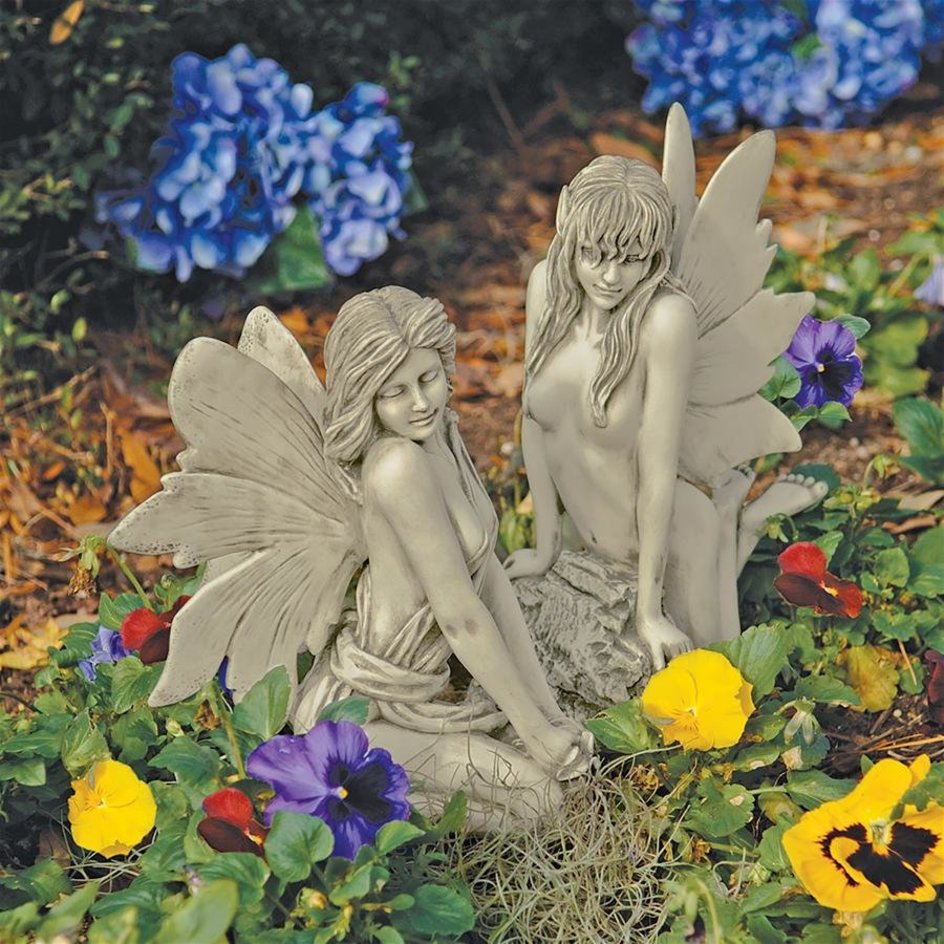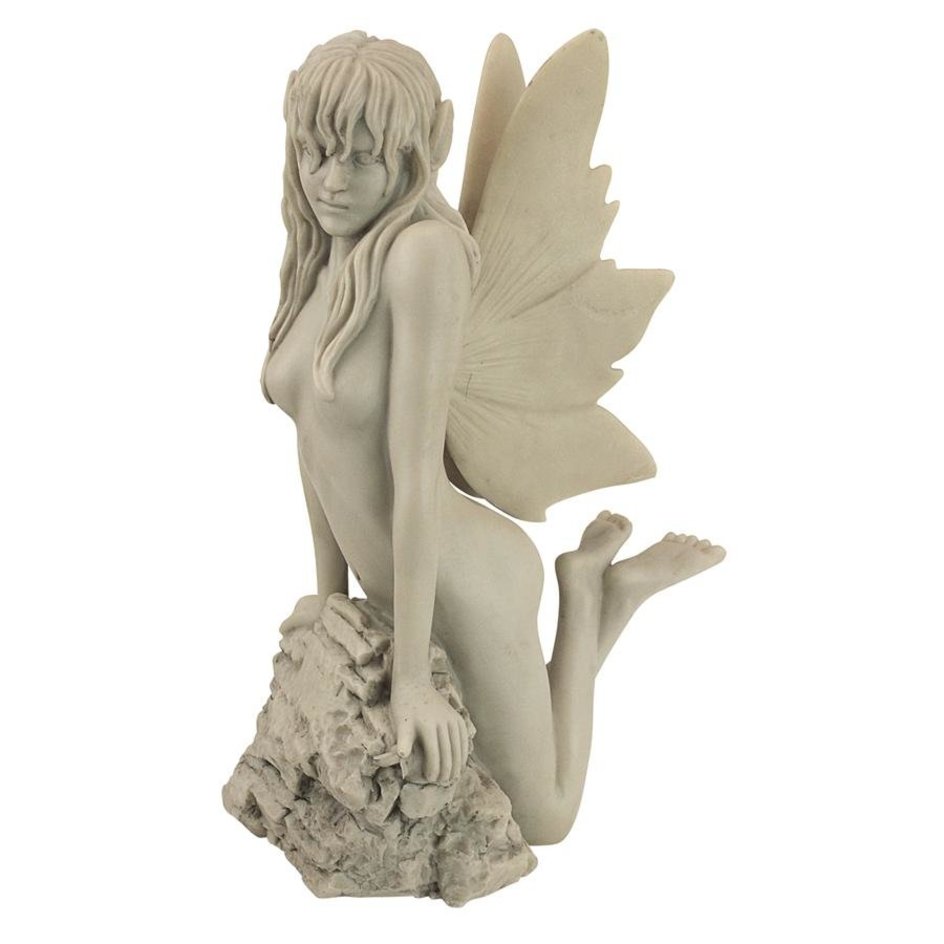 The Secret Garden Fairy Statues Set: Gazing and Pondering Fairy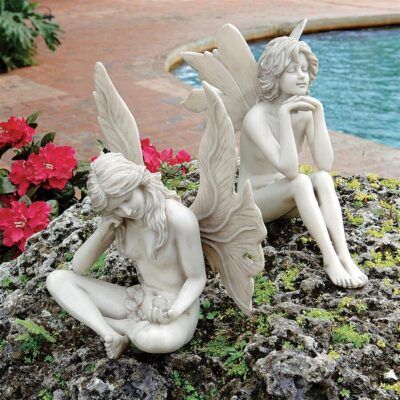 The Evelyn Myers Hartley puts a new spin on elegant fairy sculptures with this unique set of sitting fairy garden statues. The Gazing and Pondering fairies are both exquisite examples of attention to detail and creativity. The Gazing fairy even holds a crystal that she is using to see the answers to the questions of the universe… at least that's what I like to think she's doing.
The faux stone finish and designer resin casting create a unique look that is almost indistinguishable from real stone at a distance. The Gazing Fairy is the one holding the crystal and is 10 inches high while the Pondering Fairy is only 8 1/2 inches. Both weigh 4 pounds, but reports are that they sit very evenly, and falls are not very common.
These fanciful fairies possess an impressive average customer review of 4.8 stars, with over 30 reviews.
ZLeach131 from Madison, Connecticut, USA says, "They are gorgeous, hold up well outdoors and are a fabulous design no matter which fairy you get!! Beautiful in any garden, I have bought them as gifts for friends and they also love them!" – 5 stars
Cheryl76 from Burnsville, Minnesota, USA says, "We purchased these fairies over 10 years ago for my first fairy garden. They have been moved several times over the years. We give them a good "scrub" each spring and then place them back in their current garden. I love them! No complaints." – 5 stars
You can get more details about these beautiful statues here!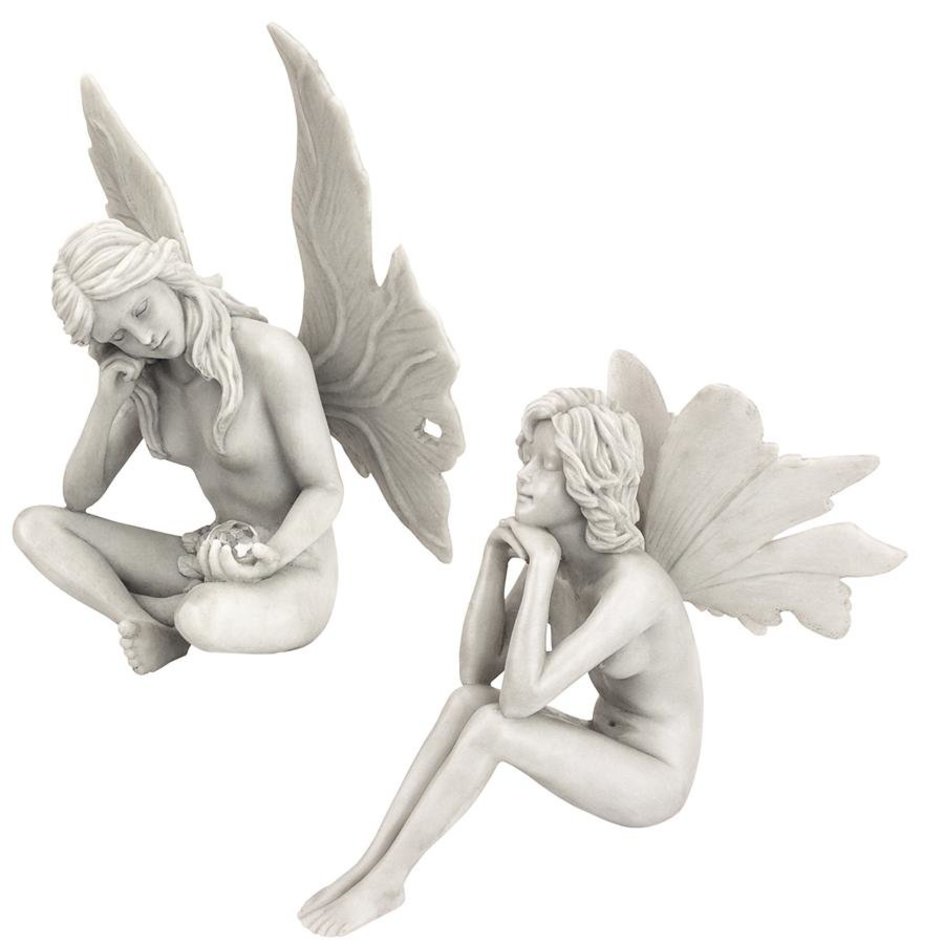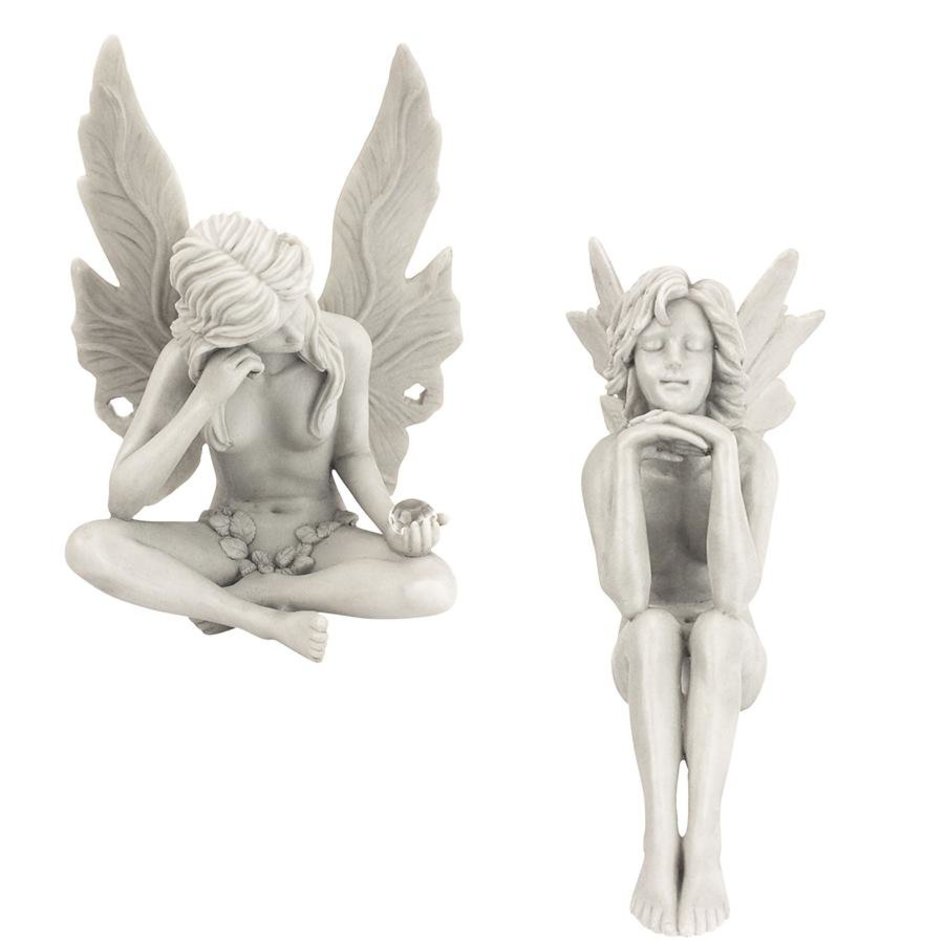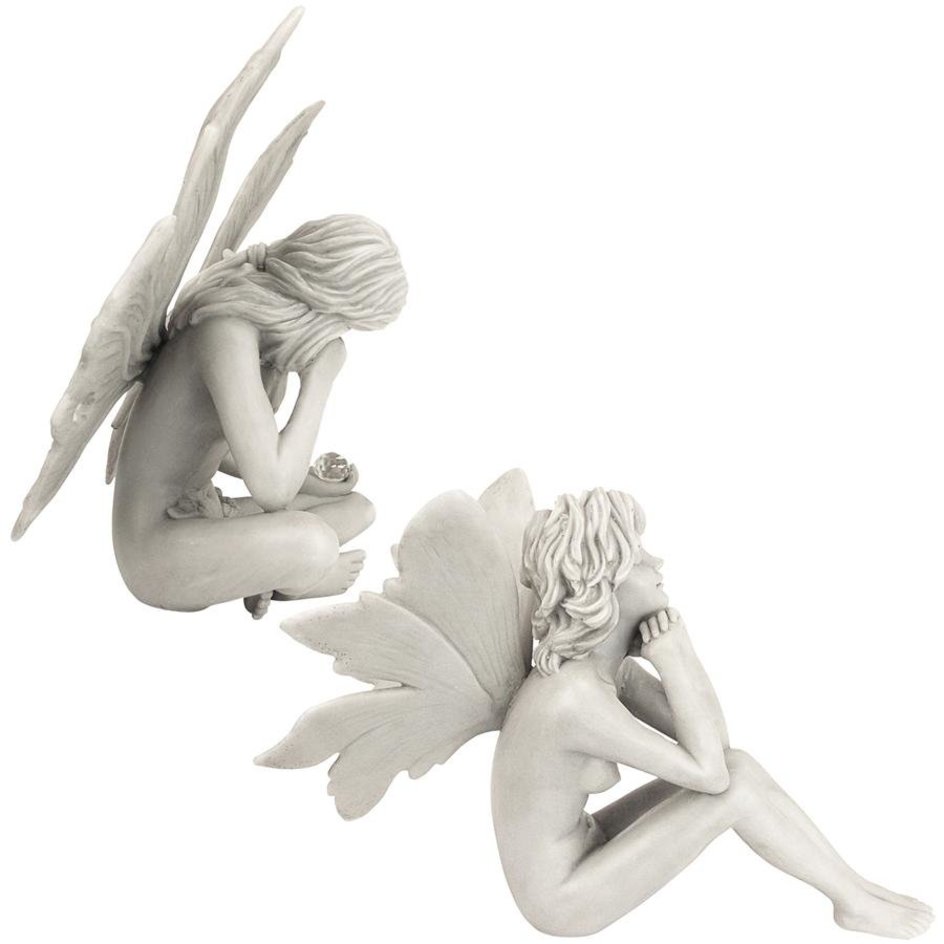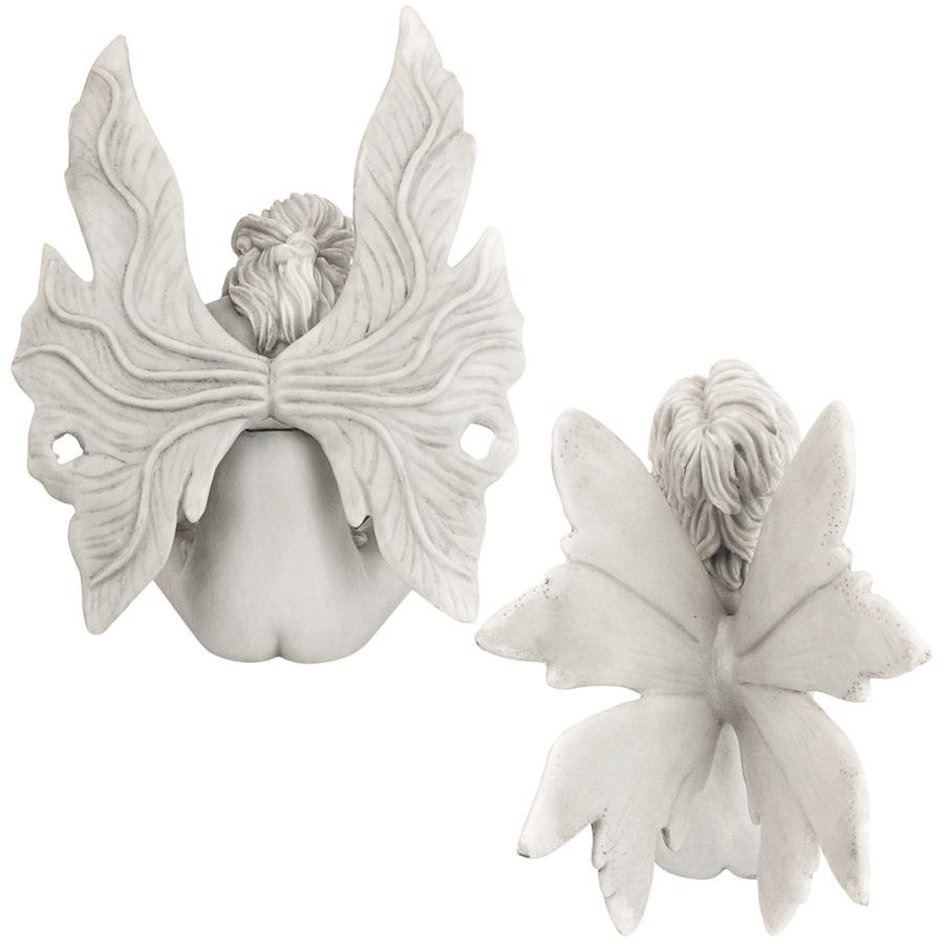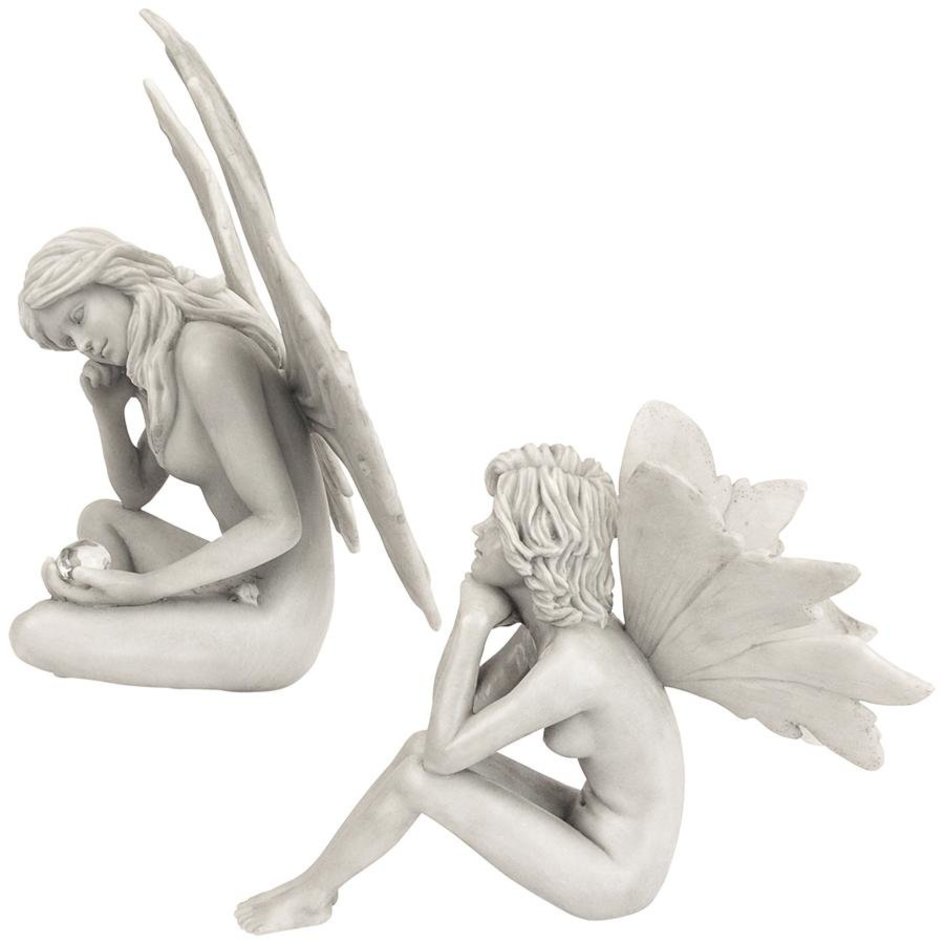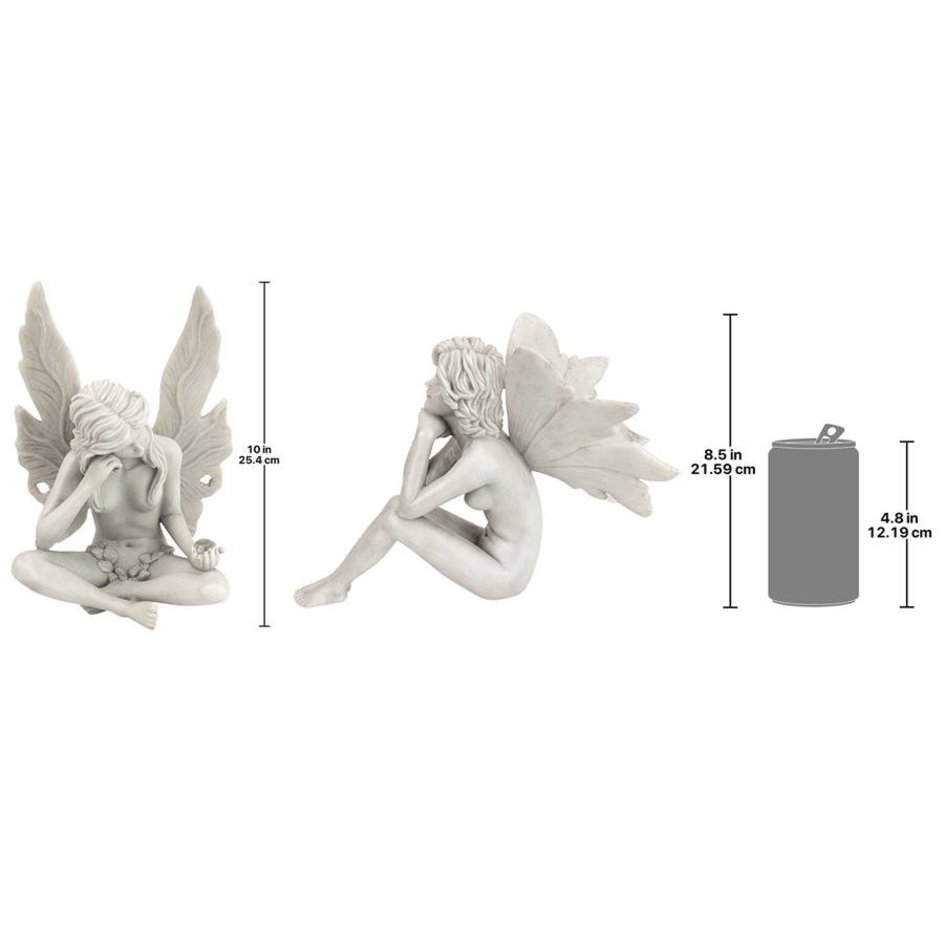 Fairy of the West Wind Sitting Statue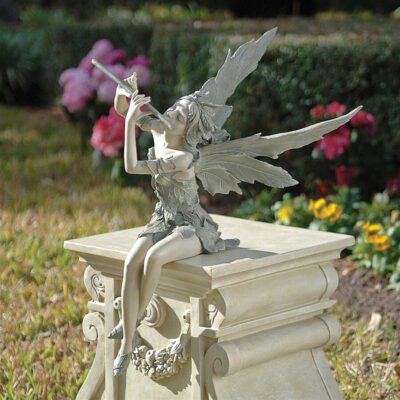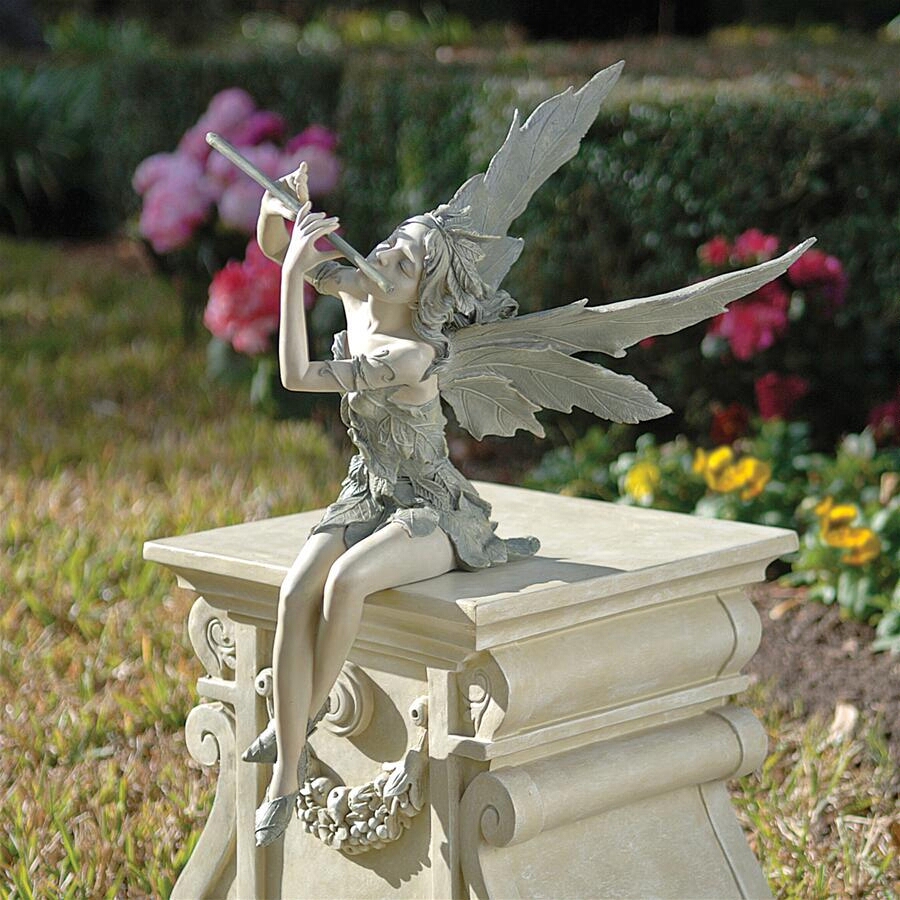 Artist Cecilia brings to life the fanciful figurine of the Fairy of the West Wind. Her delicate flute and exquisite fairy wings jump out at you no matter if she is on a windowsill or on a garden wall.
She tops out at a height of 19 inches, and does have some simple assembly required- wings to body. She is 3 pounds in weight made from designer resin, and due to her longer and thinner nature, you want to make sure she is tucked in a corner or secured as to avoid her getting knocked off or dropped. Her delicate nature and her beautifully sculpted features make her a must-have.
Here are a couple customer comments from her 4.4 star average reviews.
Syan from Ontario, Canada says, "I love this fairy. I've had her now for three years. Yes I've had to glue the wings back and i have hot glued her to the perch she sits on. She has been through three Canadian winters outside and nothing has broken so far. She is the centerpiece of my back yard." – 5 stars
Lonnykins from Vancouver, Washington, USA says, "Love this faerie! Suitable for you musical spaces that need that extra touch of magic. Coat in Never Wet and she can even sit unblemished where birds gather. Exquisite!" – 5 stars
You can check out further details on this amazing statue here!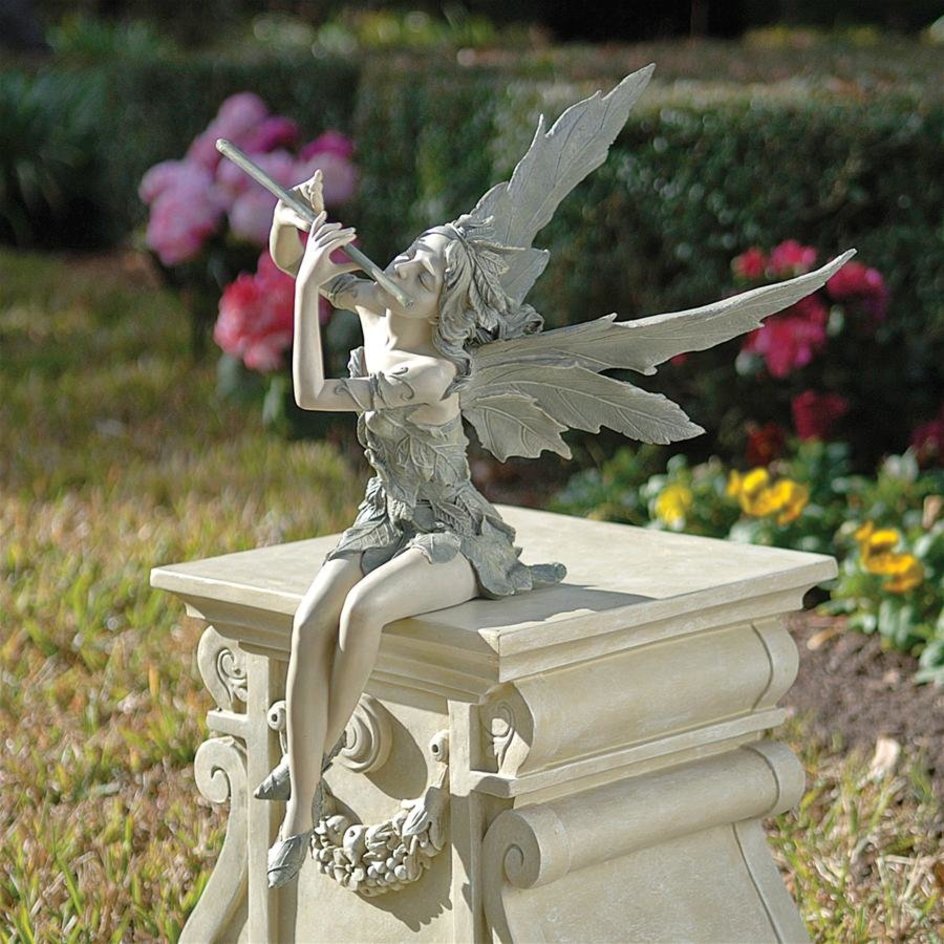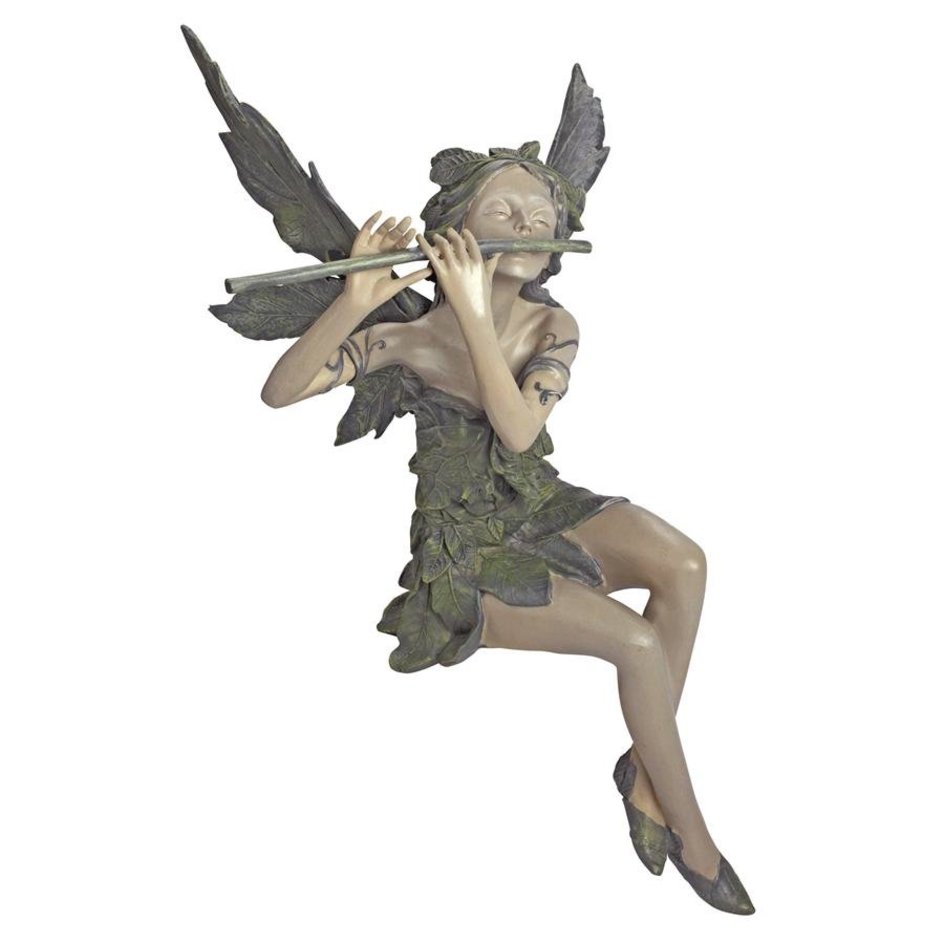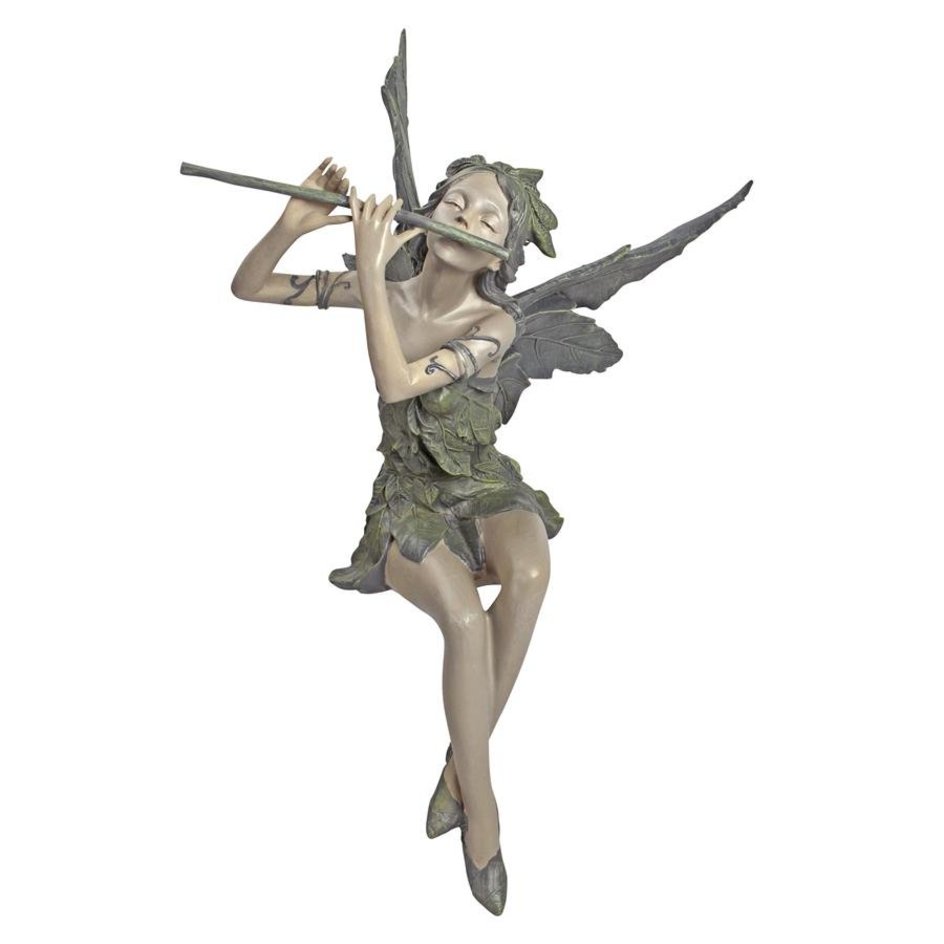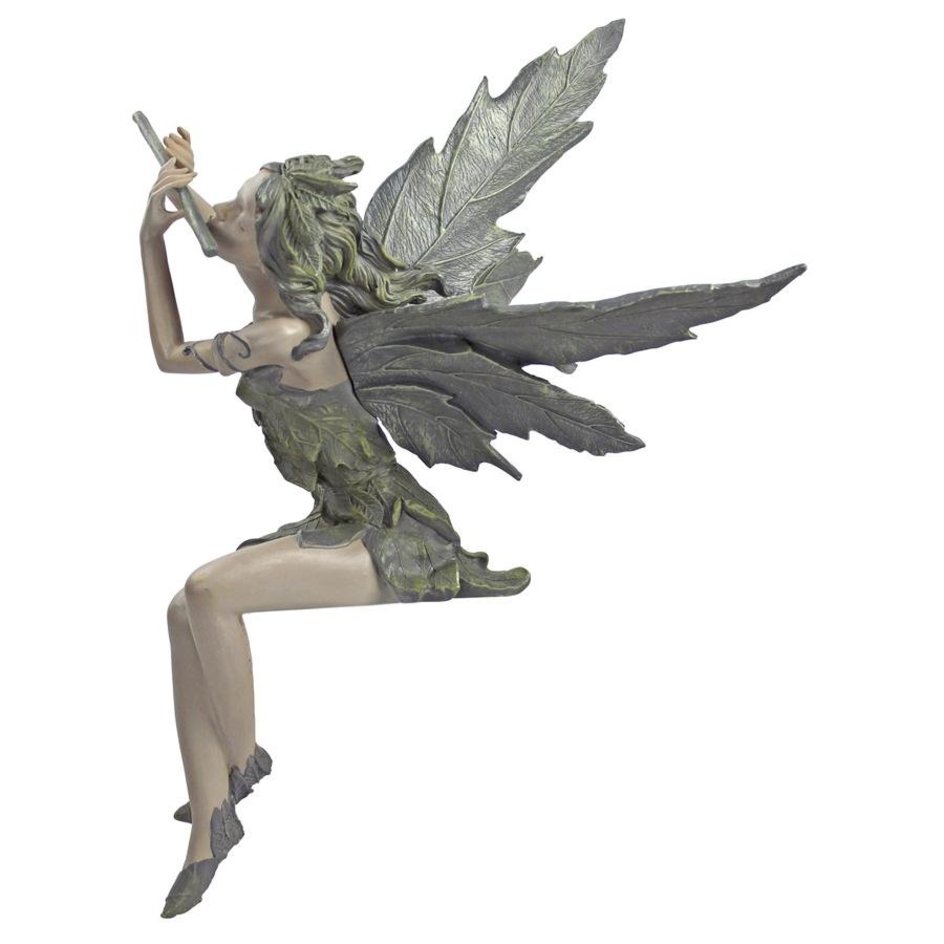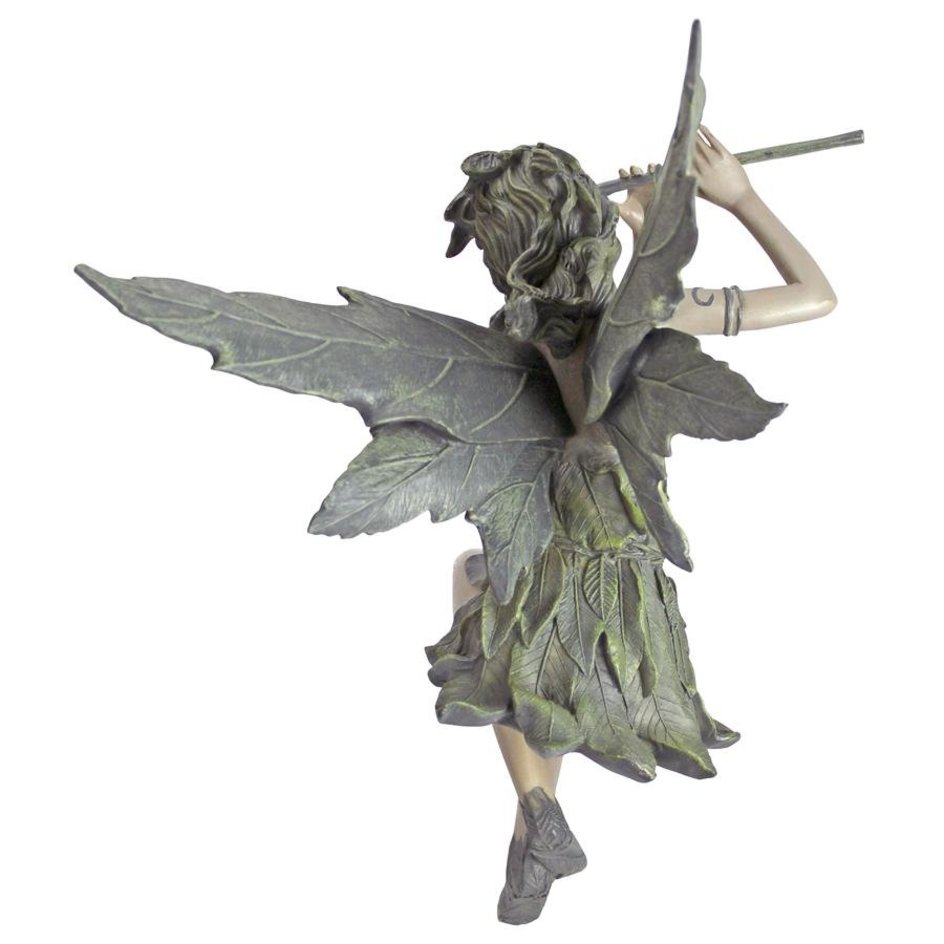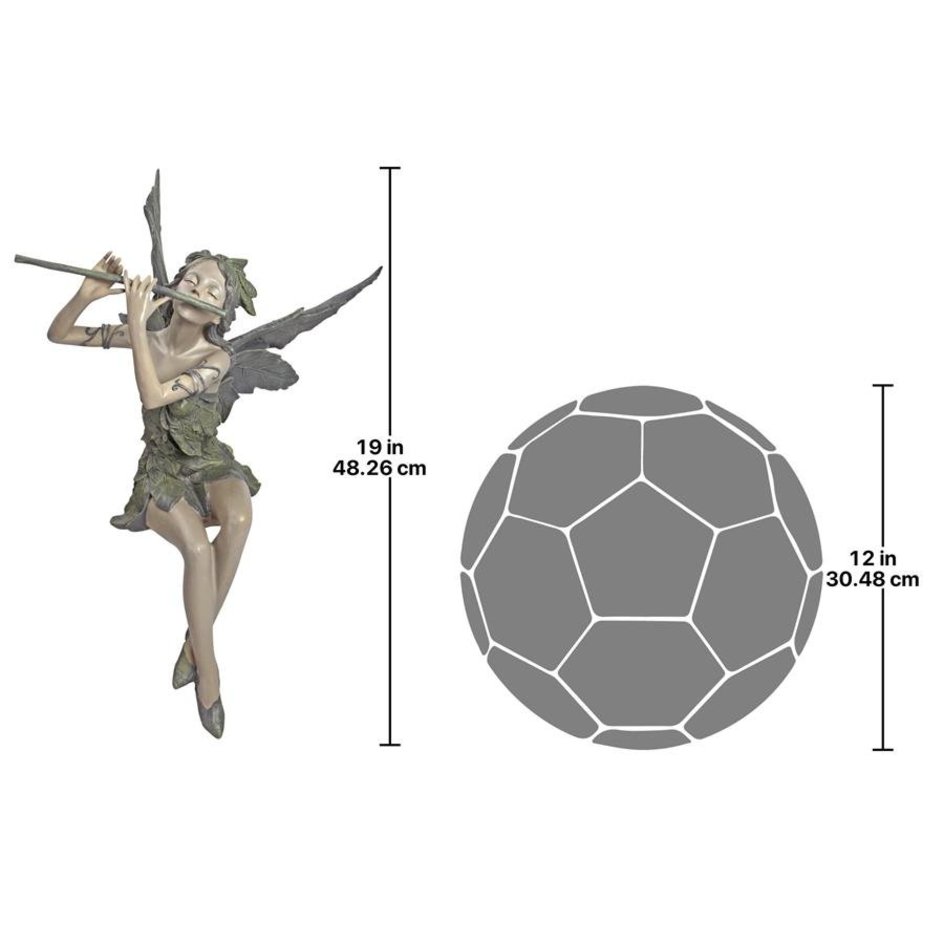 Fairy of Hopes and Dreams Fairy Garden Statue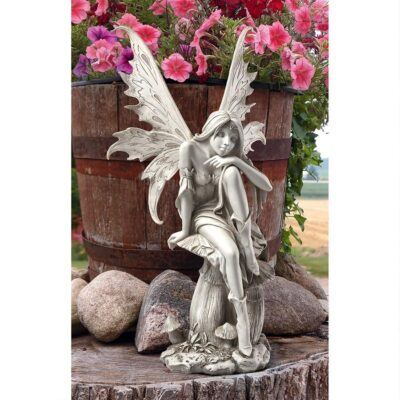 Cecelia creates another divine sculpture in a magnificent depiction this pensive pixie that is perfect as a centerpiece for a garden retreat. The artistic detail from the fanciful wings all the way down to the designer boots and leaf litter brings a realism that captures the imagination.
At approximately 22 inches tall, the Fairy of Hopes and Dreams is the perfect pinnacle to any fairy garden retreat. She also weighs in at an impressive 8 pounds, and therefore will withstand most windy weather. She is made out of designer resin with a two-tone finish and there is some simple assembly required. (Attach wings to back.)
The Fairy of Hopes and Dreams only has a 3.9 star average customer review, but I attribute that to the small amount of customer reviews so far. (There are only 7.)
LuckyLinda from Palmetto, Florida, USA says," I purchased this fairy last month to be top of my new water feature. She is beautiful with great detail. So pleased with her. I have purchased many beautiful things… but she is my favorite." – 5 stars
Dontlie from Florida, USA says, "Beautiful, very detailed however the description states that this statue is 22″ it is totally only 19″ at the peak of the wings…" -3 stars
You can see more pictures and get this beautiful fairy here!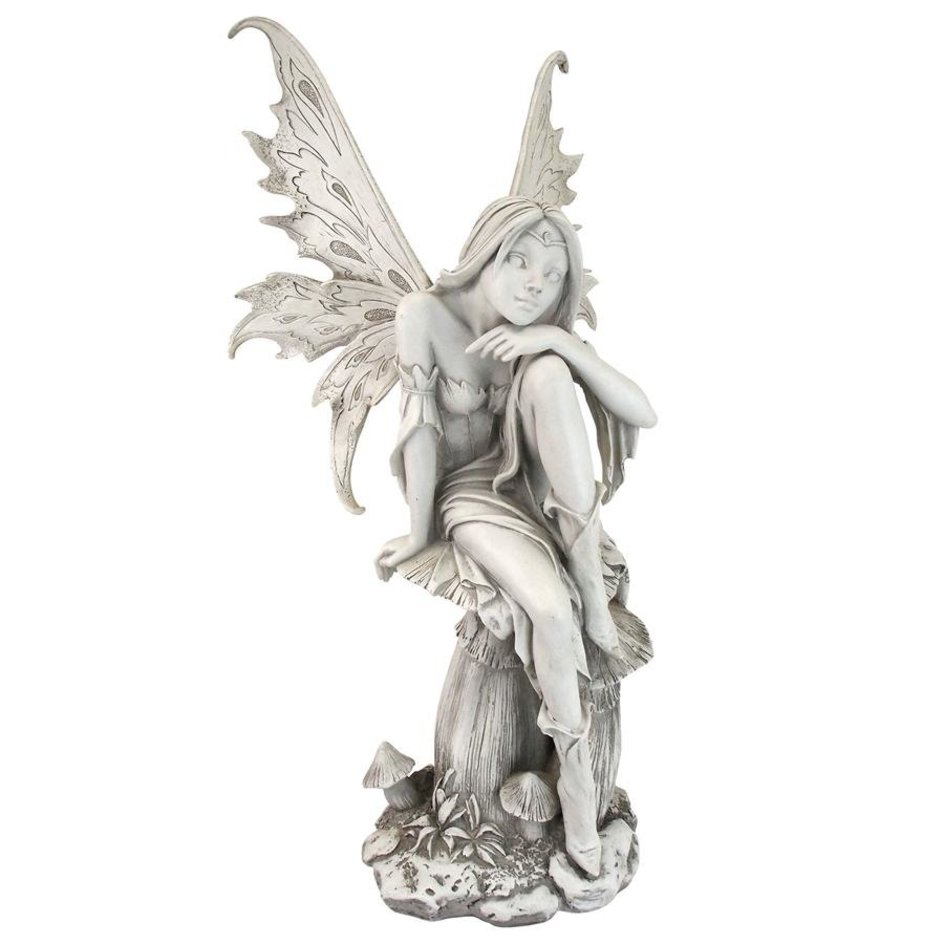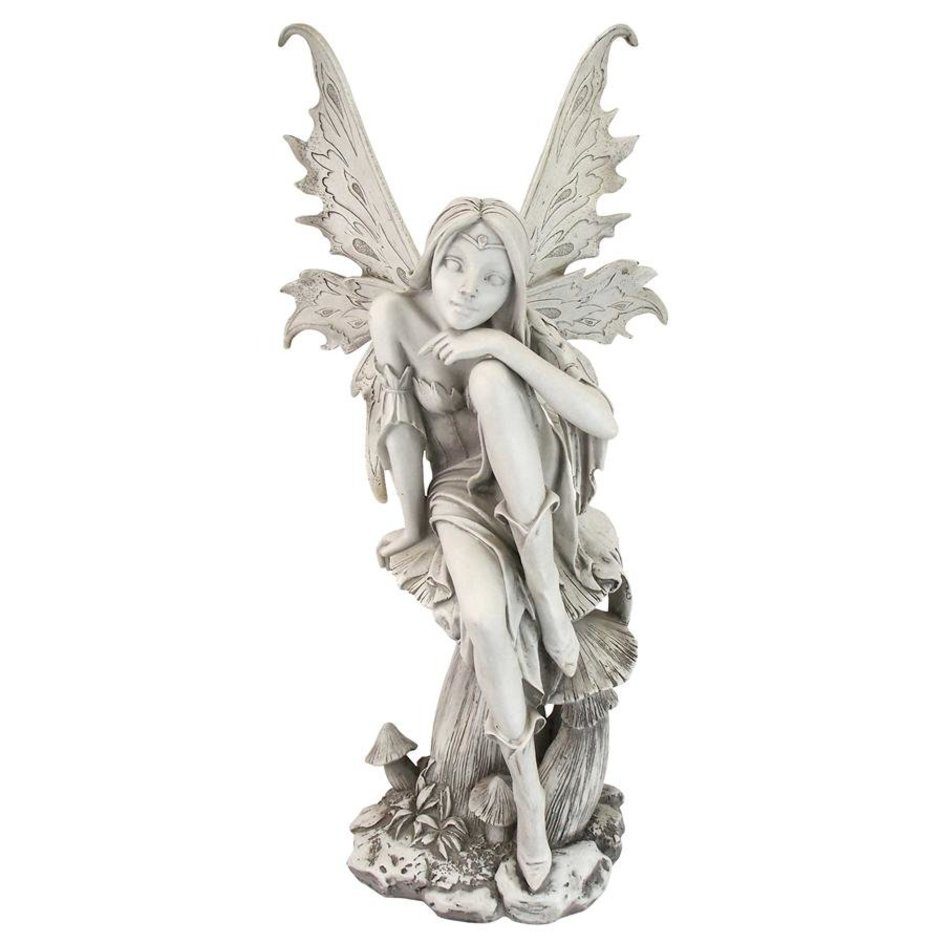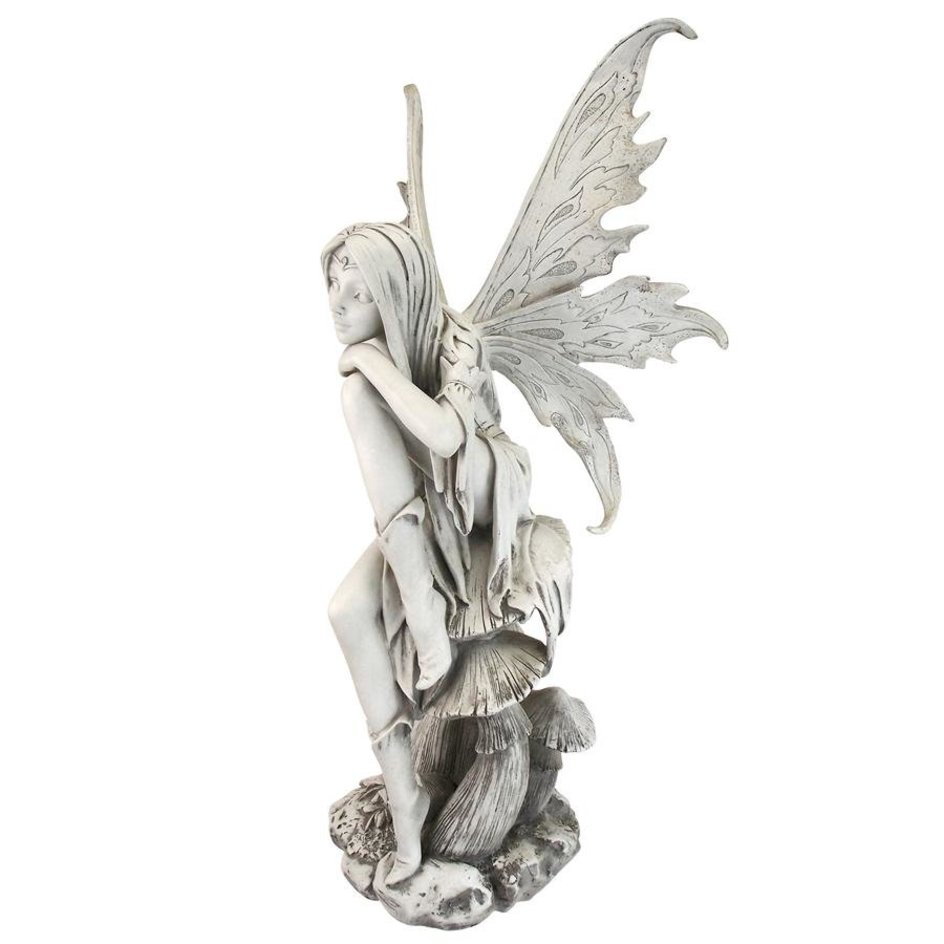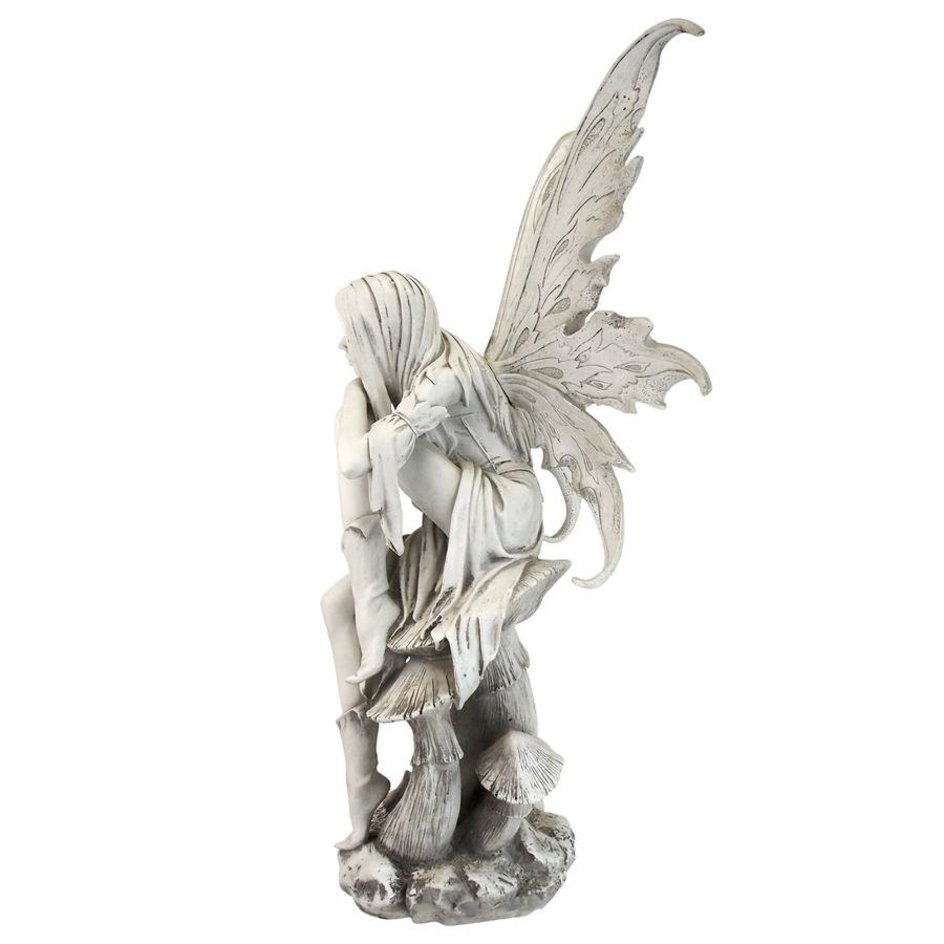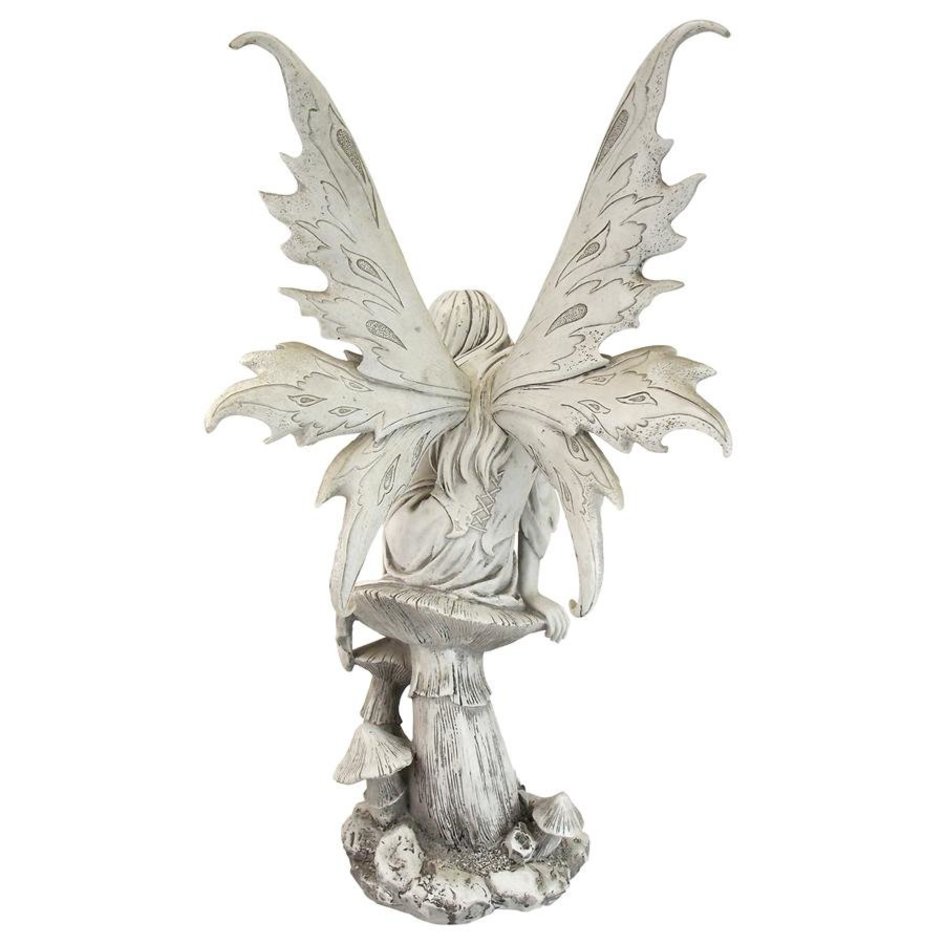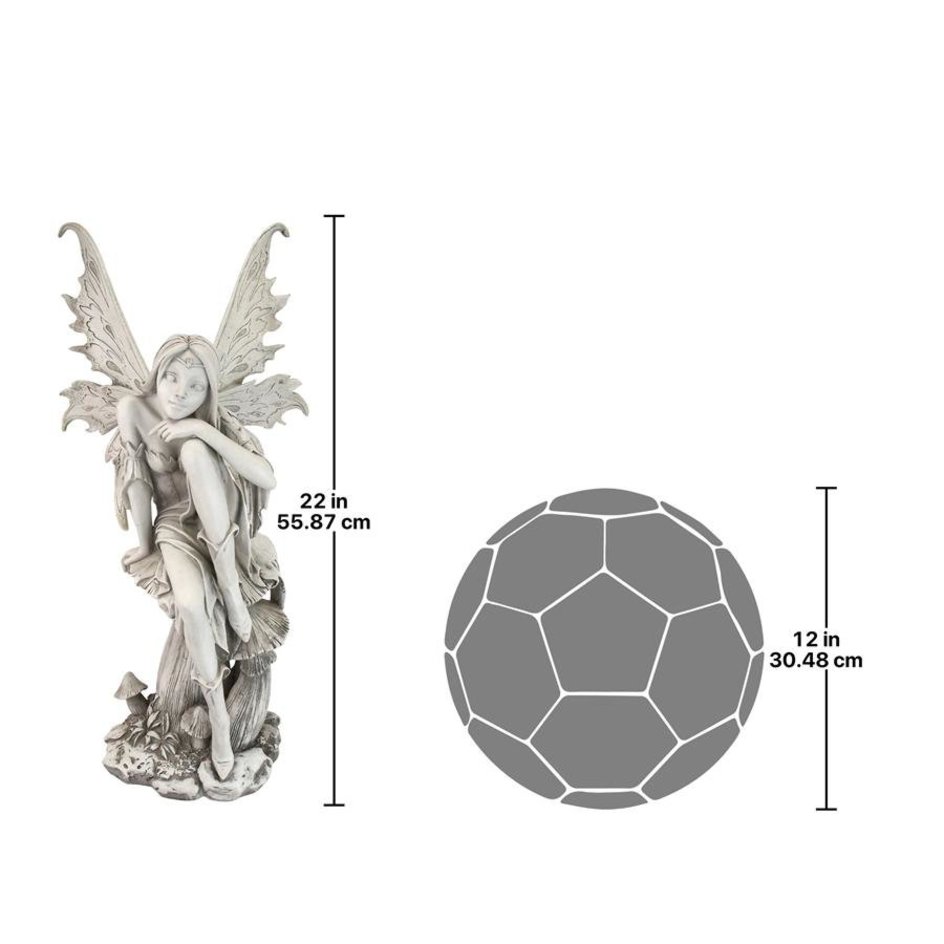 Fannie the Fairy Sitting Fairy Garden Statue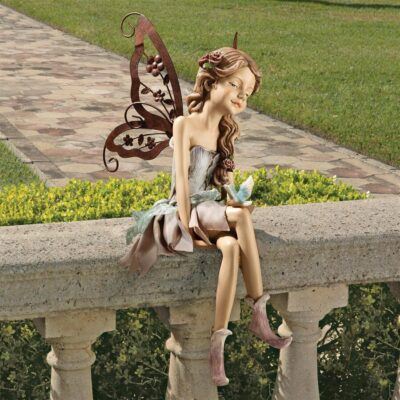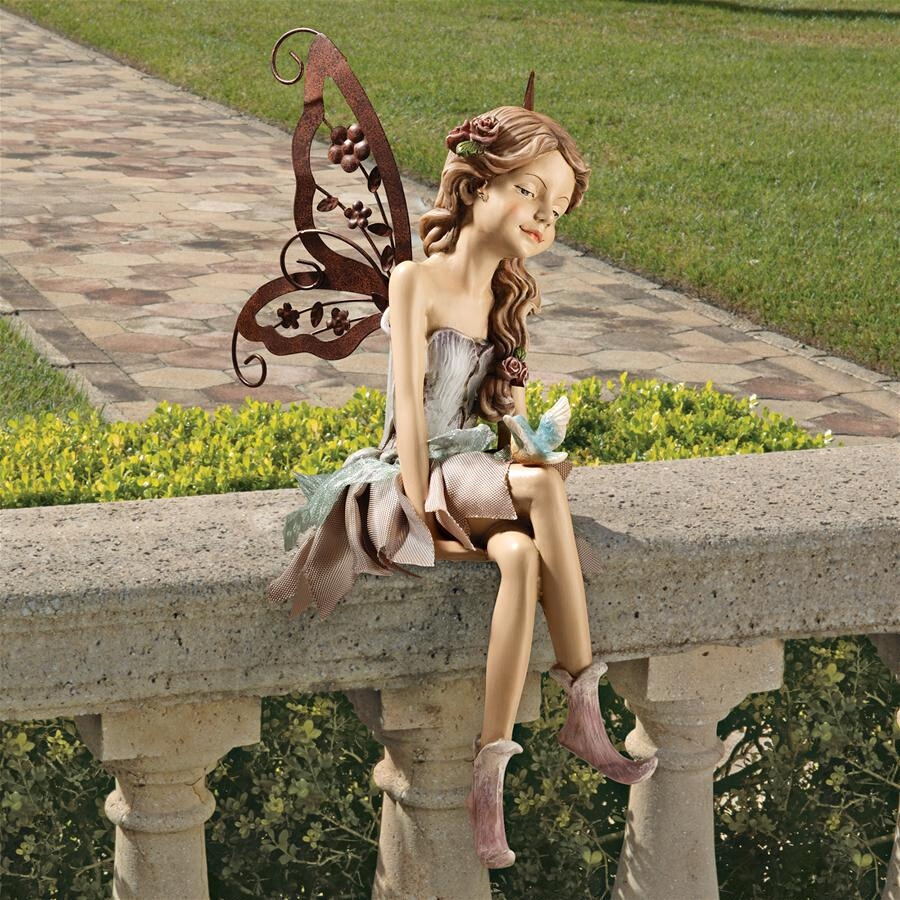 Say hello to the beautiful Fannie the Fairy. She is perfect for a sheltered nook or garden wall outside as well as your mantle or bookshelf in your home. No matter where she ends up, Fannie will delight all who come across her wistful perch.
This full color painted piece of art truly delights the senses with a mix of designer resin body, die-cut metal wings and fabric for the lovely petal skirt. She is 12 1/2 inches in height and a delicate 1 pound in weight, which makes her prone to take a tumble if winds arise.
Fannie has over 45 reviews and averages 4.4 stars. Here are a couple customer reviews.
Blitz from Brigantine, New Jersey, USA says, "Very nice Just be cautious unpacking it because the bird on her lap is small & easily breaks off. You might not realize it broke off right away. Otherwise, you will enjoy it." – 5 stars
roxy6 from Santa Ana, California, USA says, "Fannie is really cute; this is my 2nd figurine because I leave her outside and the ravages of sun and rain get to her after a while"… "be aware the coloring can vary from one to another. She's cute though, for sure." – 4 stars
You can get Fannie for yourself or see more color photos and customer reviews of her here!
Taking Care of Your Outdoor Fairy Garden Statues
These outdoor garden statues should be assembled carefully over a soft surface such as grass. When choosing a place to display your statue keep in mind that it is a breakable object, you don't want to place it where the wind or a careless person would be likely to knock it over, especially onto a hard surface!
It is also important to note that these statues are not meant to be left outside in freezing temperatures. If you live in an area where it gets below freezing during the winter, then you should bring them inside or place them in a garage or shed.
To protect your statue and keep it looking it's best the manufacturer says;
"We recommend any of our outside statues and sculptures be sprayed with KRYLON once or twice a year to prevent the paint from chipping and fading."
"Statues with designs that may retain or collect water should be covered or stored. They are also susceptible to damage by the effects of ice and wind. If they do not seem securely placed, lower them from their pedestals early in the winter."
"In windy cities, statues on terraces should be secured to permanent structures."
"Painted items, like some of our gargoyles or animals, should be allowed to winter in a covered area (we don't want the poor guys to get frostbitten!)."
"We strongly suggest that all portable statues be taken indoors in extremely inclement weather and freezing temperatures."
Winter Care of Statues & Fountains
How Many Sitting Fairy Garden Statues are Right for Your Garden? The Choice is Yours!
Garden statues can be a very special thing to a person, and I hope I made it easier for you by going over the design, dimensions, reviews and prices. Whatever your reasons for choosing a sitting fairy garden statue, it all comes down to your particular aesthetic style.
Personally, my favorite is a draw between The Sunflower Fairy, and The Secret Garden Fairy Statues. (The Gazing Fairy in particular.)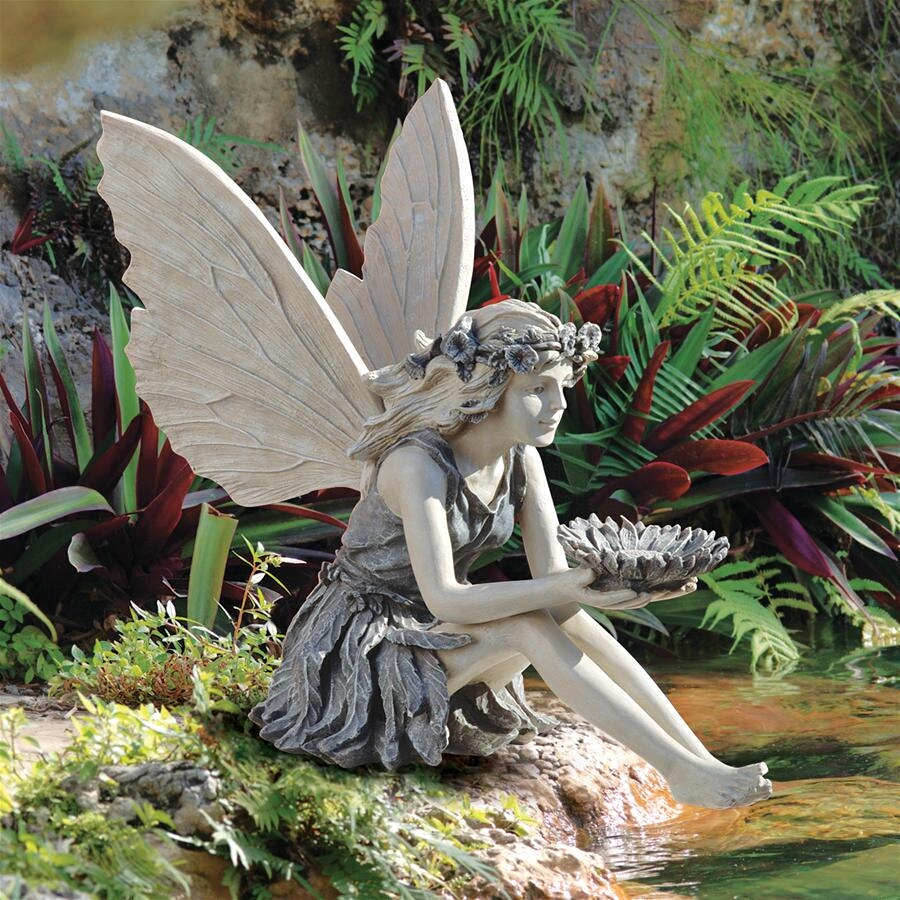 I like The Sunflower Fairy because of the sunflower bowl and how big she is. Some customers appreciated this as well by utilizing the statue as a bird feeder on occasion. This is along the same lines that I was thinking.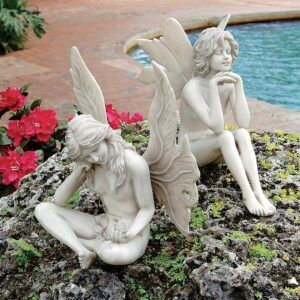 I like the Secret Garden Fairies because of the faux stone coating and the crystal being held by the Gazing Fairy. I have a special place in my heart for crystals in the garden, they bring out the magic!
Thank you so much for taking the time to look at some beautiful sitting fairy garden statues with me. If you are looking for more gardening ideas try here, here and here! Happy gardening!
I really hope you enjoyed this article, please share it on your preferred social media platform and help us grow!
If you would like to send me any pictures or stories of your very own sitting fairy garden statue, send me an email at randi@fairycirclegarden.com
Do you have any questions, comments or tips? Leave a comment below and I'll get right back to you!
Gratefully yours,
Randi