Large Fairy Garden Statues – Garden Guardians
A garden is a beautiful addition to any home, but it can be difficult to know where to start when it comes to designing and decorating. Large fairy garden statues are a great way to compliment your garden, adding some beauty and whimsy to an outdoor space. They can be used as a focal point for the entire garden, accent pieces, or they could also be used to create a path through the garden.
These sculptures are often placed on a pedestal so that they stand out from the ground. They can also be displayed on top of a large rock or tree stump to add height to them. You can place them in gardens, on patios, or near pools for a classical and elegant touch.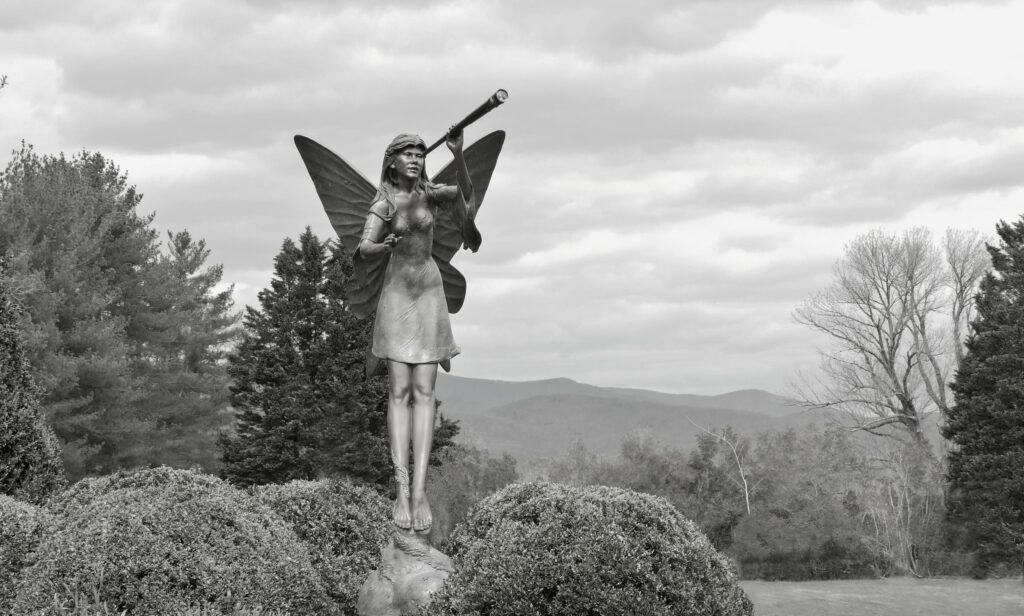 There are many different types of statues that you can use in your garden and there are also many different styles that you can choose from. So there really is no limit on what you can do with them!
Want to see even more awesome fairy statues for your garden? Check out our complete guide to outdoor fairy garden statues here for more information on decorating your outdoor gardening spaces with fairy statues. The statues we feature below are from our friends at Design Toscano, they are a quality company with excellent customer service and if you purchase any of these statues by clicking the links below, a small portion will go to support this website at no cost to you!
Grande Fairy of Kensington Gardens Sculpture
This is the tallest fairy statue I have been able to find so far, and it looks absolutely gorgeous. That's not too much of a surprise considering this was designed by renowned sculptor Evelyn Myers Hartley!
"Blowing fairy dust from her cupped seashell, our grande-scale sculpture with petal gown, butterfly wings, and flower-wreathed curls is ready to be the enchanting centerpiece of your home or garden."
Most Reviews are positive although some people report problems attaching the wings. Customer support is able to assist with this and any other problems, they can send out a new statue if anything is wrong as long as you contact them in a timely manner so call them first if you have any issues or questions!
Tim from Minnesota states "This Grande Fairy has become the centerpoint of the area we call our big fairy garden. The detail of this statue is exquisite, and she looks marvelous among the surrounding flowers."
Debbie from California said "Absolutely stunning in my backyard…. I had made a special place to display her and I have been enjoying her ever since."
To read all of the reviews, view more details, see larger pictures, and check current pricing, just click the "Check Price" button below!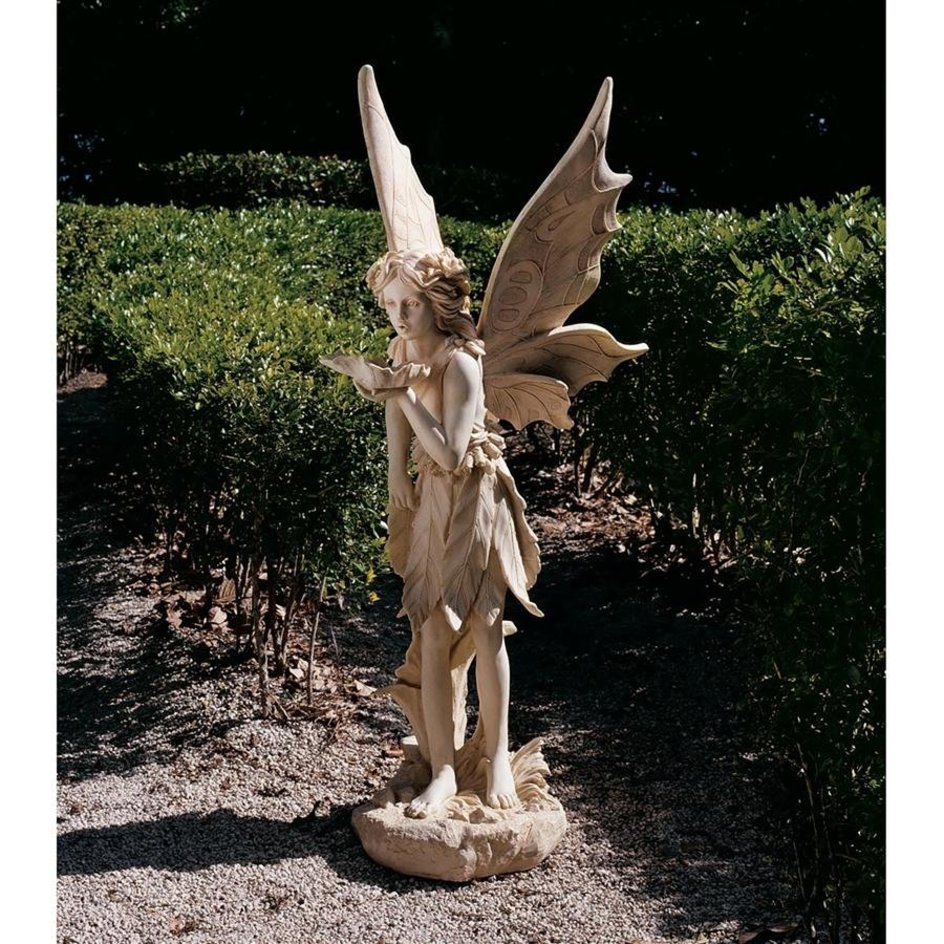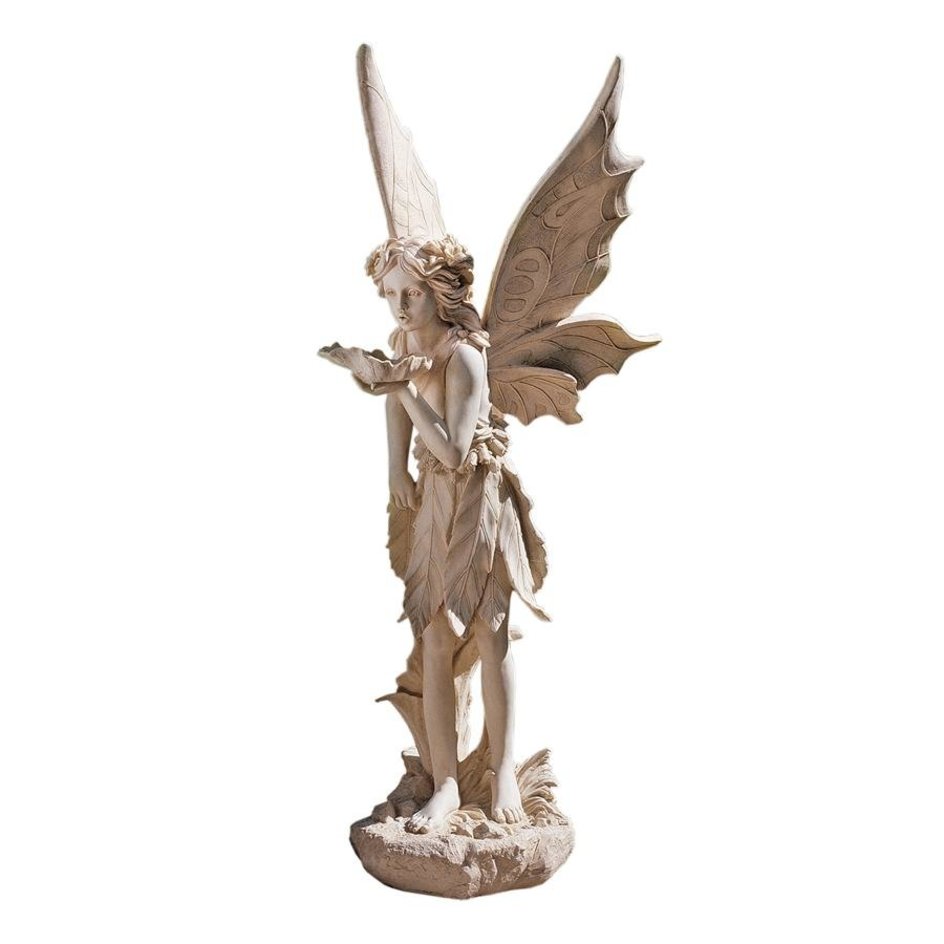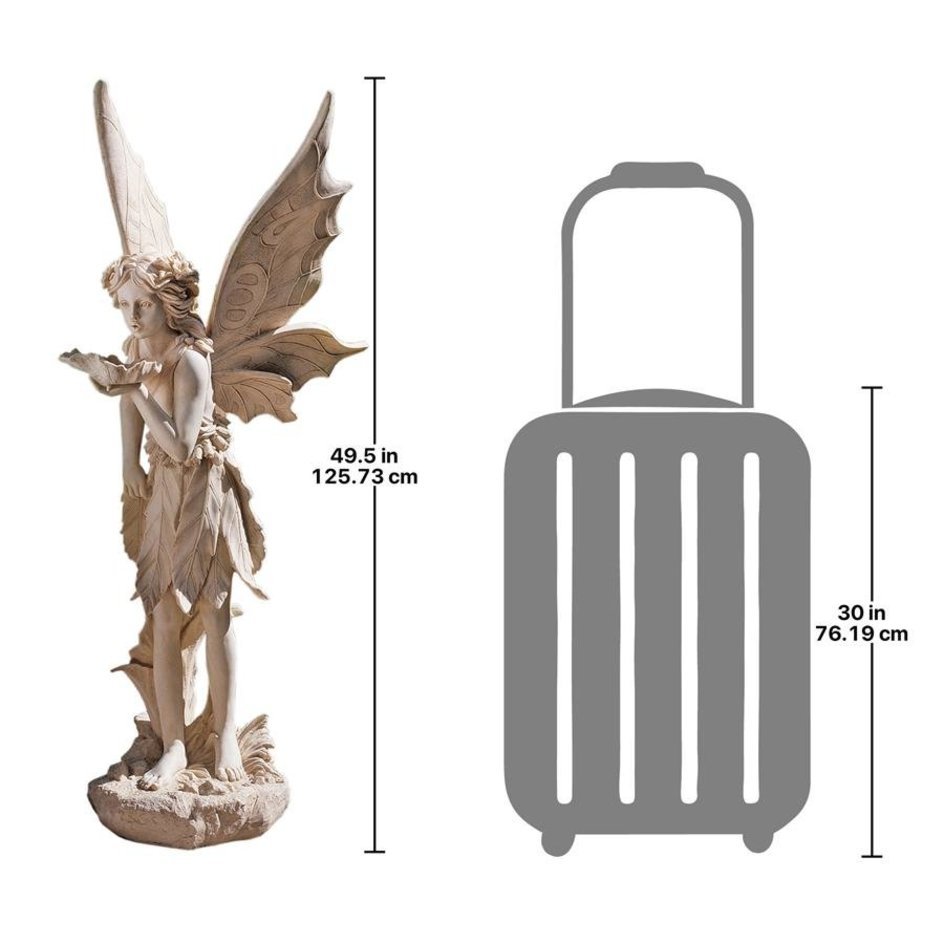 Dimensions
18″Wx23″Dx49.5″H. 27 lbs
Base: 12.5″W x 13.5″D.
Wing span is 18″
Each wing is 25″ tip to bottom
Material
Resin
Price
Check Price
Rhiannon the Archer Garden Fairy Statue: Large
There is a smaller version of this statue available as well, you can find out more about it in our article called Standing Fairy Garden Statues"
"In a classic sculptural pose, our traditional work of European garden art depicts a beautiful fairy archer drawing back to let her arrow fly. With amazingly detailed fairy wings unfurled to reveal their beauty, this angelic masterpiece lifts her delicate chin skyward."
Reviews are mostly positive with mainly 4 and 5 star ratings, 2 reviews were 3 stars. The 3 star reviewers were concerned with color fading, please see our "How to Care For…" section below for advice on how to preserve and protect your statues color from the outdoor elements.
Most 4 star reviewers loved the statue but stated the "skin" did not look as flesh colored as it appeared in the pictures, instead appearing more of white or grey, you can see their pictures in the review section to compare.
All the reviews had many positive things to say about this piece; "I Love everything about her. She's graceful & solid. Beautiful colours", "She arrived yesterday and she's gorgeous, a wonderful addition to my patio", and "she is breathtaking in my garden. Her wings and garments look like they're in motion."
To read all of the reviews, view more details, see larger pictures, and check current pricing, just click the "Check Price" button below!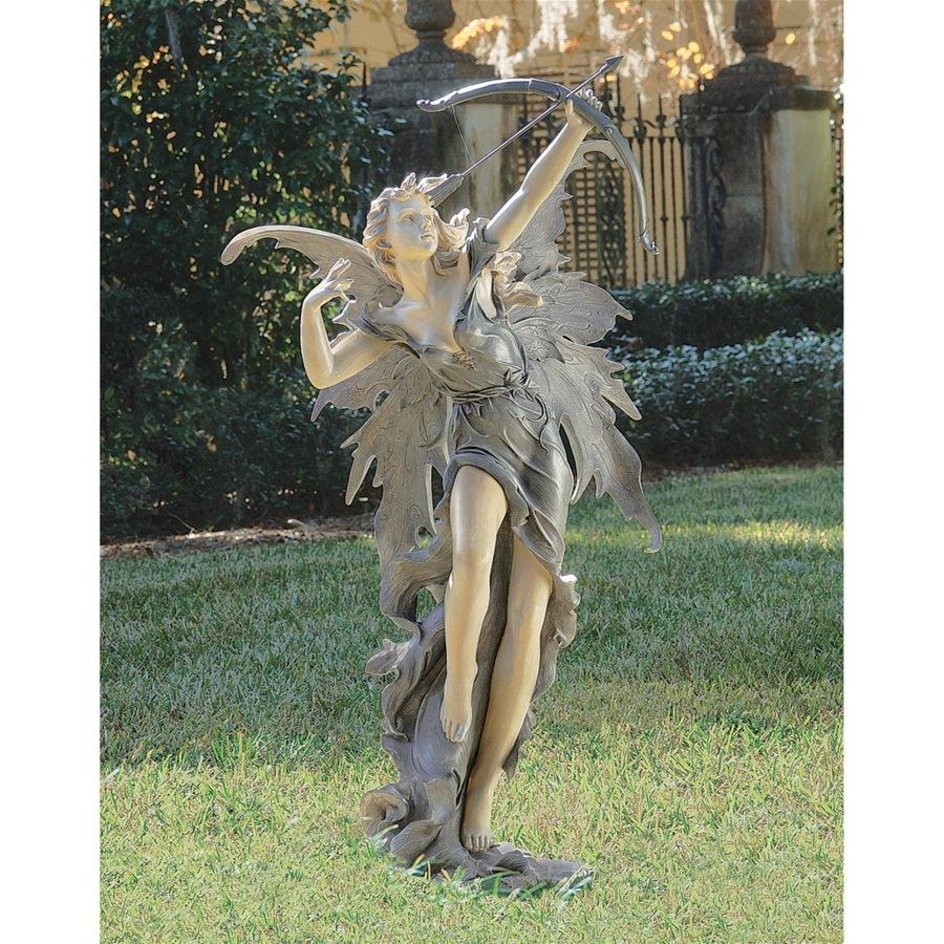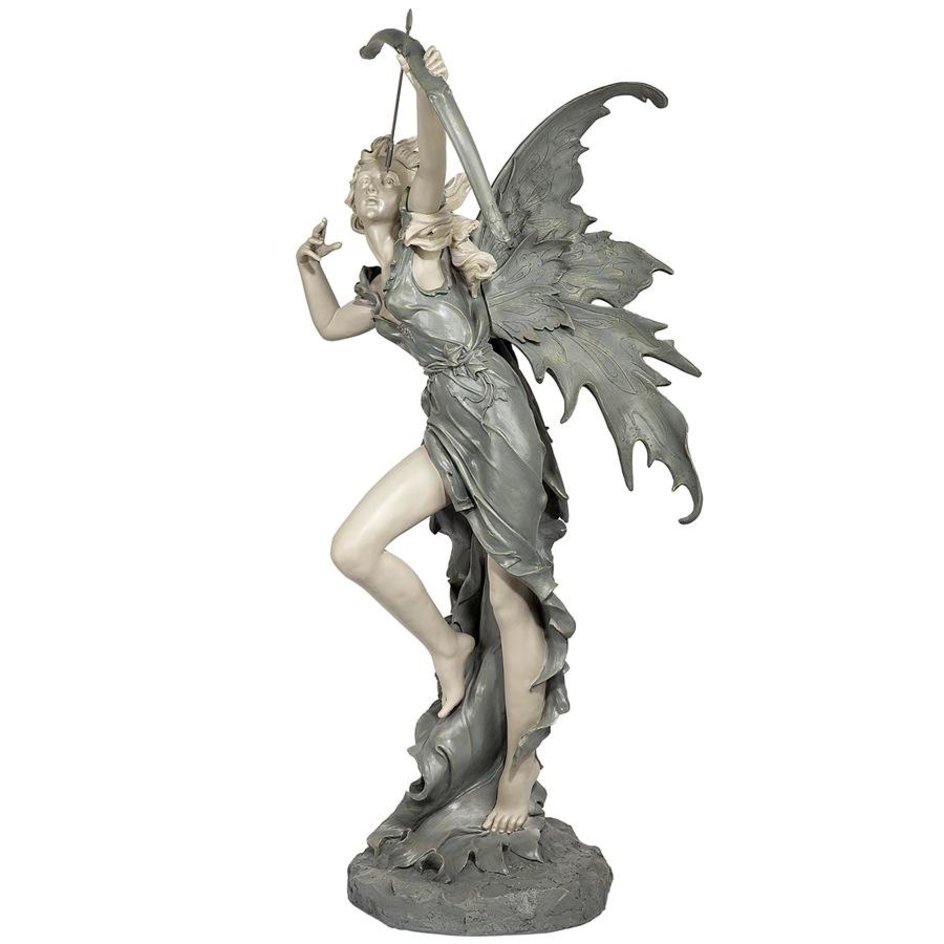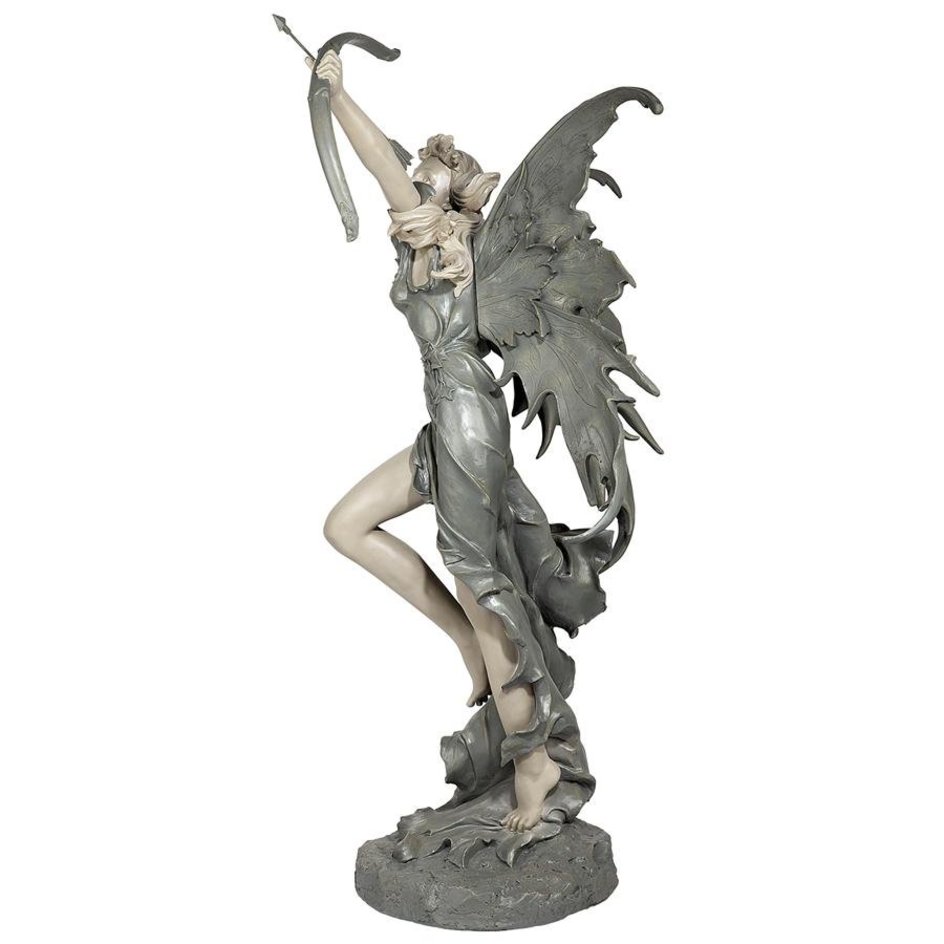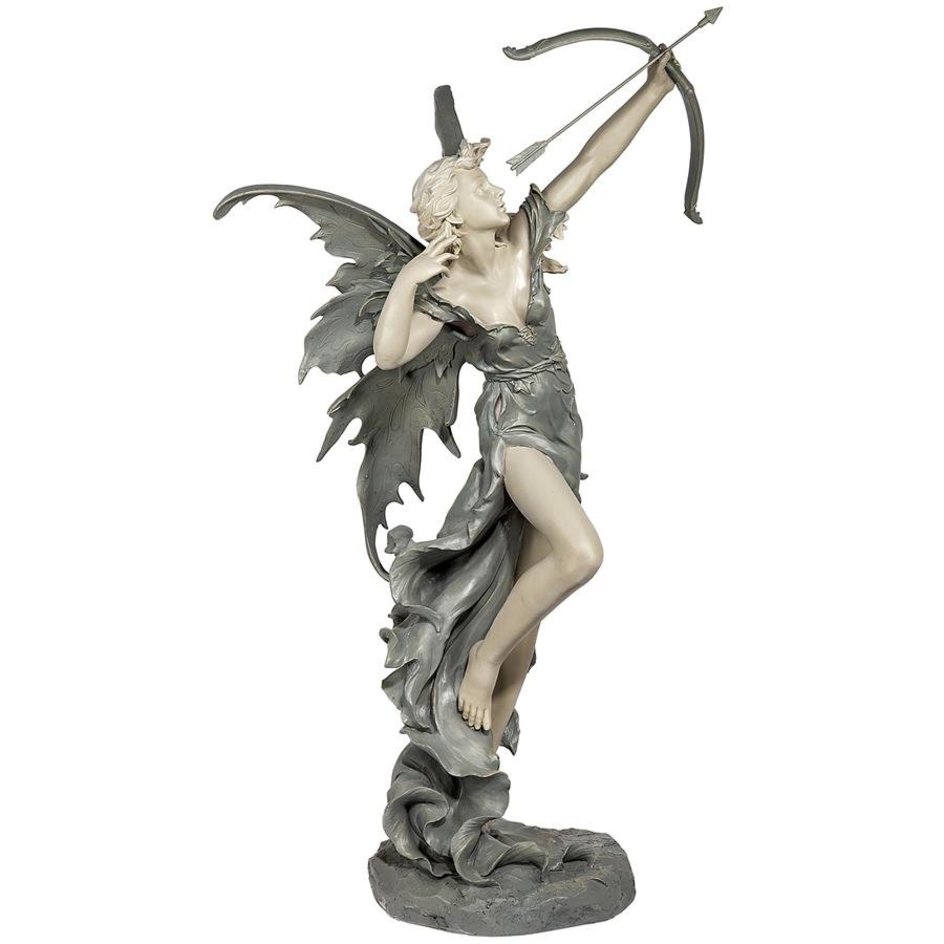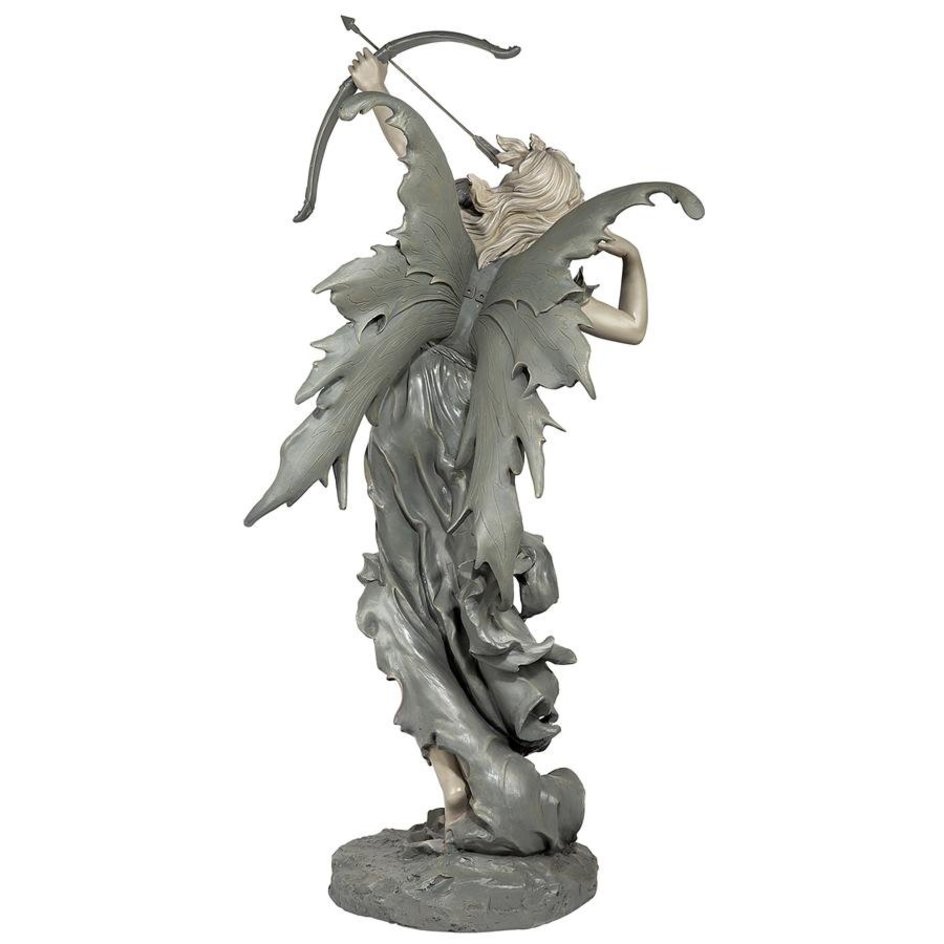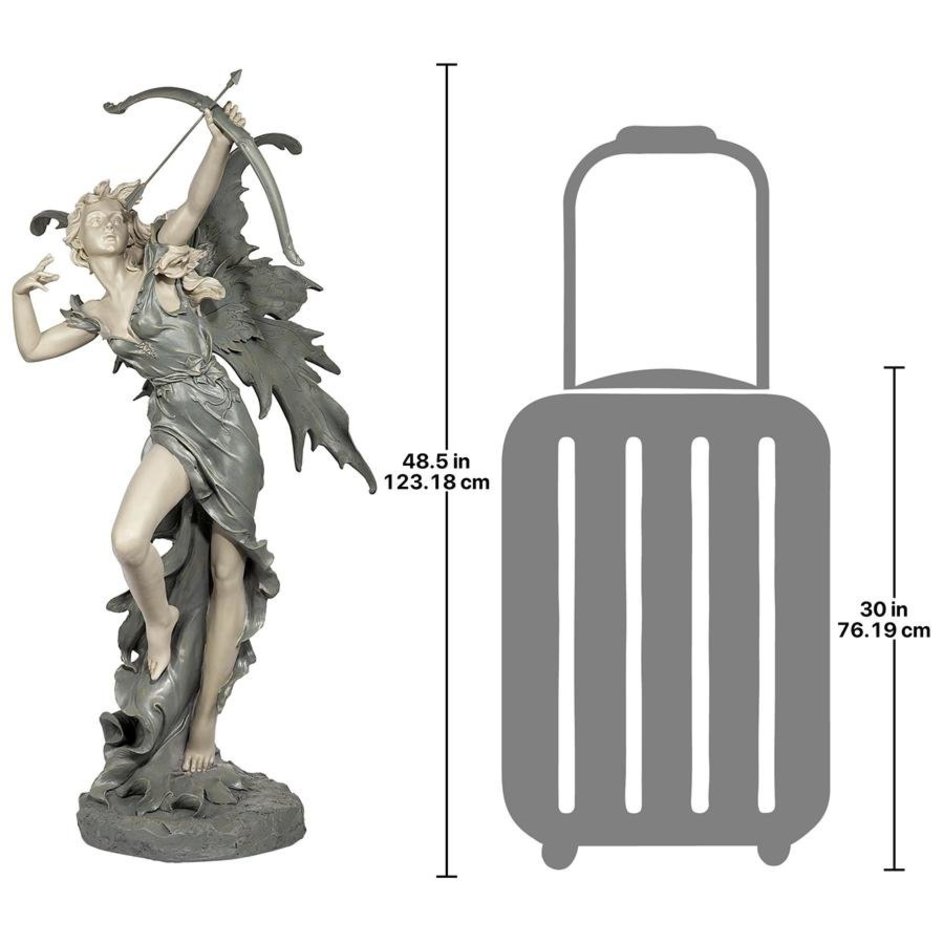 Dimensions
24.5″Wx26.5″Dx48.5″H. 30 lbs.
Base: 14″ dia.
Material
Resin
Price
Check Price
Spirit of the Wind Fairy Statue
This large fairy statue designed by sculptor Candice Pennington has an amazing amount of detail and is very breathtaking! It seems to radiate anticipation and enjoyment of the natural world, reminding me of how much enjoyment we can take it simple pleasures like feeling the wind cool us down on a breezy day.
"As the wind blows through her fine tresses, this exquisite, over two-foot-tall fairy seems ready to take flight at any moment. With her amazingly detailed wings unfurled to reveal their beauty, she lifts her delicate chin skyward. Our beautifully lifelike pixie is impressively sculpted and finished in two-tone quality designer resin"
There are several reviews and the vast majority are very positive except for three complaints. One reviewer complained because they dropped the wings during assembly and they broke. Remember to always assemble breakable things over a soft surface such as grass and take care not to drop them.
Another reviewer left 4 stars but complained because the product arrived broken, if this ever happens make sure to contact customer service immediately so they can replace it for you!
Another four star reviewer complained that the colors and paint faded and peeled after leaving the statue outside 24/7 for a year and a half. Remember that statues should be stored inside or placed in protected areas during the harsh winter months. Additionally, we are going to show you how to preserve your painted statues beauty in the "How to Care for…" section below.
The rest of the reviewers gave this statue 5 stars saying; "she was worth the wait. She is well made, with beautiful features", "Her features are realistic and her pose and lovely wings make me smile every time I see her. So happy I bought her!", and "This beautiful statue is well made and looks even better in real life than in the pictures".
To read all of the reviews, view more details, see larger pictures, and check current pricing, just click the "Check Price" button below!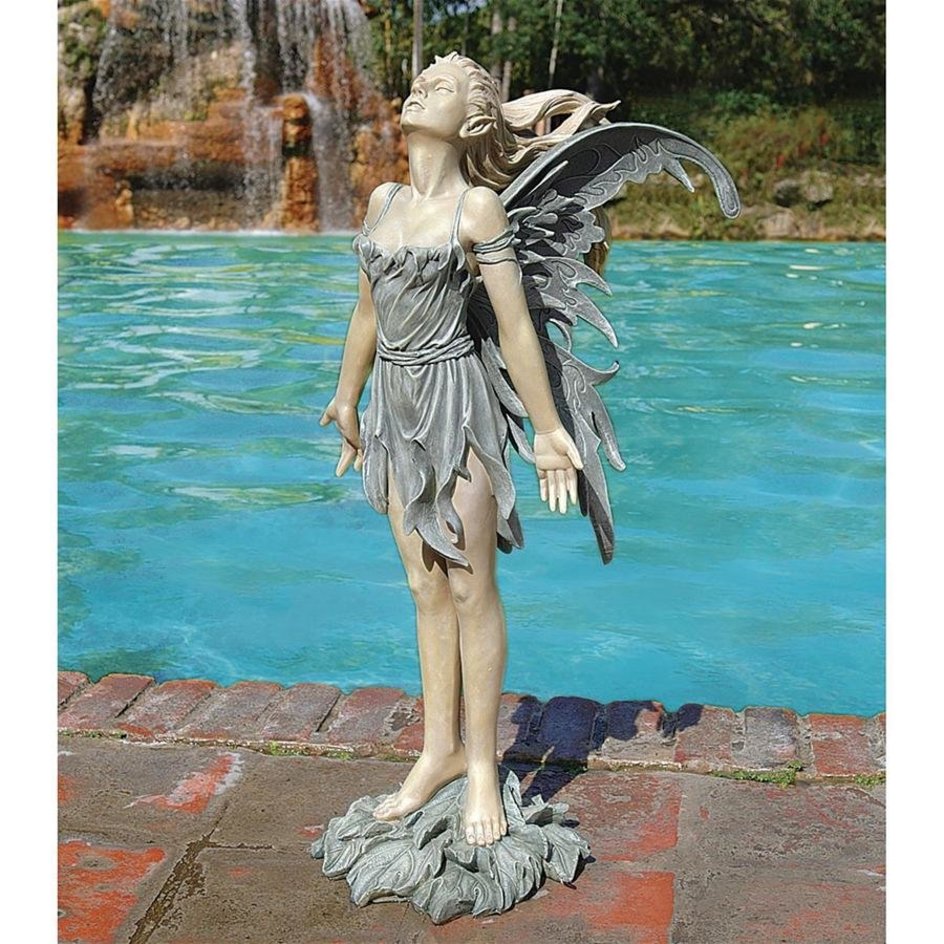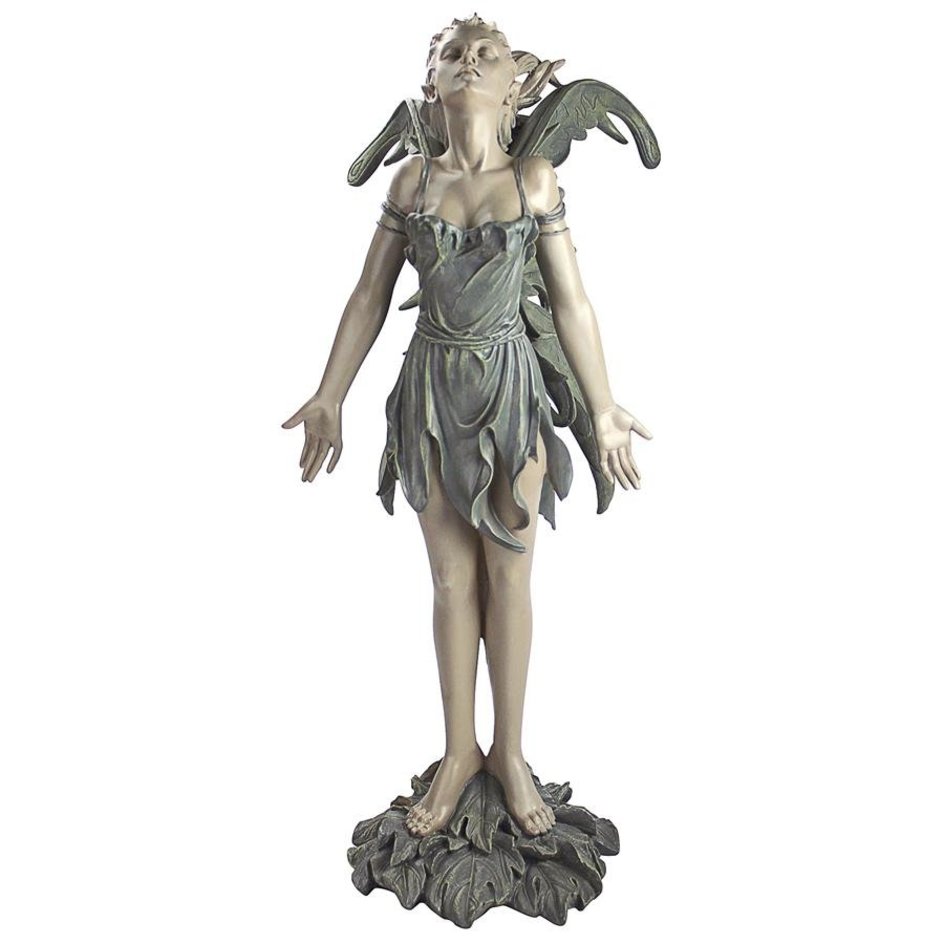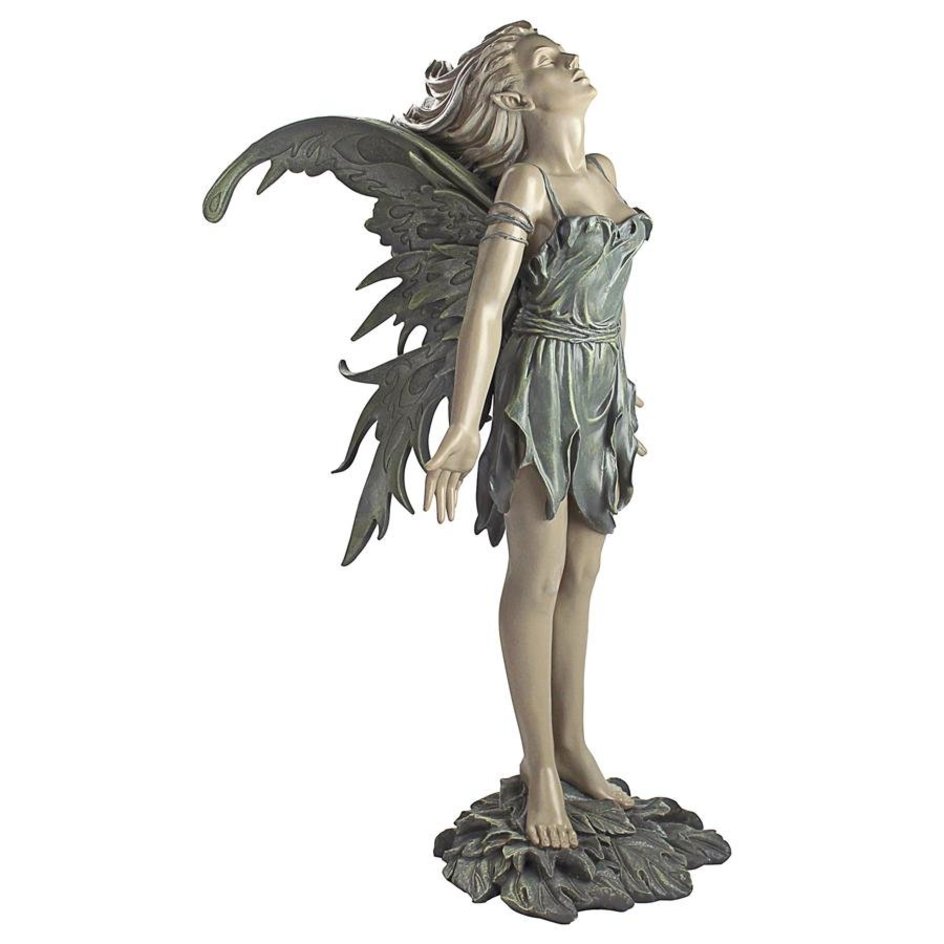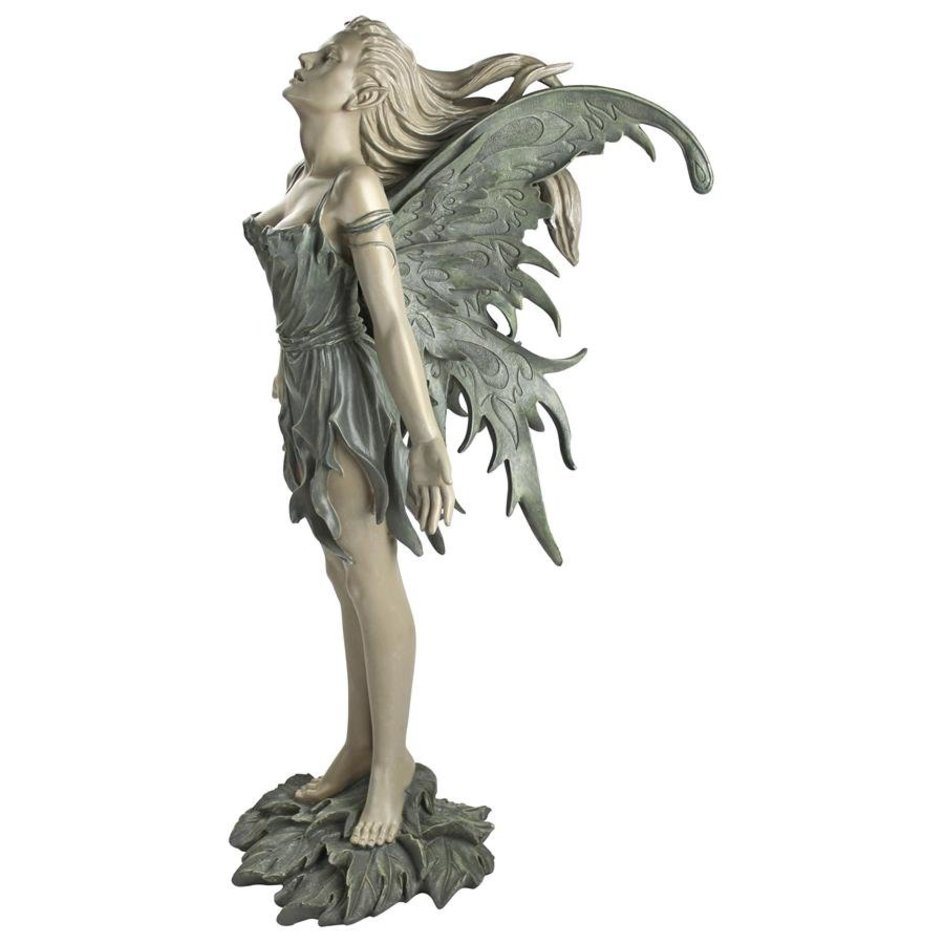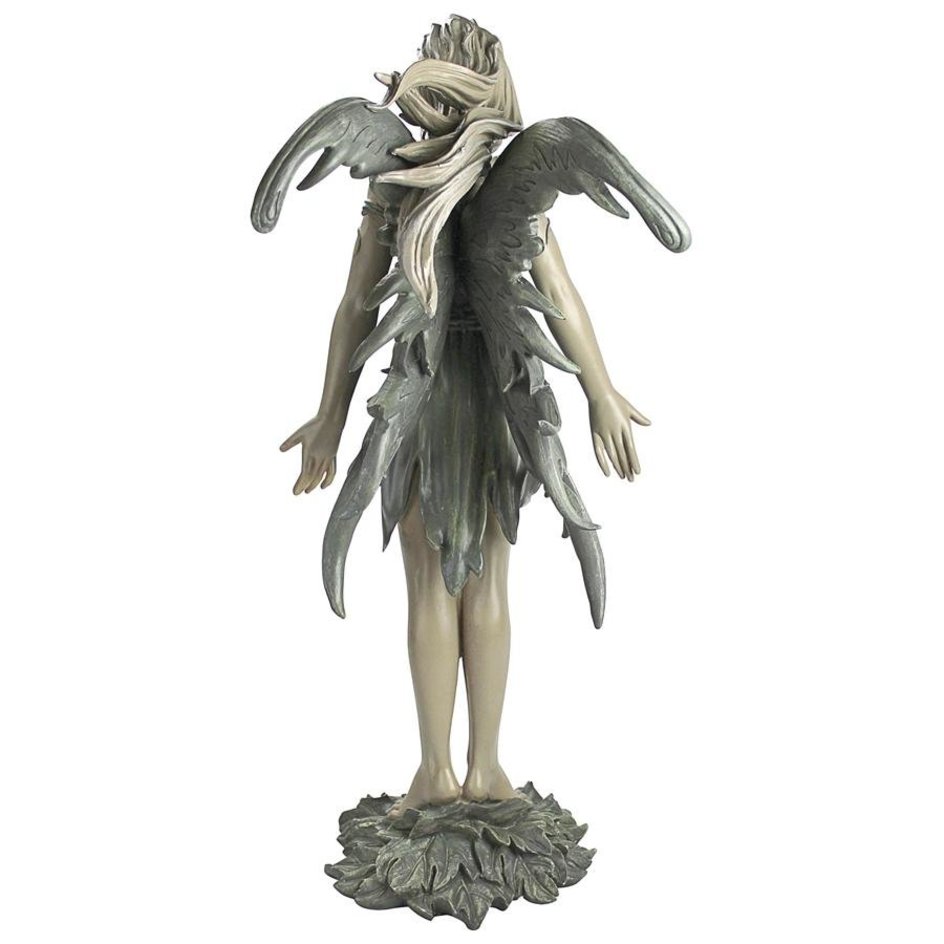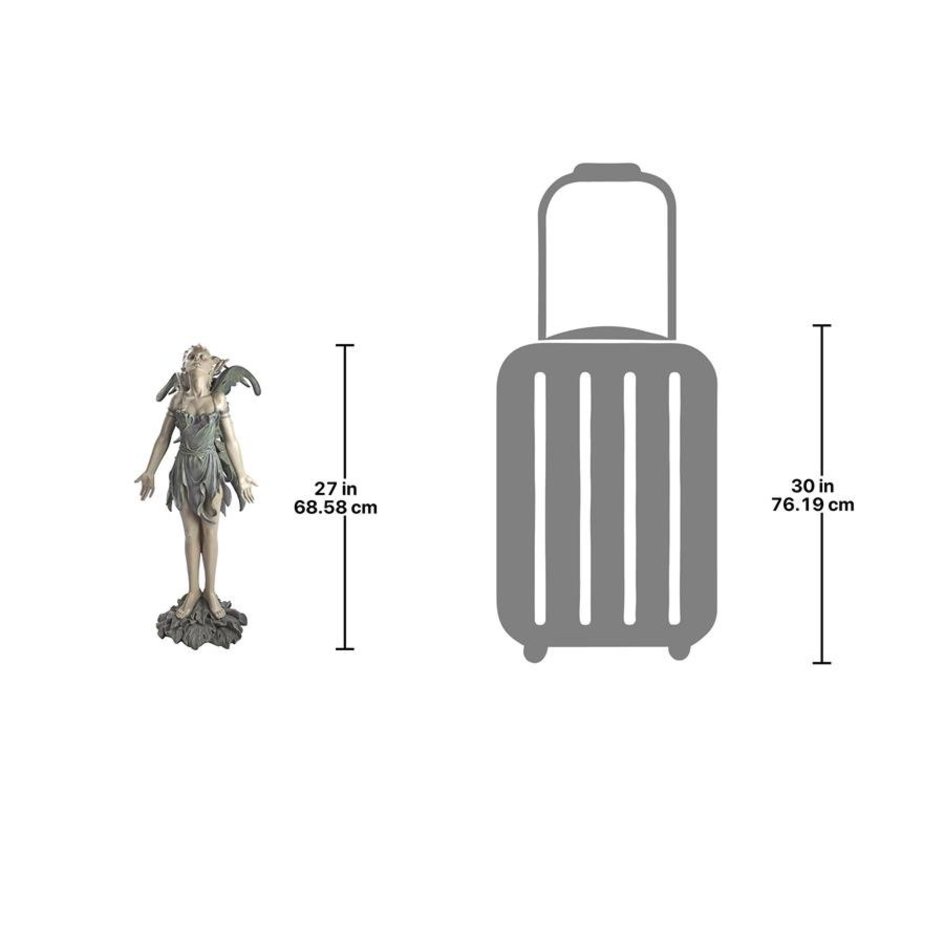 Dimensions
12″Wx13″Dx27″H. 13 lbs.
Base: 9.25″Wx10″D.
Material
Resin
Price
Check Price
Tempest the Metal Garden Trellis Fairy
In addition to being one of the largest fairy statues I have found, this beautiful piece is also a trellis as well making it truly unique! I love trellises but the large ones I created can get a little out of control sometimes, this is a perfect solution and I cannot wait to get one of these for myself, when I do I will add the pictures for you here.
"Place our mythical, almost 4-foot-tall, leafy winged fairy sprite atop a flowerbed or over a pot of climbing vines and watch this 19th century Victorian-style enchanter's canopied pixie skirt grow into an arbor that flourishes with fantasy charm!"
Reviews for this item are very numerous and positive, many people posted pictures of there individual displays as well.
One reviewer from Ohio stated; "This beautiful fairy garden trellis arrived within a few days of ordering and is true to what's depicted in the Toscano catalog. I can hardly wait for the Mandevilla I planted under her skirt to grow and vine onto this fairy's skirt."
Linda from Texas said; "She is simply STUNNING! I ordered her to put in the garden in front of our solarium, but when we took her out of the box and attached the wings, we knew she had to go on the raised deck behind the pool. She deserved a prominent place in the yard, and she has one. Love it!"
Another reviewer from New Hampshire writes; "It was certainly worth the wait, this trellis is sturdy, attractive and a conversation piece. I am very pleased."
To read all of the reviews, view more details, see larger pictures, and check current pricing, just click the "Check Price" button below!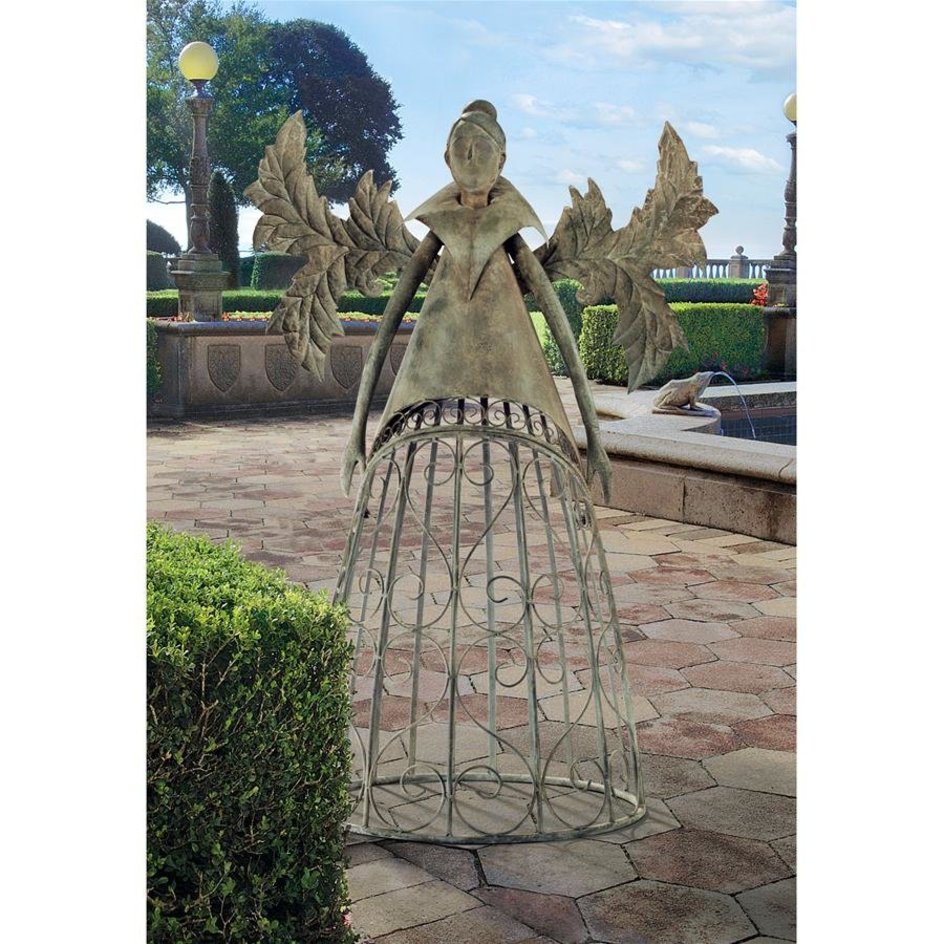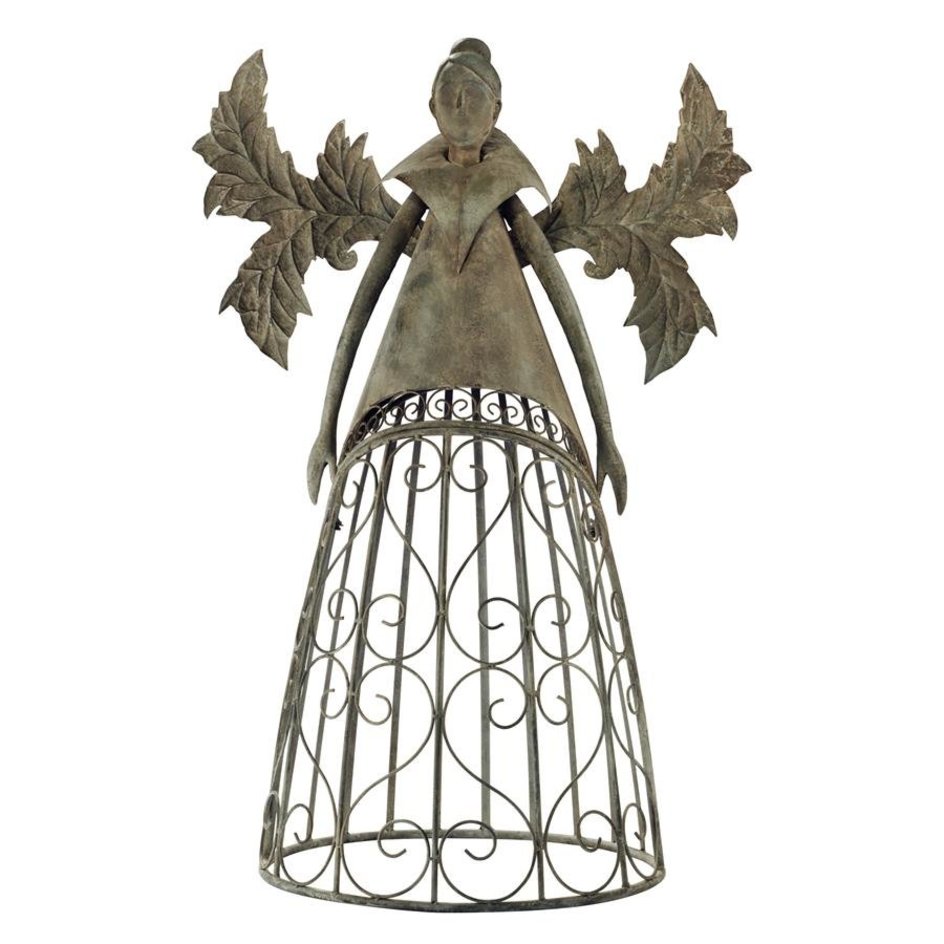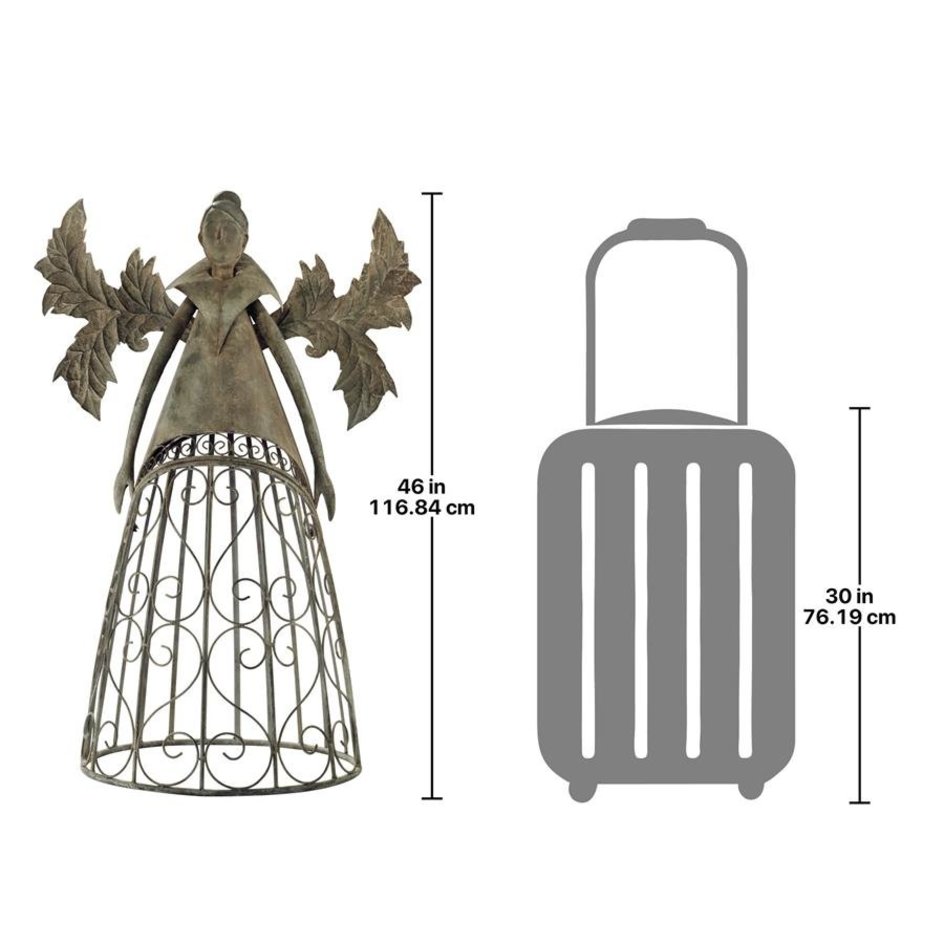 | | |
| --- | --- |
| Dimensions | 30″Wx21.5″Dx46″H. 18 lbs. |
| Material | Resin |
| Price | Check Price |
Grand Scale Flower Arbor Kids Cast Bronze Garden Statue
(This item was already featured in our article about bronze fairy garden statues, but since it is the largest garden statue I have ever seen I wanted to mention it again here, please see the full article for care and maintenance of bronze statues )
For those who want to add a magical, beautiful, and unforgettable way to enter their garden, this archway sculpture definitely makes that statement! The two statues of youthful girls creating an arch of flowers evoke a sense of fun, nature, innocence and lightness, although this sculpture weighs over 217 pounds.
Pros include the magnificent beauty and absolutely huge size of the sculpture, cons are that because it is so huge and made out of a valuable metal, this is one of the most expensive garden statues I have come across. (Although at the time of this writing the price has been reduced by over 30%!)
"This artistically unique, cast bronze, flower arbor statue is truly breathtaking! Create an impressive entrance and usher guests into your formal garden with the wide embrace of our delightfully ornate, more than 7-foot-tall, welcoming arch! A stunning entry focal point or a destination at the idyllic end of a leafy green path, this Design Toscano exclusive boasts a reflective, multi toned floral arch flanked by two wonderfully sculpted young girls, expertly finished in a hand-applied two-tone, classic sepia and emerald verde bronze patina. Cast and crafted one piece at a time in the traditional lost wax method, which highlights the detail of sculpt and guarantees lasting beauty."
To read all of the reviews, view more details, see larger pictures, and check current pricing, just click the "Check Price" button below!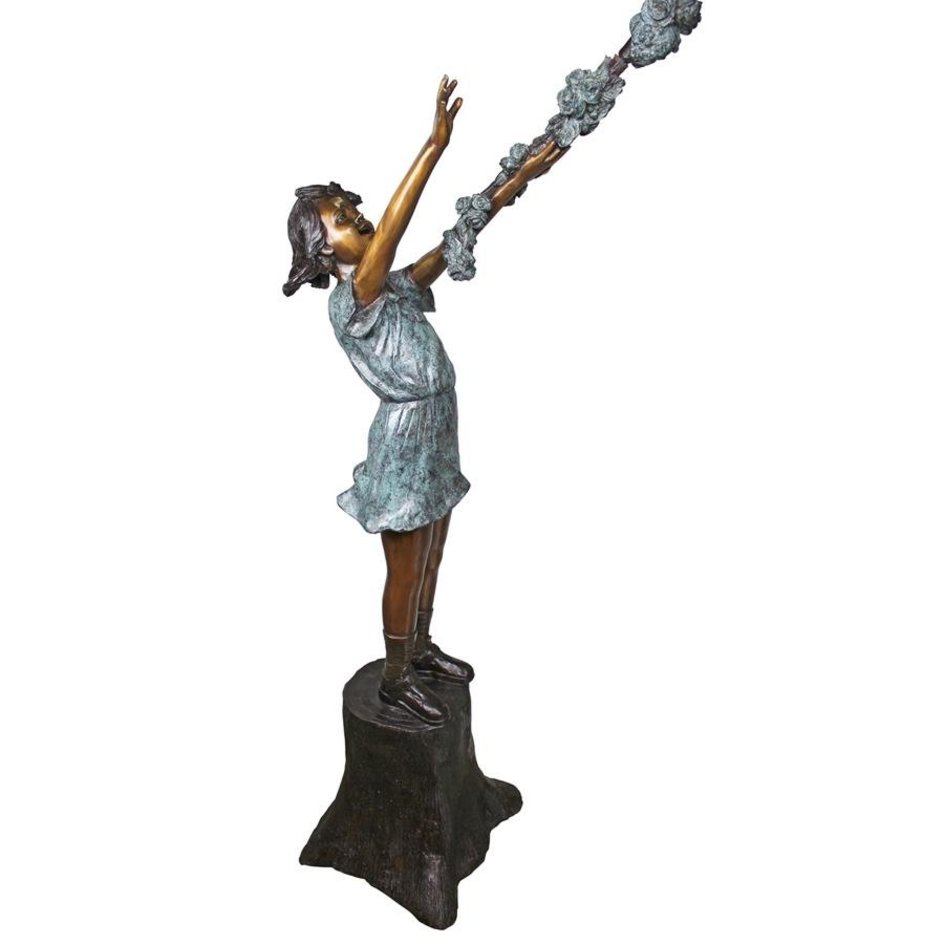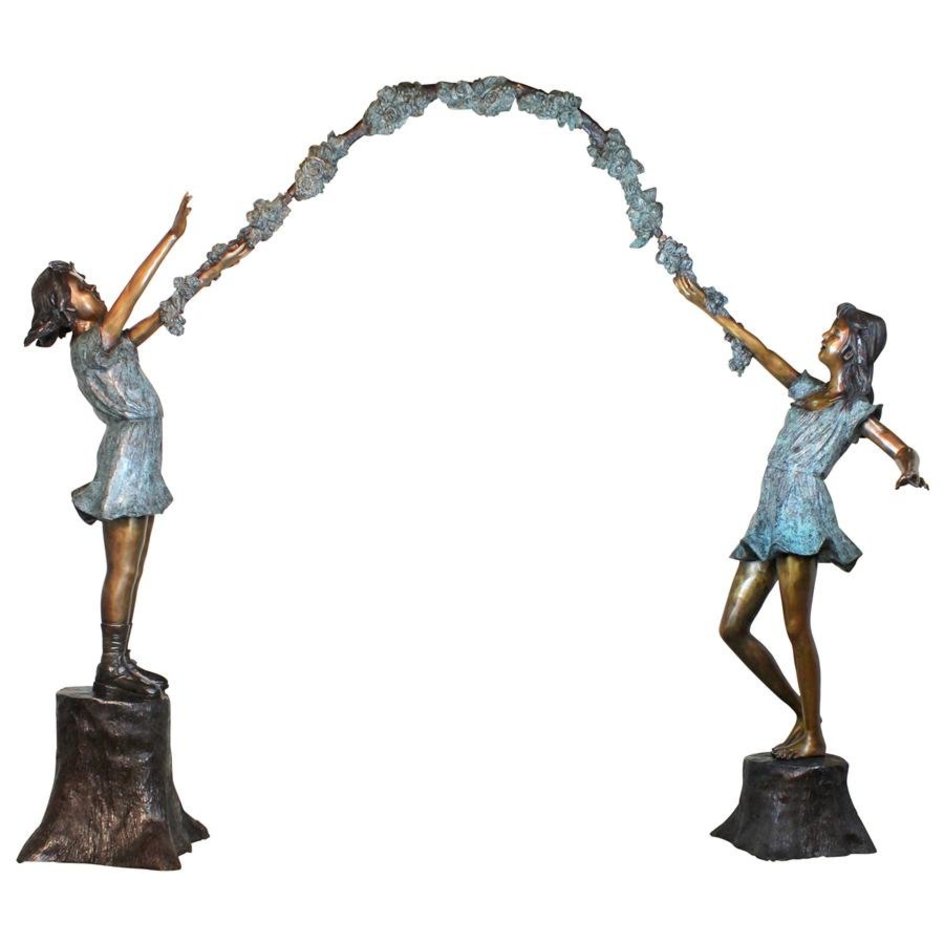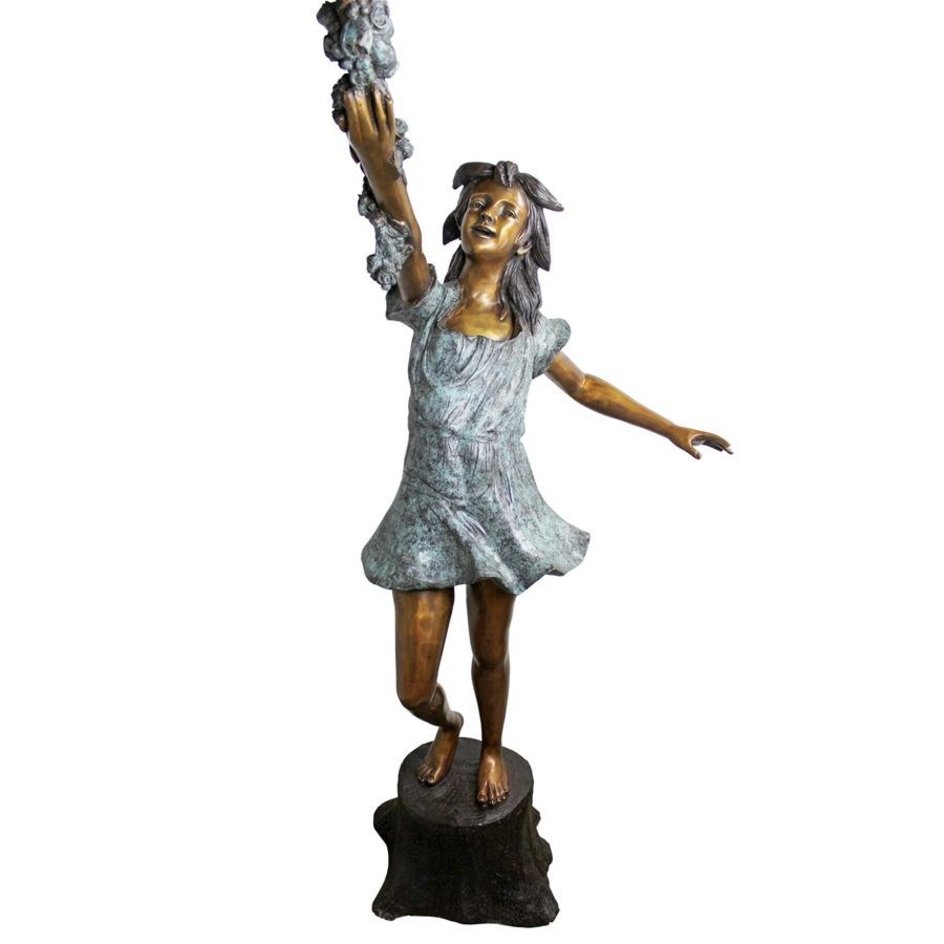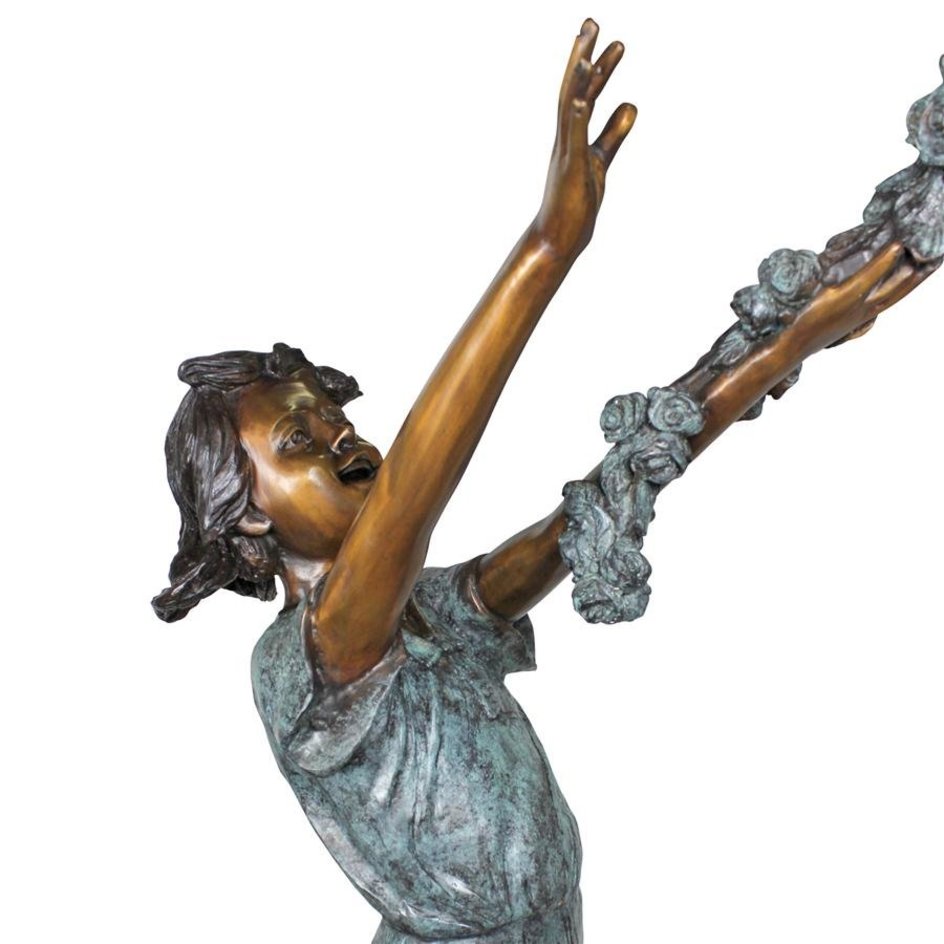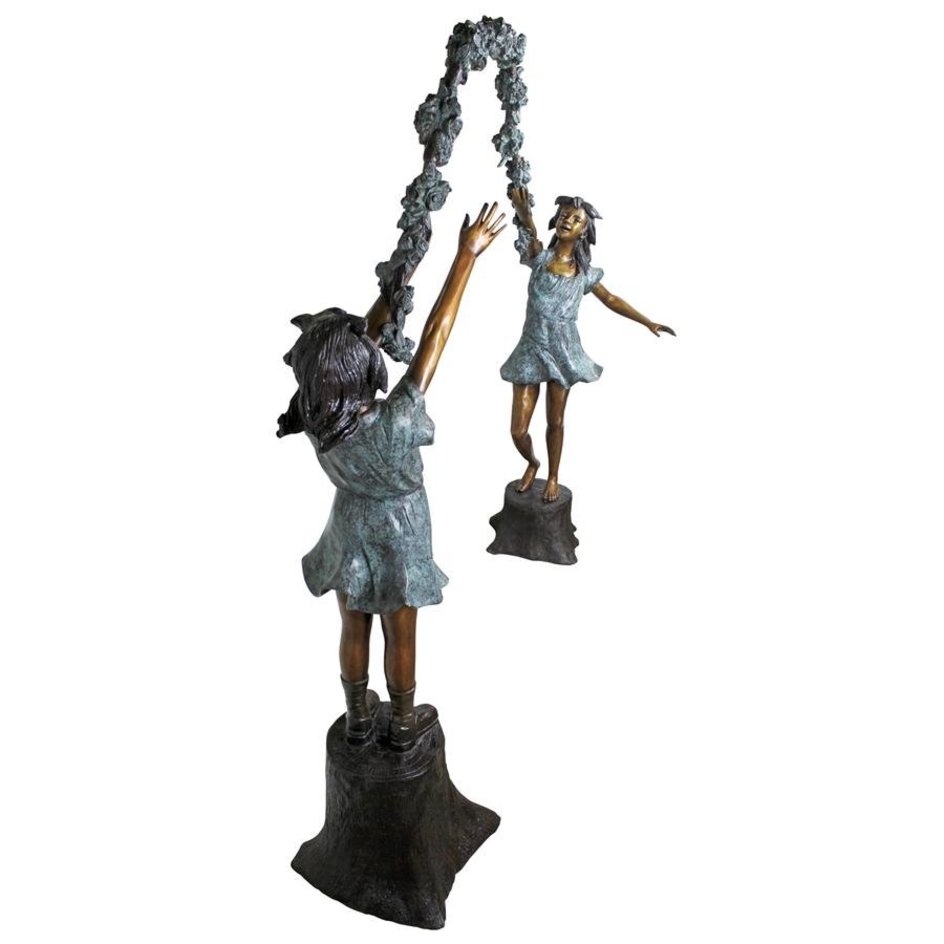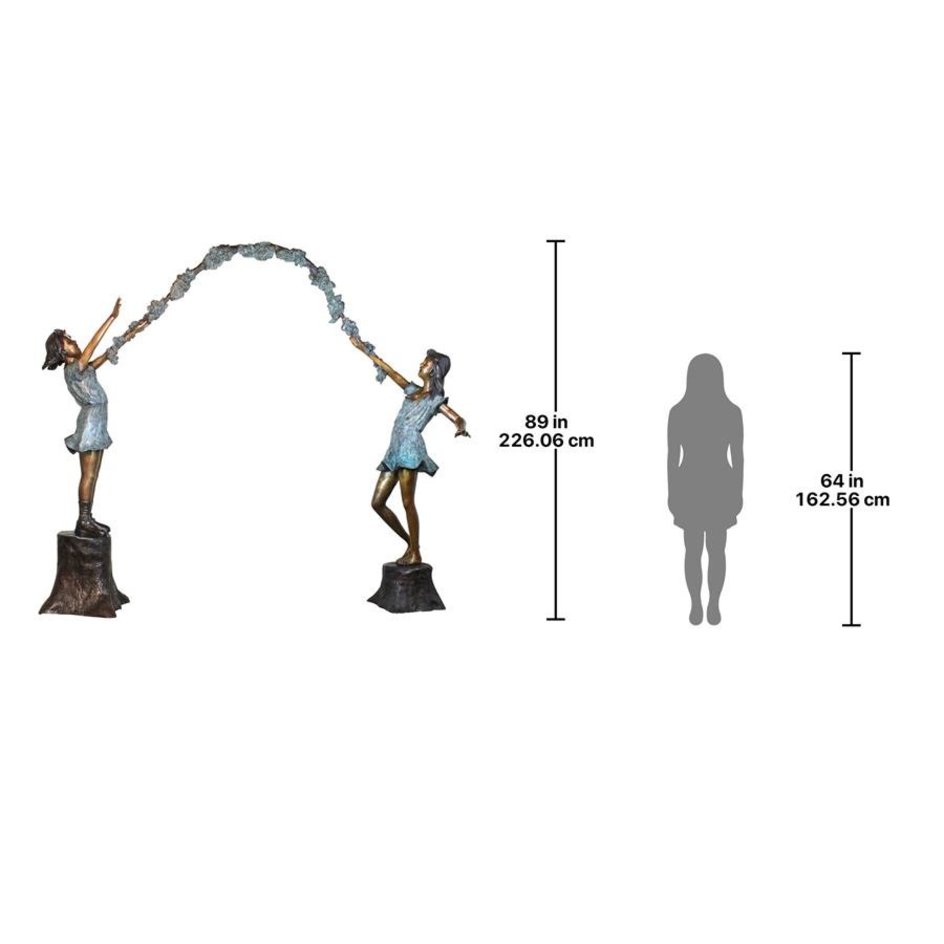 | | |
| --- | --- |
| Weight & Dimensions | 99.5″Wx34″Dx89″H. 217 lbs. |
| Material | Bronze |
| Price | Check Price |
How to Care for Your Large Outdoor Fairy Garden Statues
As mentioned above these statues should be assembled carefully over a soft surface such as grass. When choosing a place to display your statue keep in mind that it is a breakable object, you don't want to place it where the wind or a careless person would be likely to knock it over, especially onto a hard surface!
It is also important to note that these statues are not meant to be left outside in freezing temperatures. If you live in an area where it gets below freezing during the winter, then you should bring them inside or place them in a garage or shed.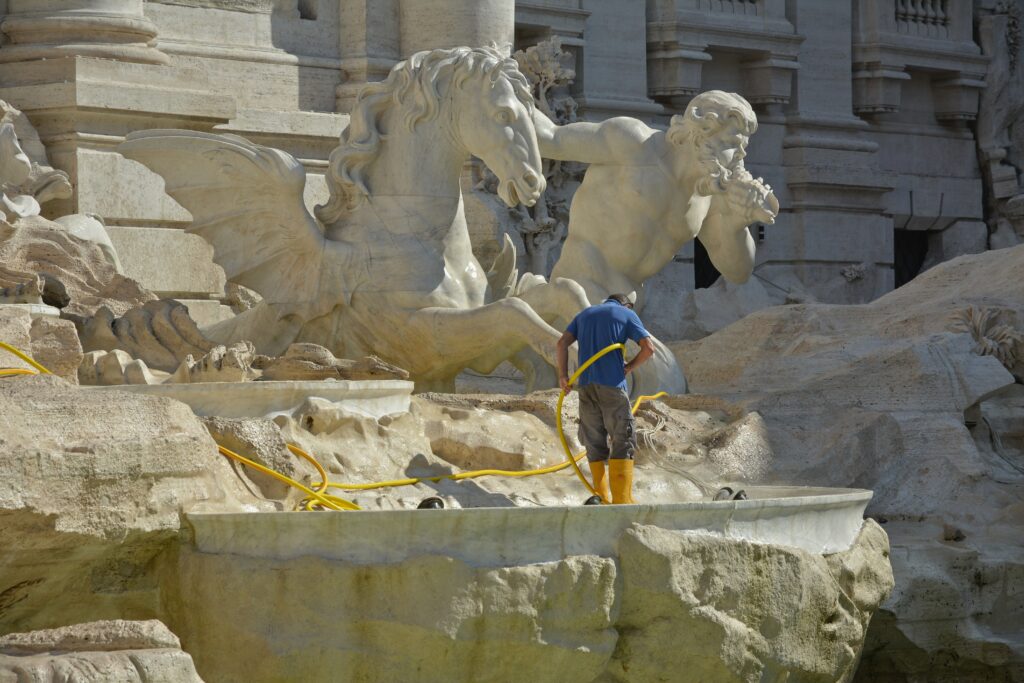 To protect your statue and keep it looking it's best the manufacturer says;
"We recommend any of our outside statues and sculptures be sprayed with KRYLON once or twice a year to prevent the paint from chipping and fading."
"Statues with designs that may retain or collect water should be covered or stored. They are also susceptible to damage by the effects of ice and wind. If they do not seem securely placed, lower them from their pedestals early in the winter."
"In windy cities, statues on terraces should be secured to permanent structures."
"Painted items, like some of our gargoyles or animals, should be allowed to winter in a covered area (we don't want the poor guys to get frostbitten!)."
"We strongly suggest that all portable statues be taken indoors in extremely inclement weather and freezing temperatures."
Thank You for Reading About These Large Fairy Garden Statues!
Do you have any recommendations or feedback to add to the discussion? Or you know of some more great large fairy garden statues that you think I should add to this article? Then comment below! I answer every comment. You can also email me at randi@fairycirclegarden.com or send me a message through social media as well!
Did you like this article? I hope so because I work very hard on every one. If you did, please share it on your favorite social media page using the buttons below! Please follow us on social media for more great content, you can use the links at the top right to follow us on Facebook, Twitter, Instagram, Pinterest and Gab.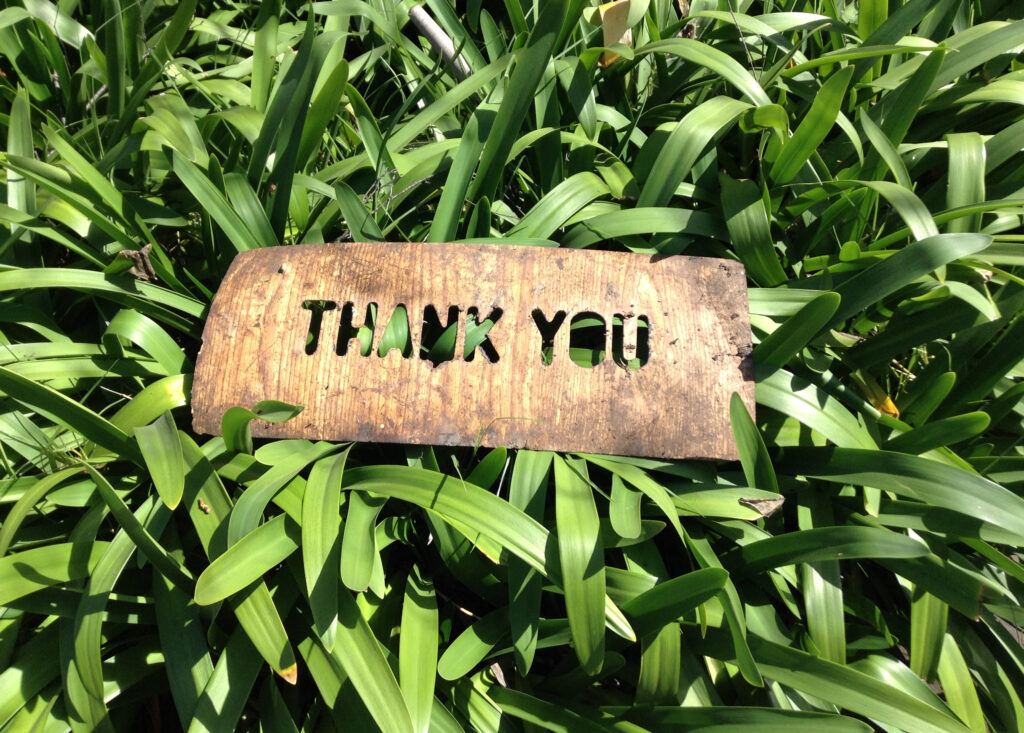 Please feel free to share your gardening questions, comments, creations, pictures, and videos there too. We want to create the best community for gardeners anywhere and we need you to help us grow! You can also click here sign up for our newsletter to get access to exclusive content and discounts, we will send you a free seed starting eBook when you subscribe!
Thank you so much for taking the time to read my article and spend time on my website, I am so grateful for each and every one of you!
Wishing you all the best,
Randi