Bronze Fairy Garden Statues – A Valuable Addition to Your Garden
Are you considering adding bronze fairy garden statues to beautify your garden? I am too! Bronze statues make an excellent addition to any garden. They add elegance and beauty that can't be found in other types of statues, in fact bronze sculptures can last for hundreds of years!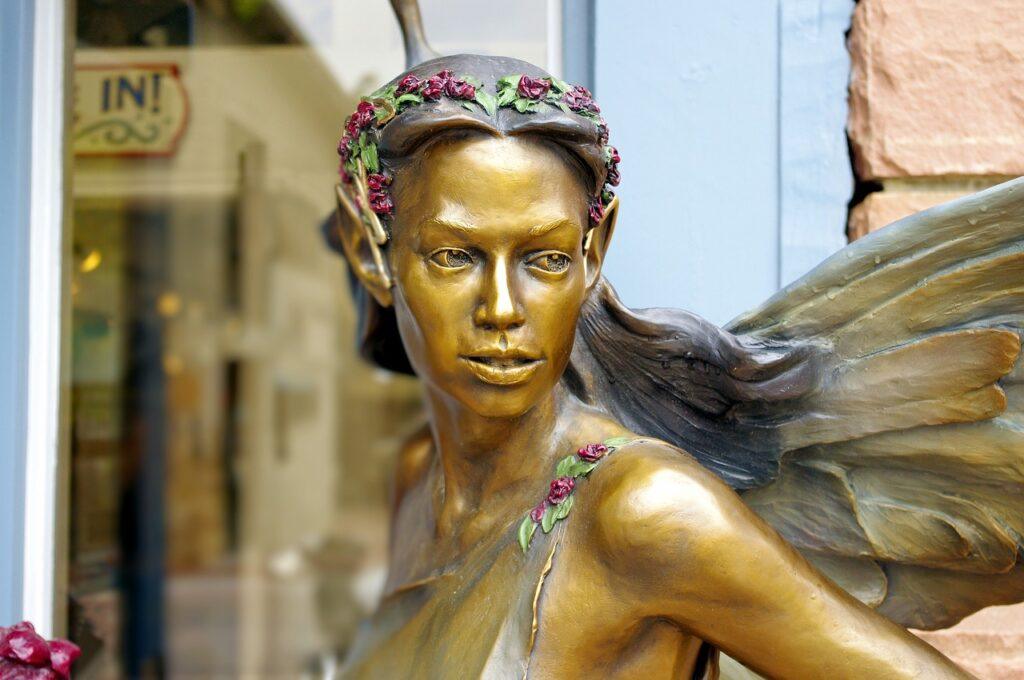 Bronze is a metal that has been around for more than 4,000 years. It is used in statues and sculptures to create works of art. A bronze garden statue is perfect for any garden because they are made from a durable material that can withstand the elements while remaining elegant and beautiful. Bronze has been one of the most popular statue materials for ages because it does not rust or corrode easily.
Want to see even more awesome fairy statues for your garden? Check out our complete guide to outdoor fairy garden statues here for more information on decorating your outdoor gardening spaces with fairy statues. The statues we feature below are from our friends at Design Toscano, they are a quality company with excellent customer service and if you purchase any of these statues by clicking the links below, a small portion will go to support this website at no cost to you!
Bronze Fairy Garden Statues Look Great in Your Garden
Bronze garden statues are beautiful and popular in fairy gardens. They make the viewer feel like they are in a magical world. Some people love bronze garden statues because they make their fairy gardens look more mystical, while others love them because they are durable and weather resistant.
Bronze garden statues can be used to decorate your front yard, back yard, or even your porch! Some people use them to dress up their home or office space to make it look more quaint and inviting. These statues look lovely in indoor as well as outdoor garden spaces.
The only downside to using bronze statues for your garden is the price as these are significantly more valuable than normal garden statues. The larger and more detailed the bronze statue, the higher the corresponding price will be. I would recommend displaying them in a fenced garden area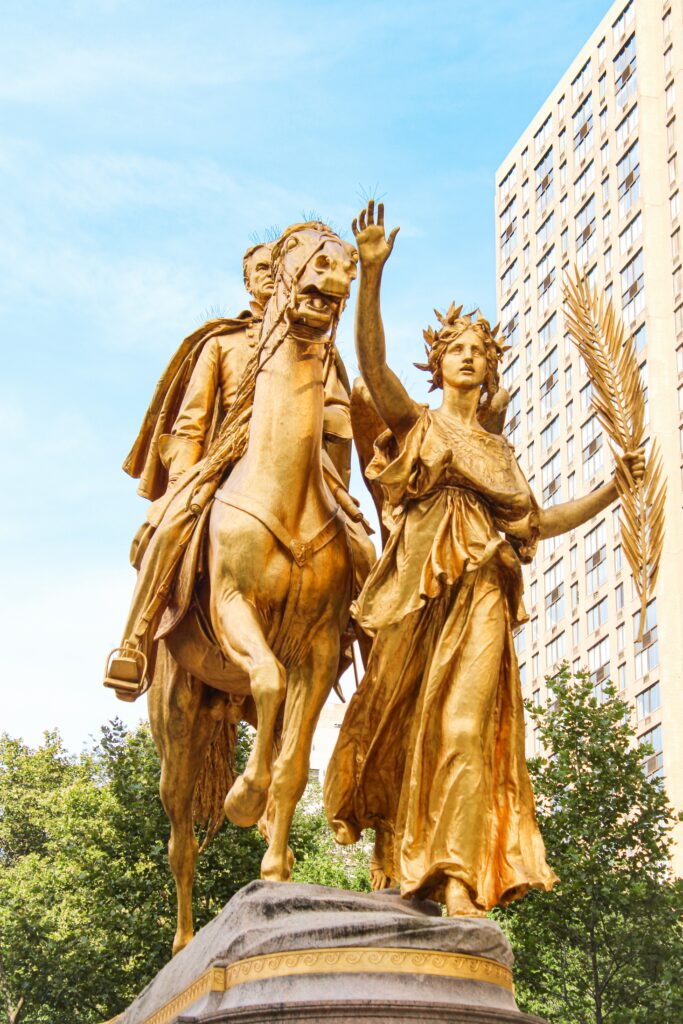 Bird Fairy Cast Bronze Garden Statue: Medium
Lets start with the most affordable bronze fairy statue I have found which I am currently saving up for, when I finally get it I will post more pictures here! I really just love everything about it, the fairy, the wings, the bird, to me it conveys anticipation, movement, and excitement. This is a great first item for those who are getting started with bronze garden statues, It also comes in a larger version as well.
"Releasing a dove of peace to its freedom, our beautifully petite fairy charms with detail from her butterfly wings to her demurely pointed toes." This "almost-foot-wide bronze nature statue is expertly finished with a hand-applied, classic sepia bronze patina accented by an antiqued emerald verde patina to bring out the amazing detail."
Reviews are very positive with Kristin from Montgomery, Alabama saying "…stunning! Absolutely love her…I don't think that I could be more pleased with her." Leeb from Tennessee states "This fairy is a beautiful bronze with fine detail. It is very well made and makes a lovely indoor or outdoor centerpiece. If you are looking for a sculpture piece but can't budget for an original she is expensive but not overly breaking the bank for the quality."
To see more reviews, details, larger pictures, and check current pricing, just click the "Check Price" button below!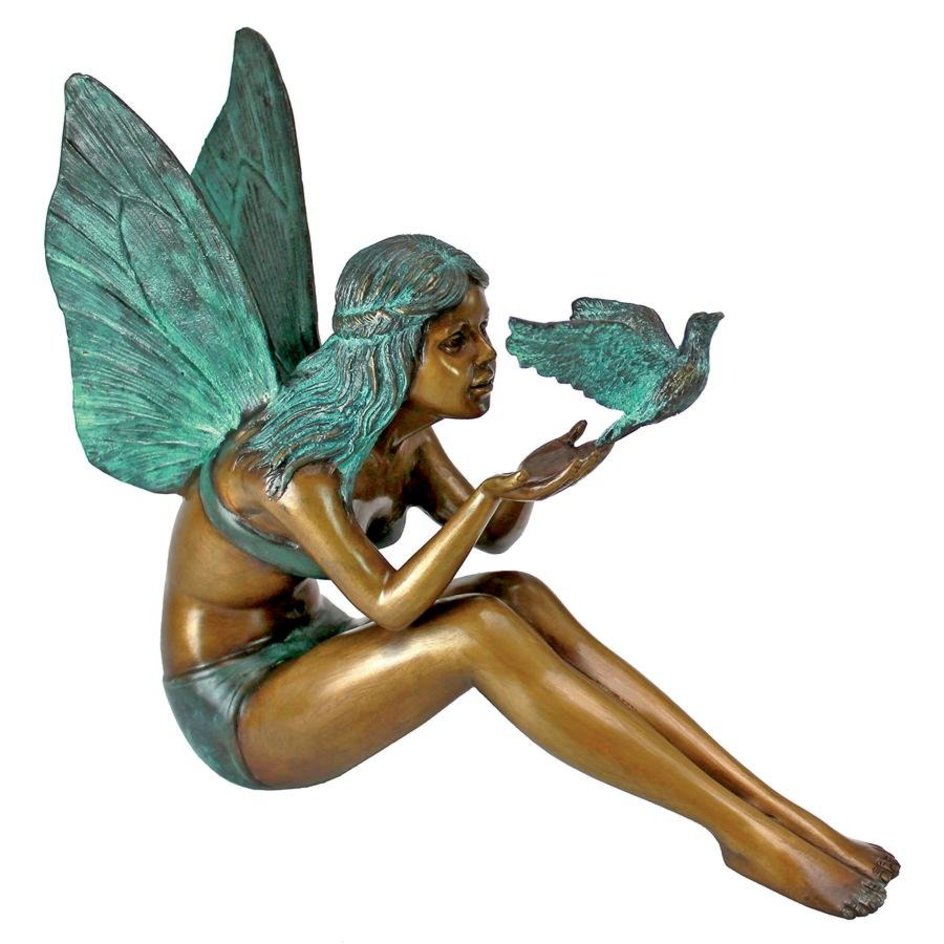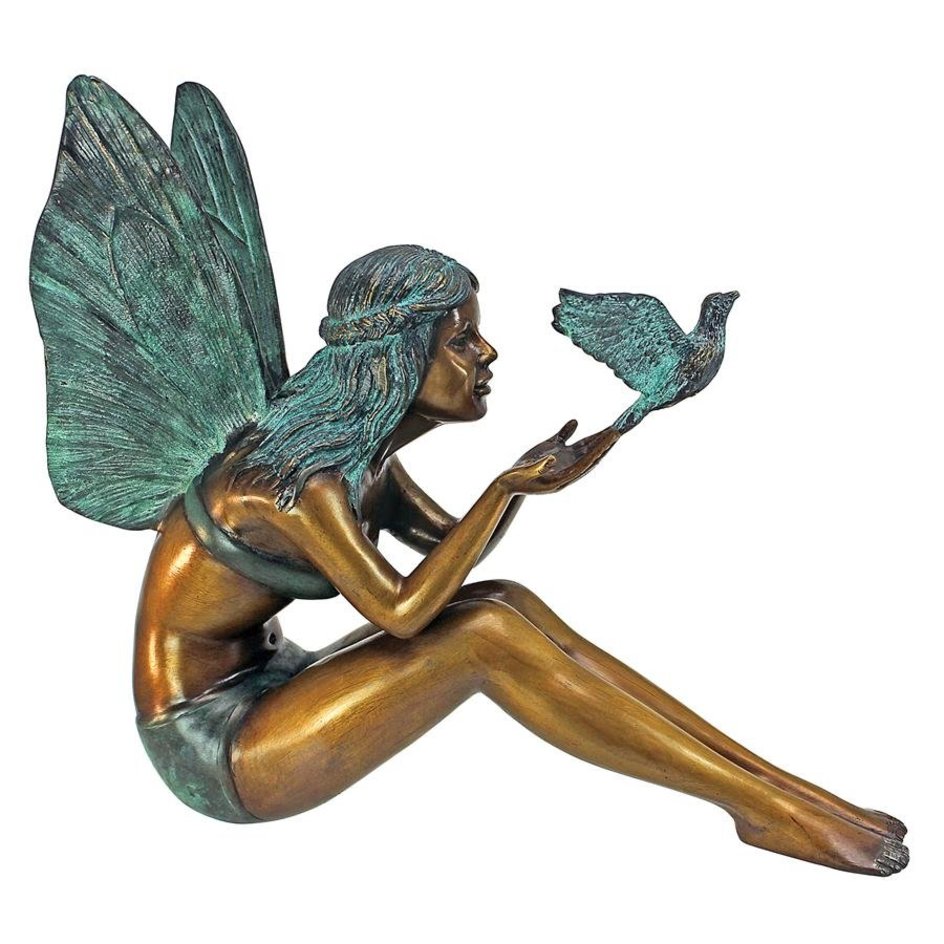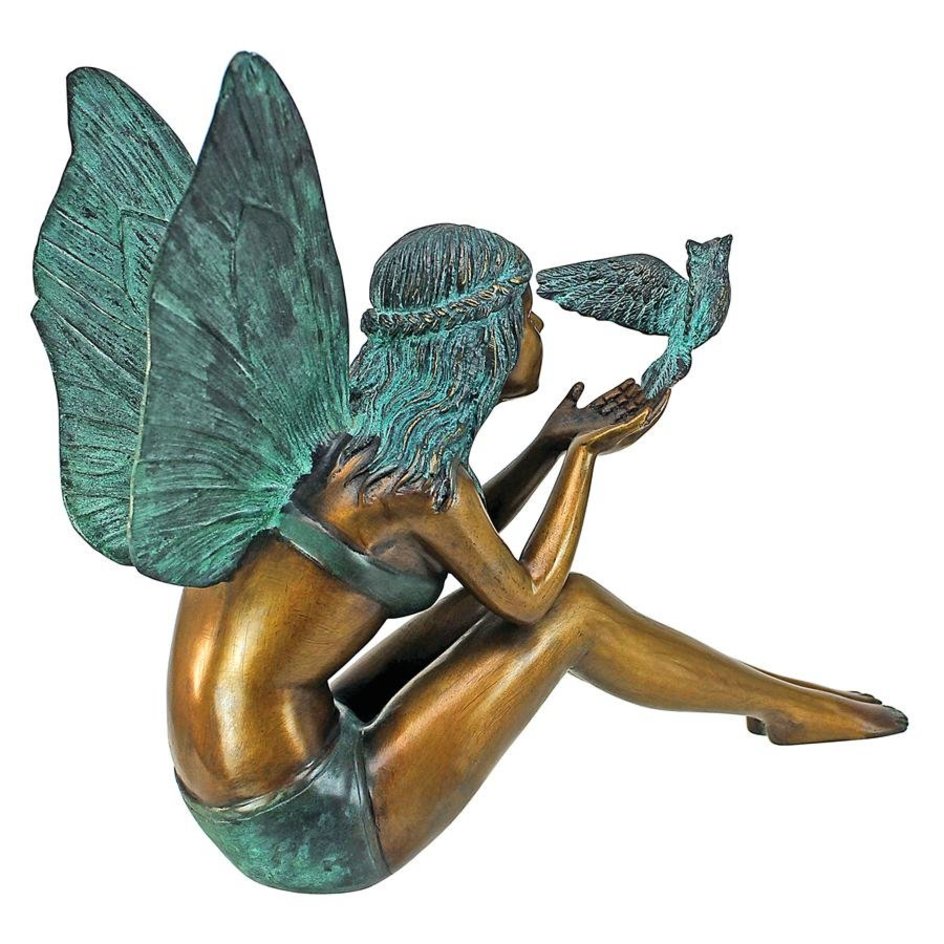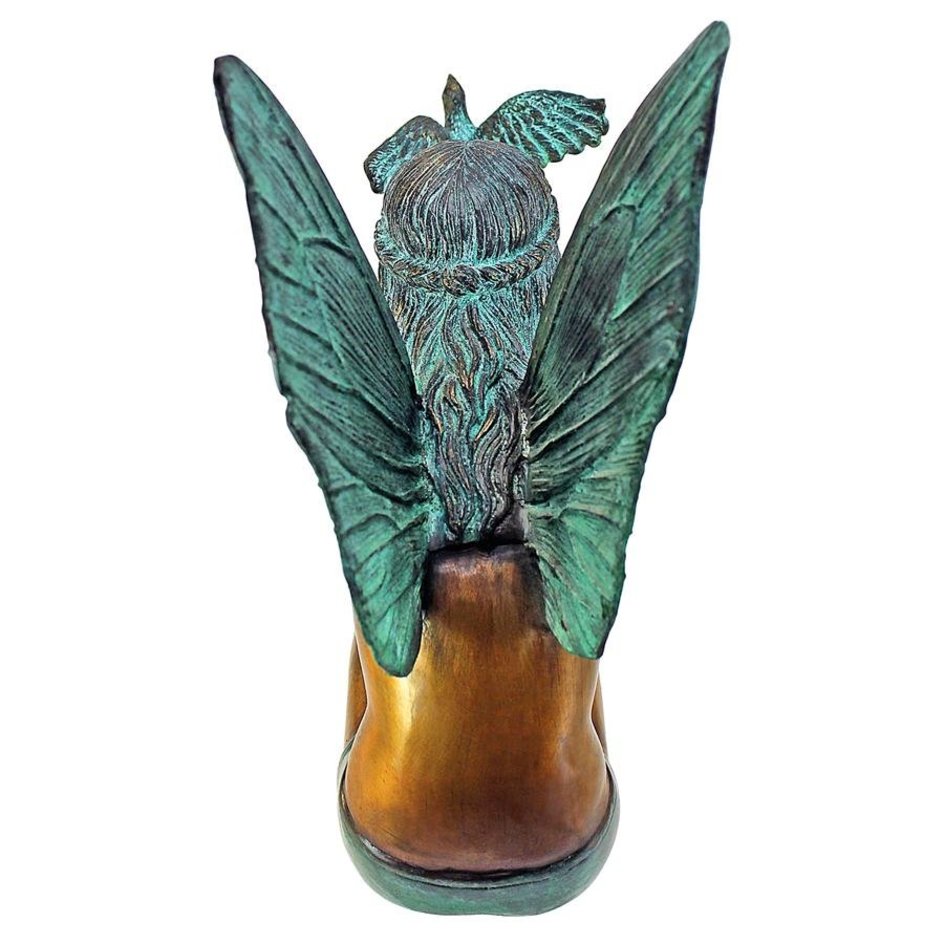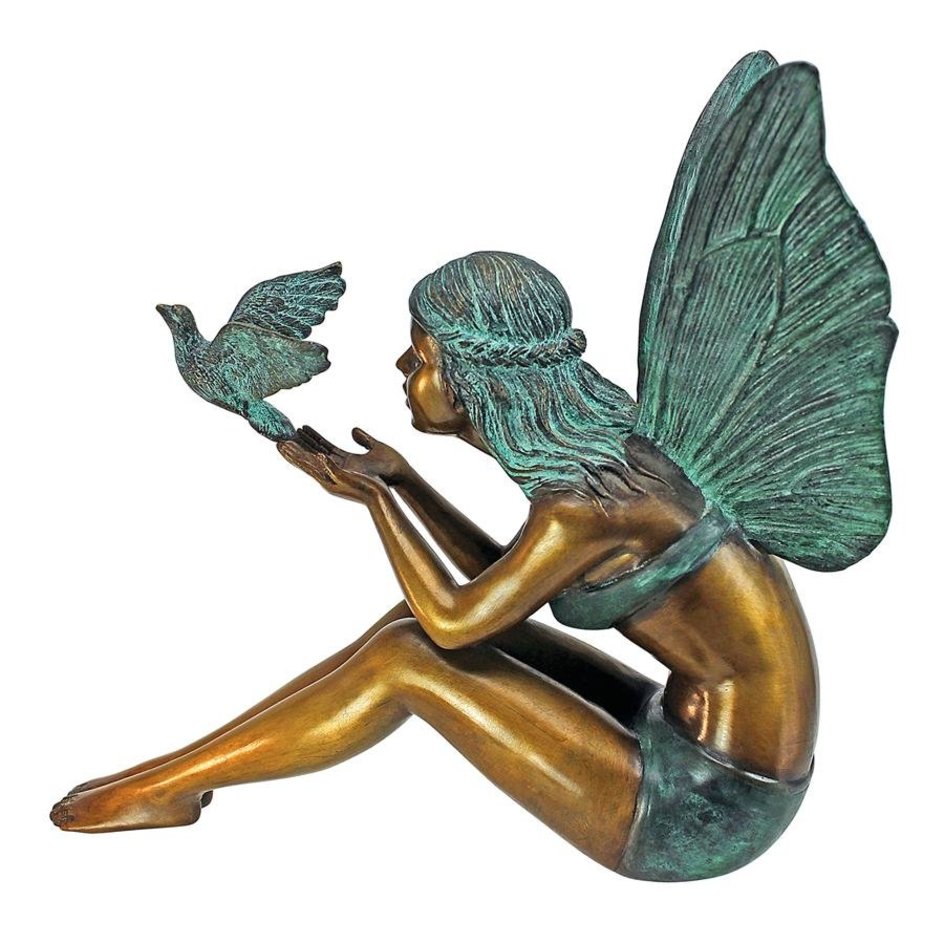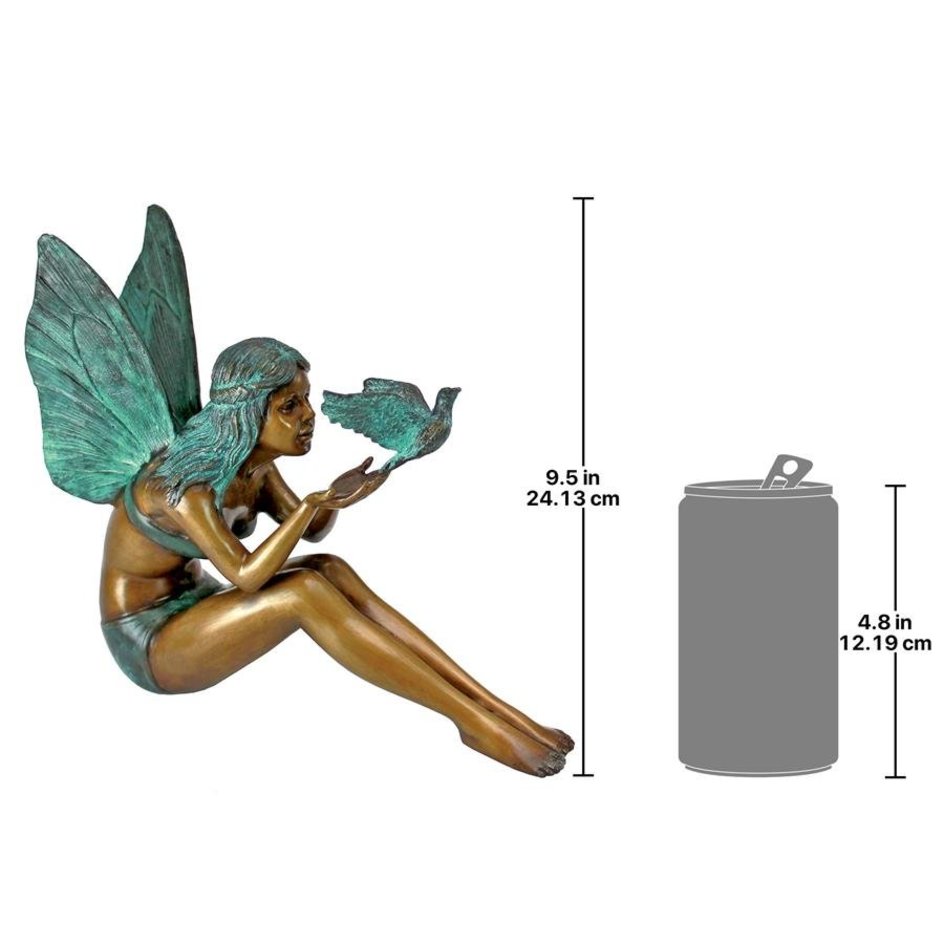 | | |
| --- | --- |
| Weight & Dimensions | 11″Wx4″Dx9.5″H. 4 lbs |
| Material | Bronze |
| Price | Check Price |
Bird Fairy Cast Bronze Garden Statue: Large
This is the larger version of the sculpture described just above. All the great things I said above apply to this sculpture as well. On the pro side its much bigger, on the con side the price is much bigger too. However, if it is in your price range and you are looking for a large beautiful bronze fairy statue for your garden, this one is my favorite fairy design.
"Releasing a dove of peace to its freedom, our beautifully large fairy charms with detail from our fairy butterfly wings to her demurely pointed fairy toes." This "two-foot-long bronze nature statue…is cast and crafted one piece at a time in the traditional lost wax method, which highlights the detail of the sculpt and guarantees lasting beauty."
As with the smaller version of this design above, the reviews are very positive. To see all reviews, details, larger pictures, and check current pricing, just click the "Check Price" button below!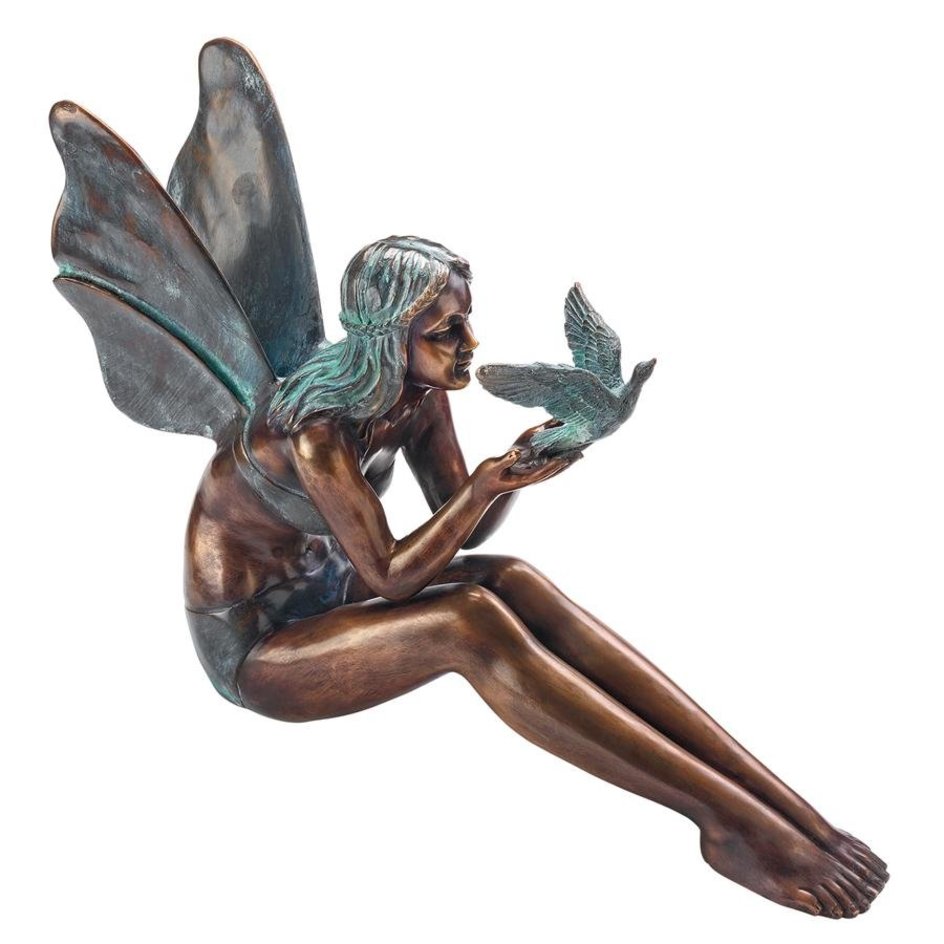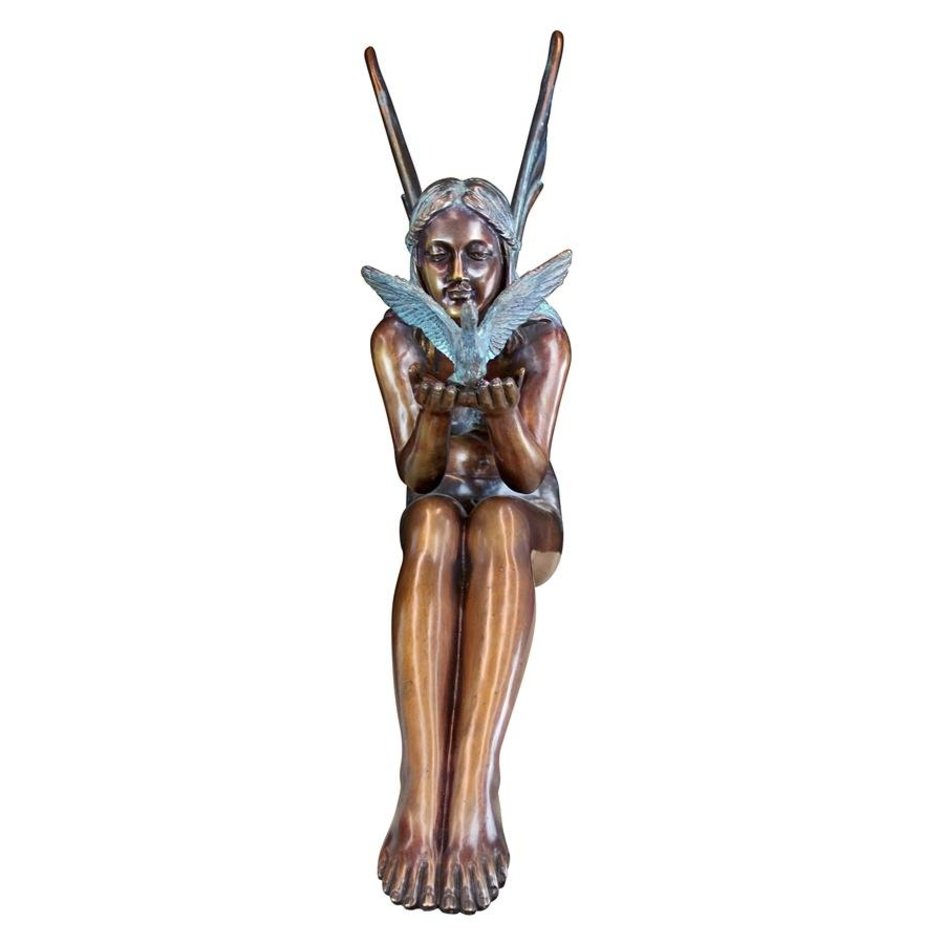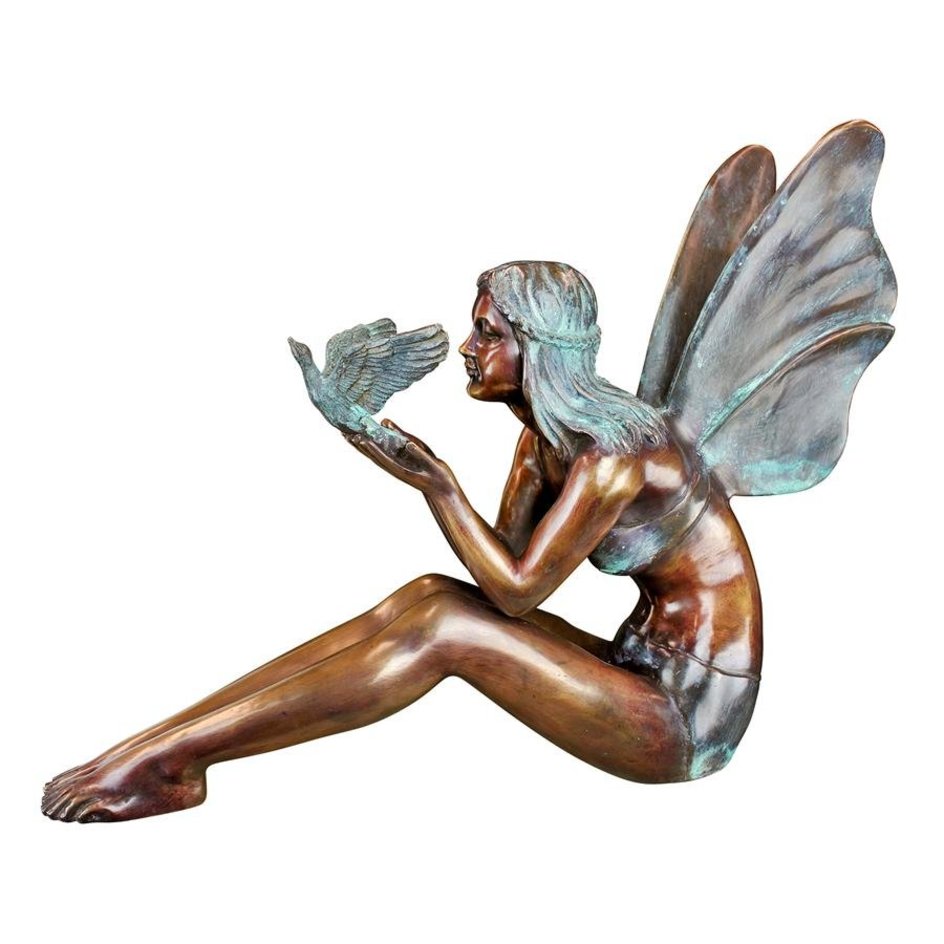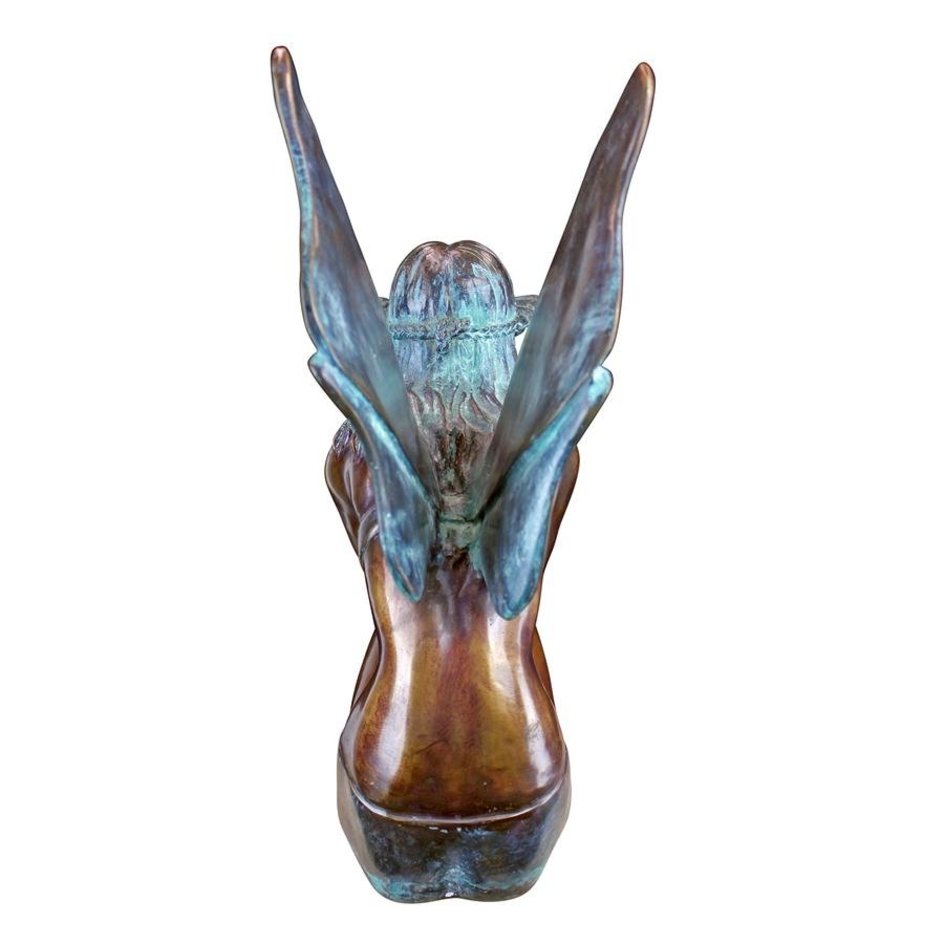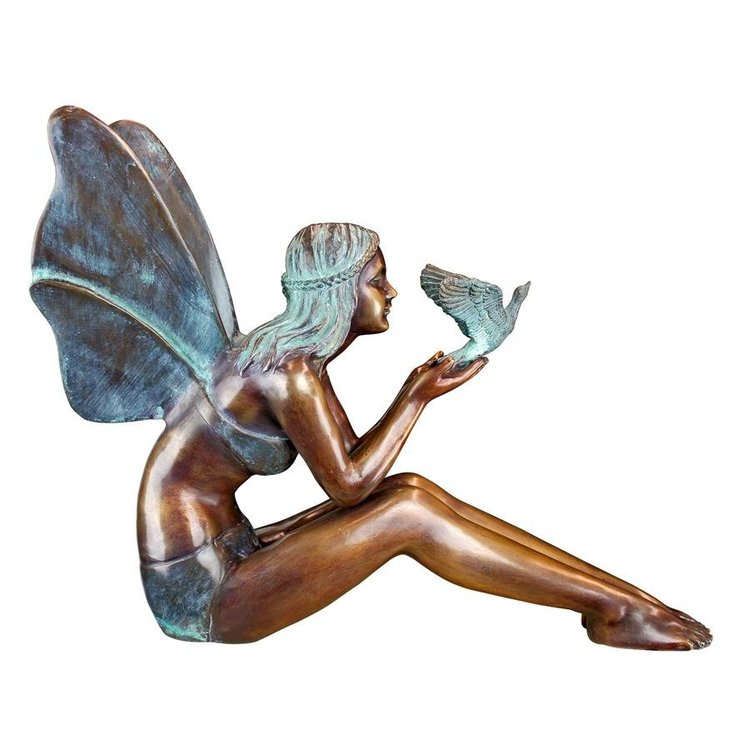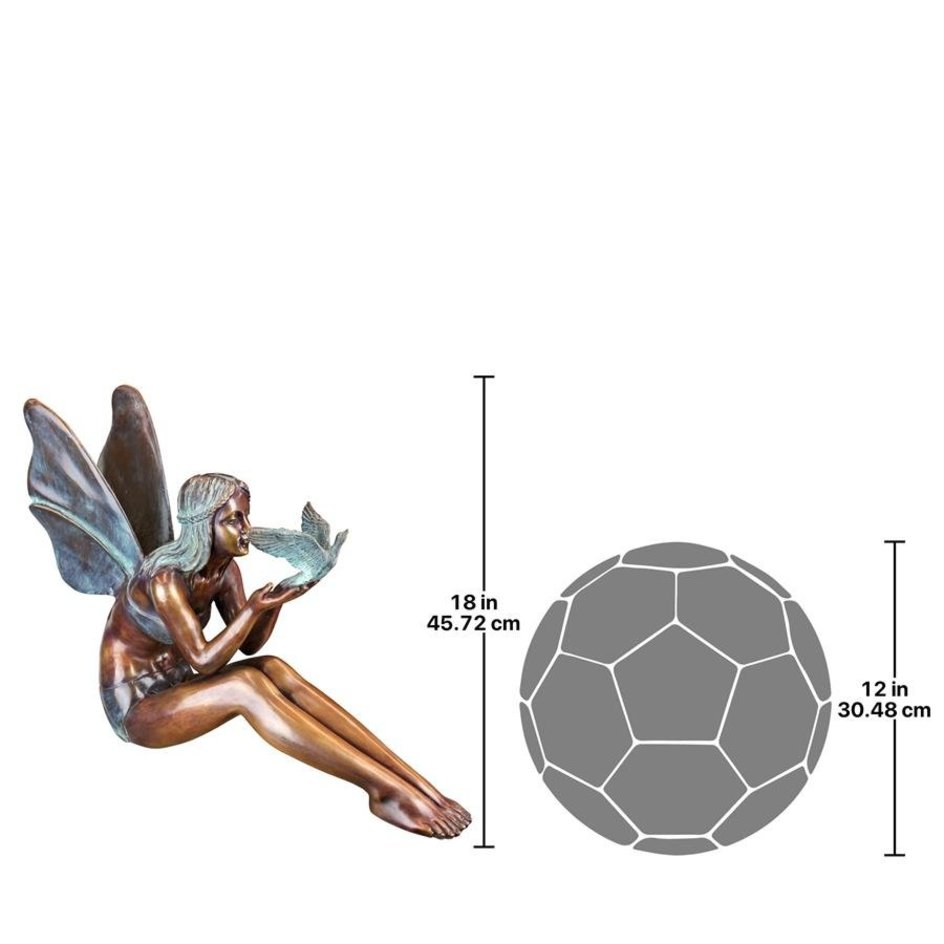 | | |
| --- | --- |
| Weight & Dimensions | 24″Wx6″Dx18″H. 11 lbs. |
| Material | Bronze |
| Price | Check Price |
Francine the Fairy Gardener Cast Bronze Garden Statue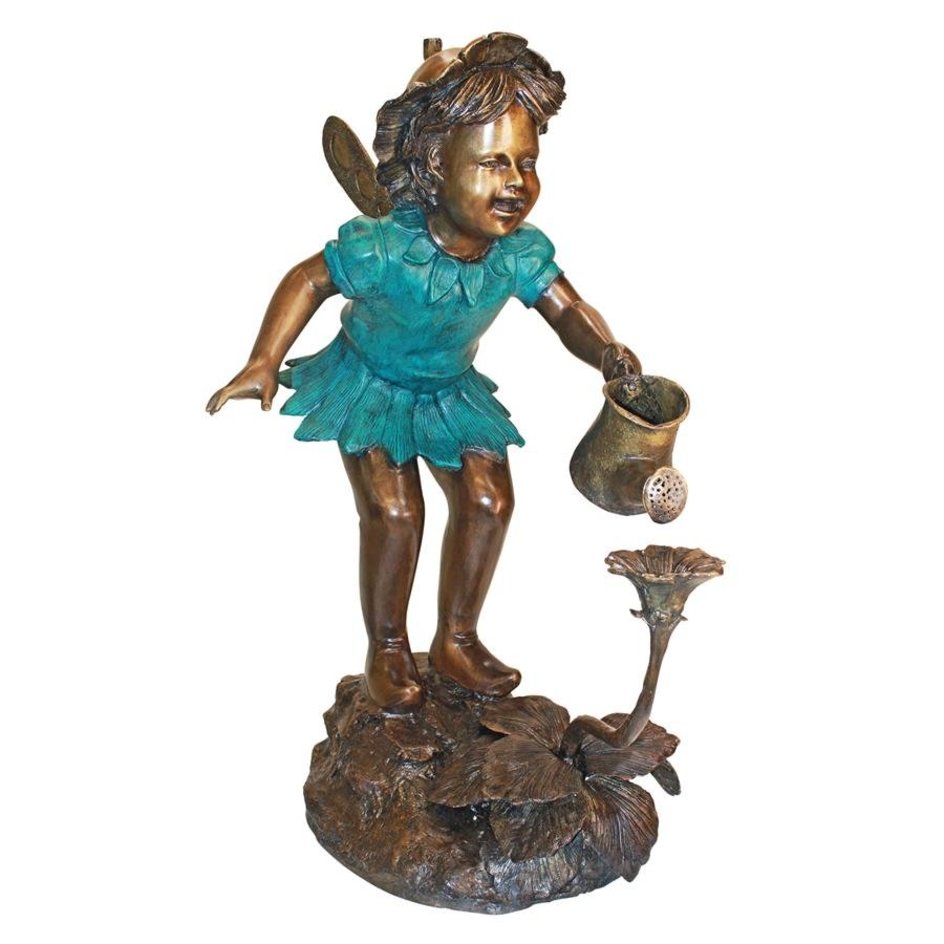 This playful and happy fairy gardener statue is over two feet tall a solid 51 pounds and also has the ability to serve as a water feature as well with the use of a pump. The statue highlights how fun gardening can be for all ages and is perfect for a large fairy garden themed outdoor garden.
"With fairy wings, a petal skirt and a smile as wide as the whole outdoors, Francine the Fairy Gardener will welcome guests with her unique enthusiasm for all Mother Nature offers!"
| | |
| --- | --- |
| Weight & Dimensions | 19.5″Wx29″Dx33.5″H. 51 lbs. |
| Material | Bronze |
| Price | Check Price |
Leaf Maiden Cast Bronze Garden Statue
This beautiful Leaf Maiden statue is almost four feet tall and weighs almost 60 pounds. Although she does not have wings, the leaf maiden would not look out of place as a decoration in your larger scale fairy themed garden.
Like the previous statue she also can become a water feature as well with the use of a pump.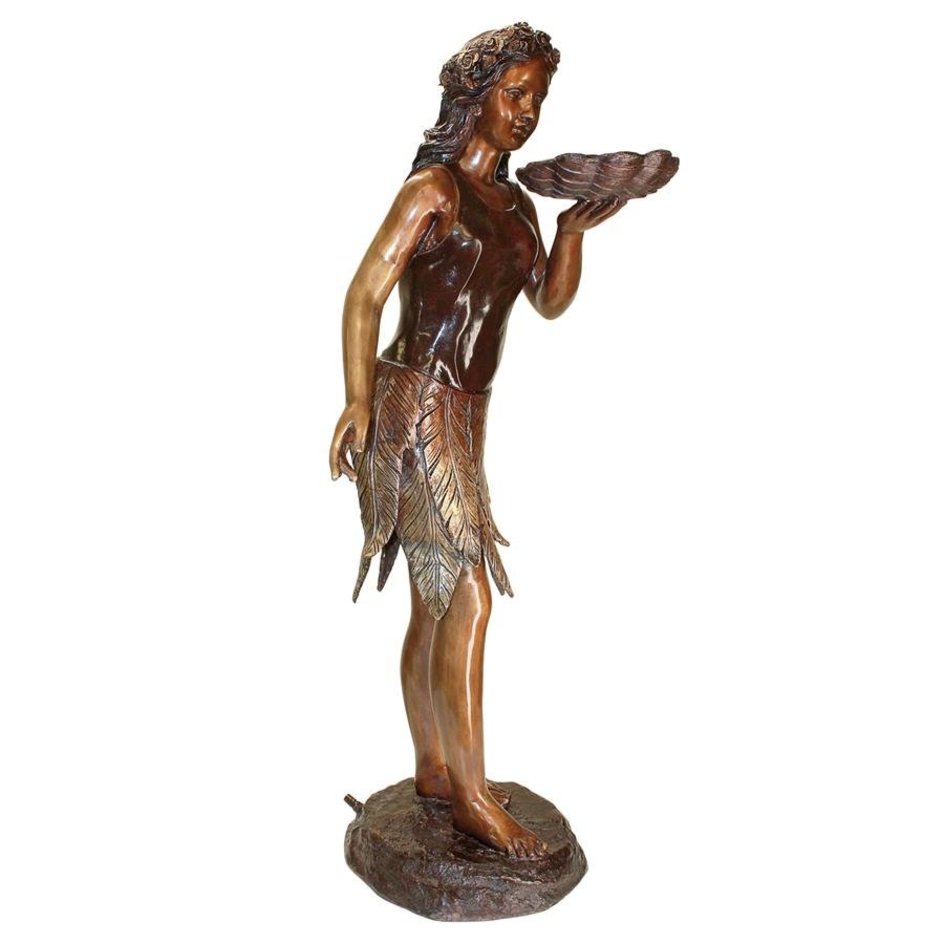 "From her gown of leaves and crown of flowers to her delicate seashell offering, this beautiful maiden epitomizes the breathtaking beauty of nature. "
| | |
| --- | --- |
| Weight & Dimensions | 13.5″Wx14″Dx46.5″H. 59 lbs. |
| Material | Bronze |
| Price | Check Price |
Nymph Dancing on Lilies Cast Bronze Garden Statue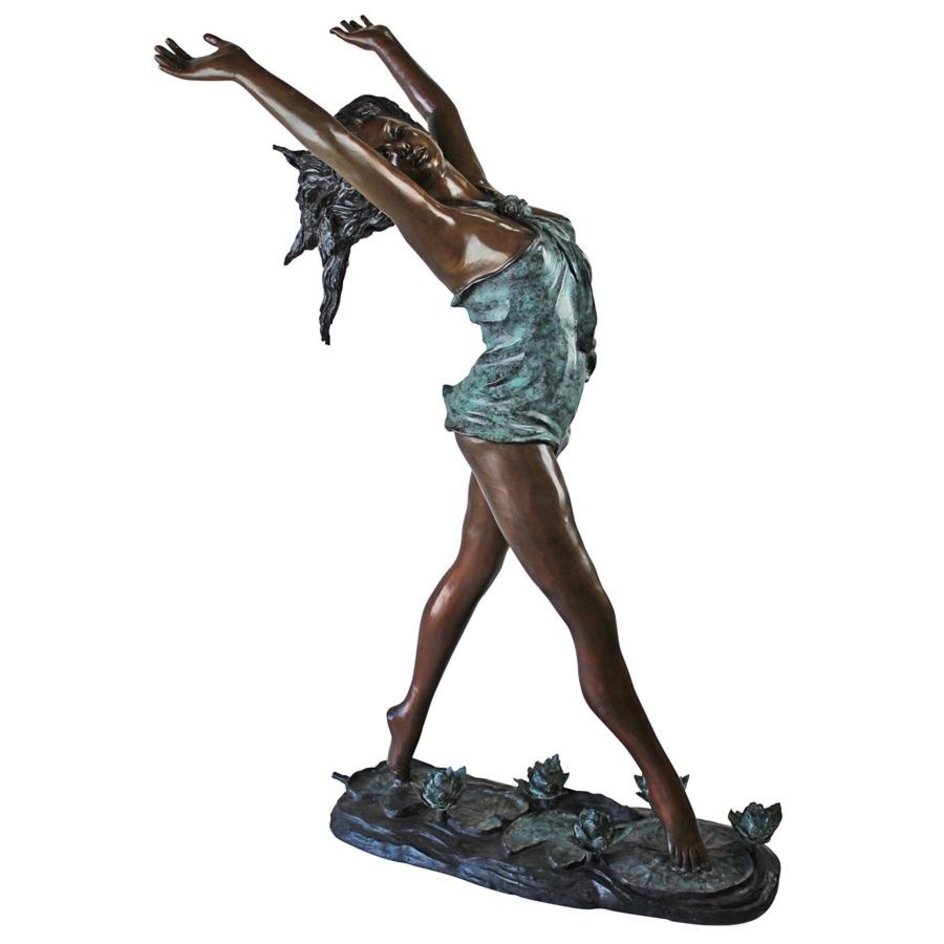 Nymphs and fairies get along great so this stunning and gorgeous statue will be right at home in your garden.
"With arms high in joyous abandon, our lovely nymph dances over the lilies in a work of art destined to create a lasting impression."
At over five feet tall and over 90 pounds, this statue is sure to get attention and be a great conversation piece. As with the two previous statues, it can also become a water feature with the optional pump.
"This beautiful piece is piped so that water will optionally spout up in graceful arcs from the lilies themselves into your pond or fountain."
| | |
| --- | --- |
| Weight & Dimensions | 28.5″Wx34.5″Dx62″H. 91 lbs. |
| Material | Bronze |
| Price | Check Price |
Young Scholar Reading Girl Bronze Garden Statue
This young lady is not a fairy, but I like to think she is reading wonderful fairy stories when she's not busy studying! I love the design of this one so much I just had to include it in this article. This beautiful piece is 65 pounds and is sure to fit right in and enjoy doing some reading in your garden.
"We are awed by this young reading girl bronze garden statue's sheer size and amazing detail. From our young scholar's expressively curled toes and remarkable braided hair to her detailed open book, her sweet countenance and peaceful simplicity welcome memories of an idyllic childhood."
Only one review was available at the time of this writing, but its very positive. The reviewer states that "Better than pictured. Detail was awesome. Very pleased with overall quality. Total experience from purchase to delivery was positive. Highly recommend."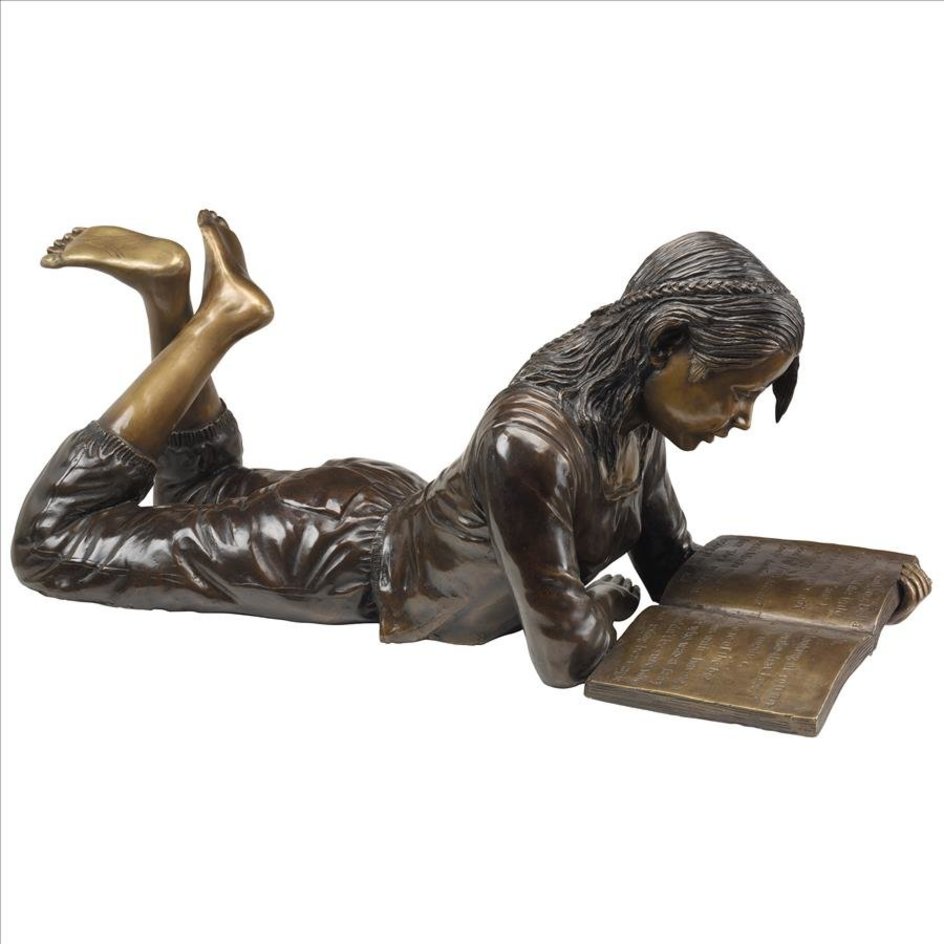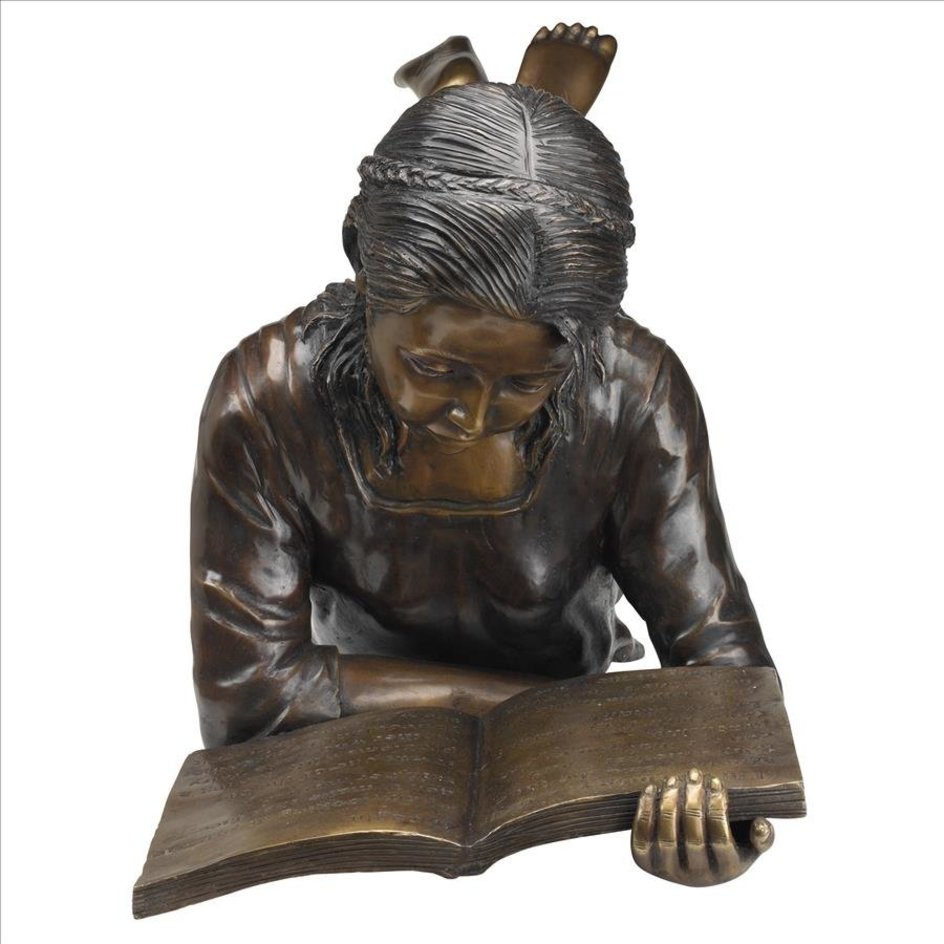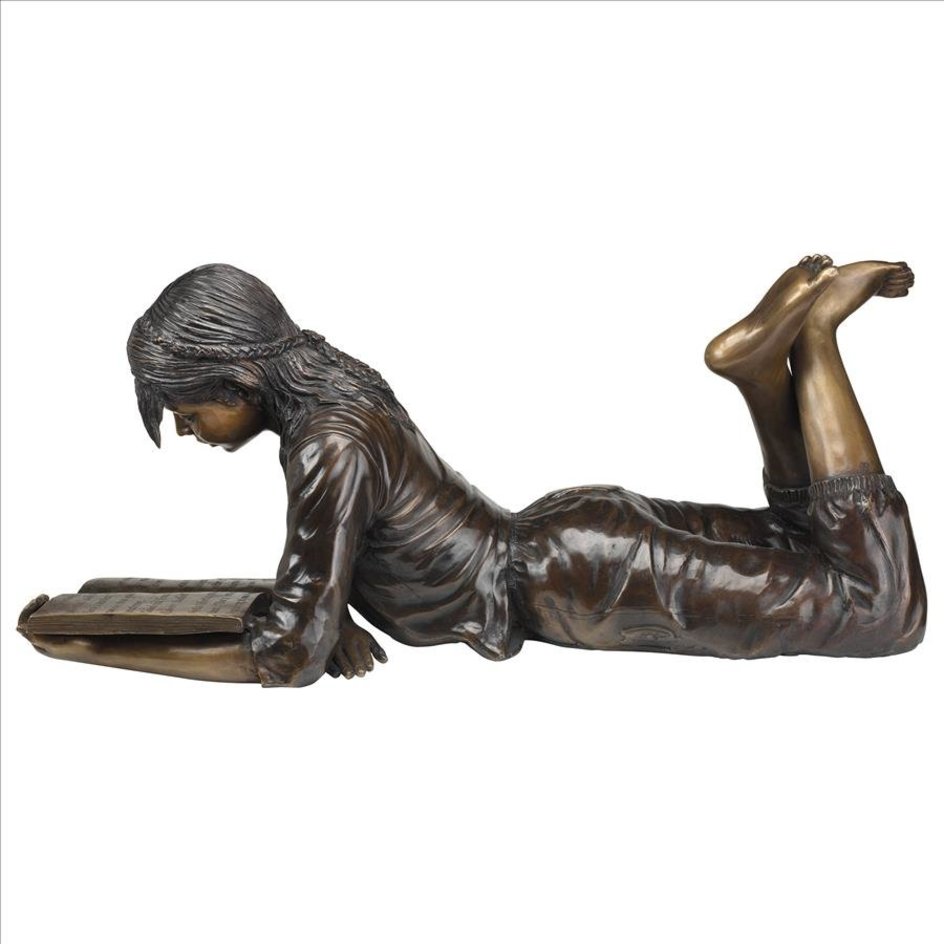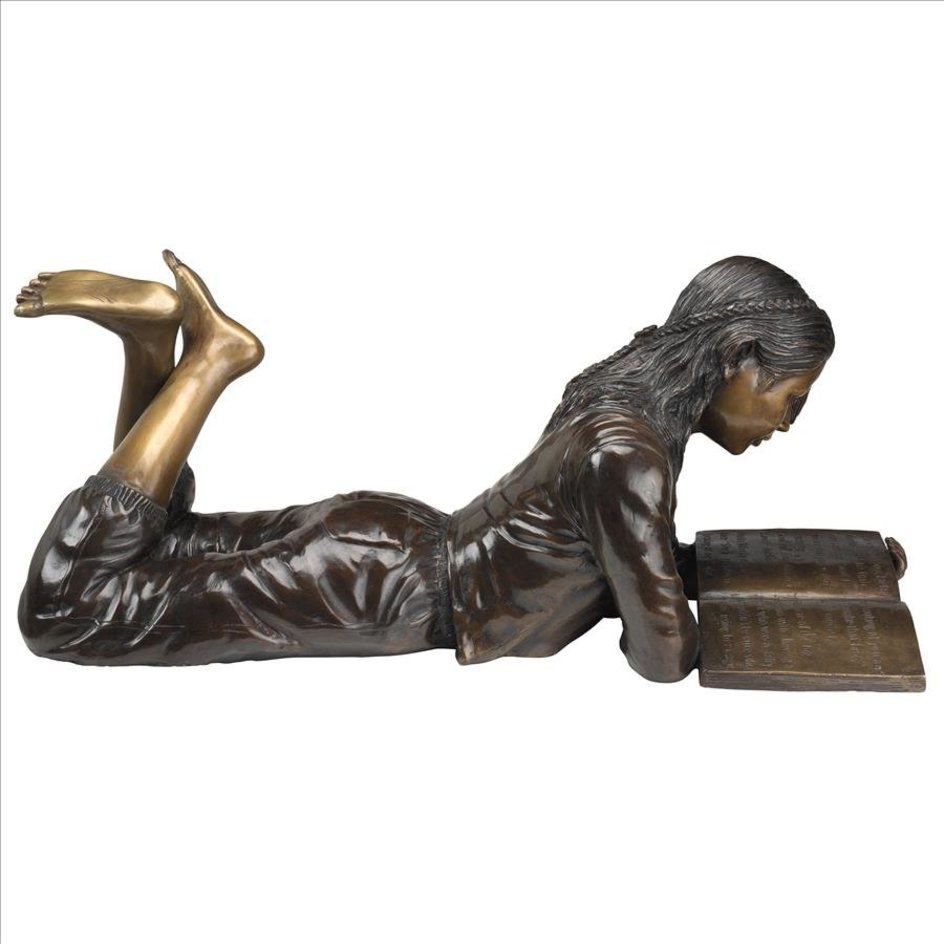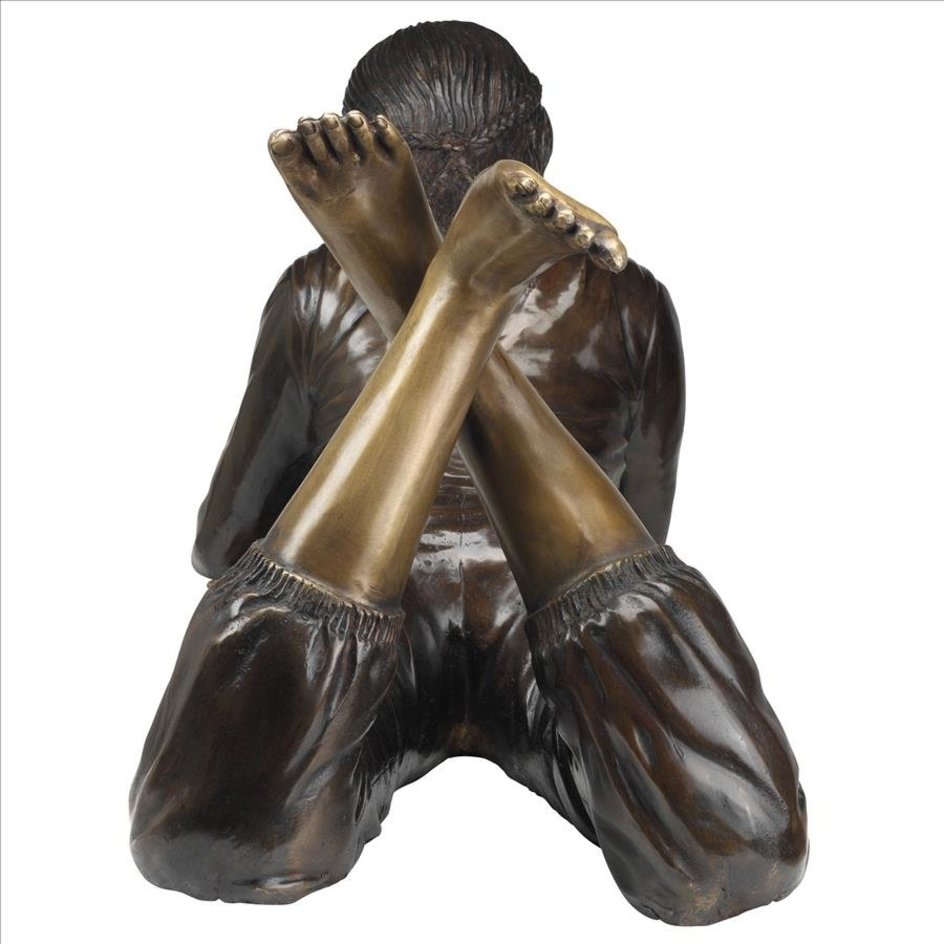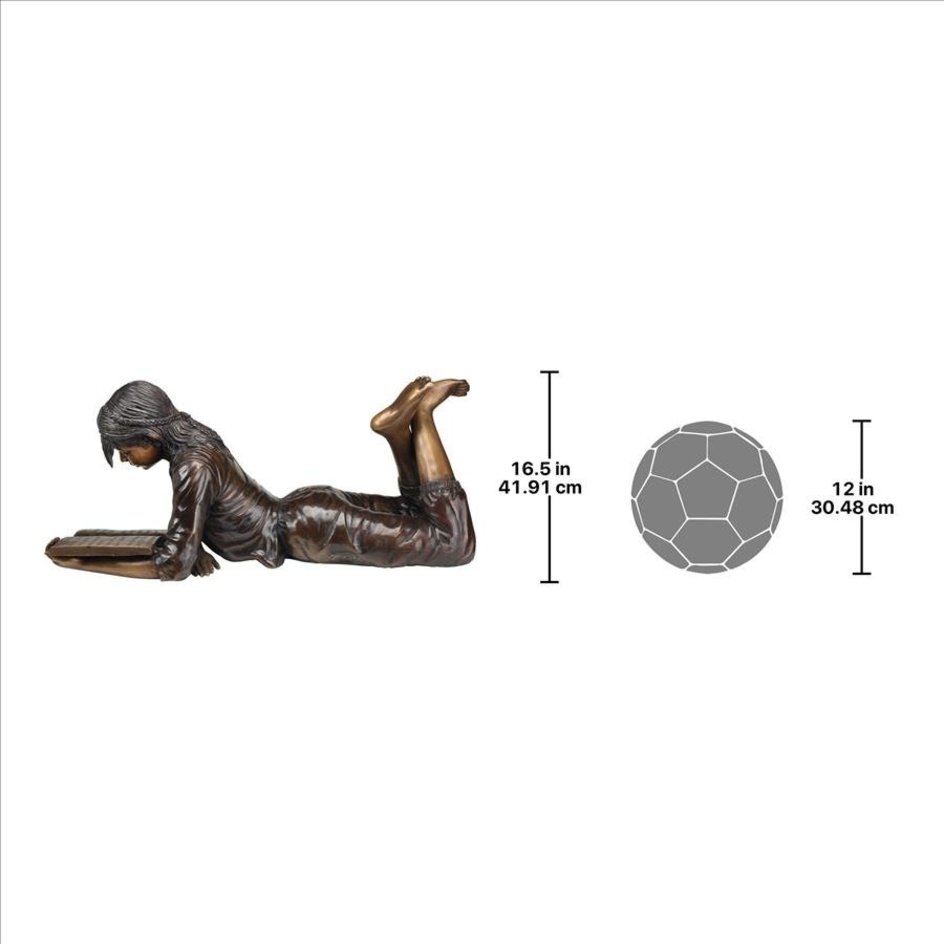 | | |
| --- | --- |
| Weight & Dimensions | 39″Wx15″Dx16.5″H. 65 lbs. |
| Material | Bronze |
| Price | Check Price |
Grand Scale Flower Arbor Kids Cast Bronze Garden Statue
For those who want to add a magical, beautiful, and unforgettable way to enter their garden, this archway sculpture definitely makes that statement! The two statues of youthful girls creating an arch of flowers evoke a sense of fun, nature, innocence and lightness, although this sculpture weighs over 217 pounds.
Pros include the magnificent beauty and absolutely huge size of the sculpture, cons are that because it is so huge and made out of a valuable metal, this is one of the most expensive garden statues I have come across. (Although at the time of this writing the price has been reduced by over 30%!)
"This artistically unique, cast bronze, flower arbor statue is truly breathtaking! Create an impressive entrance and usher guests into your formal garden with the wide embrace of our delightfully ornate, more than 7-foot-tall, welcoming arch! A stunning entry focal point or a destination at the idyllic end of a leafy green path, this Design Toscano exclusive boasts a reflective, multi toned floral arch flanked by two wonderfully sculpted young girls, expertly finished in a hand-applied two-tone, classic sepia and emerald verde bronze patina. Cast and crafted one piece at a time in the traditional lost wax method, which highlights the detail of sculpt and guarantees lasting beauty."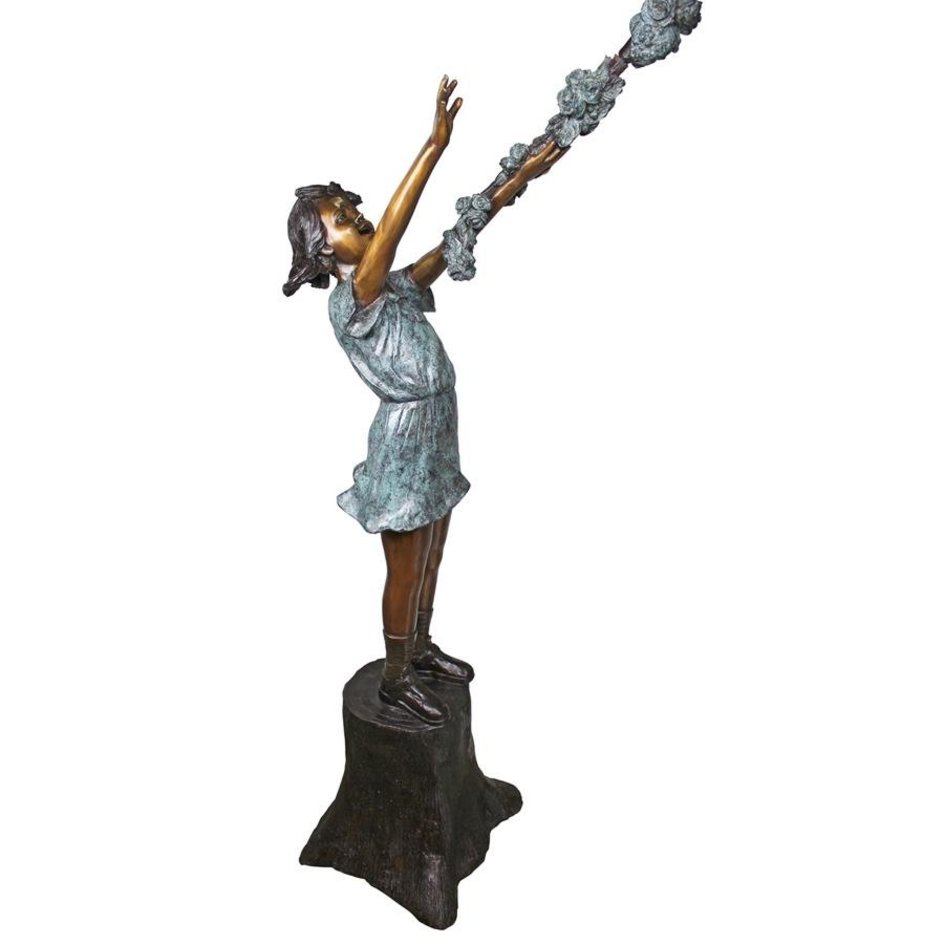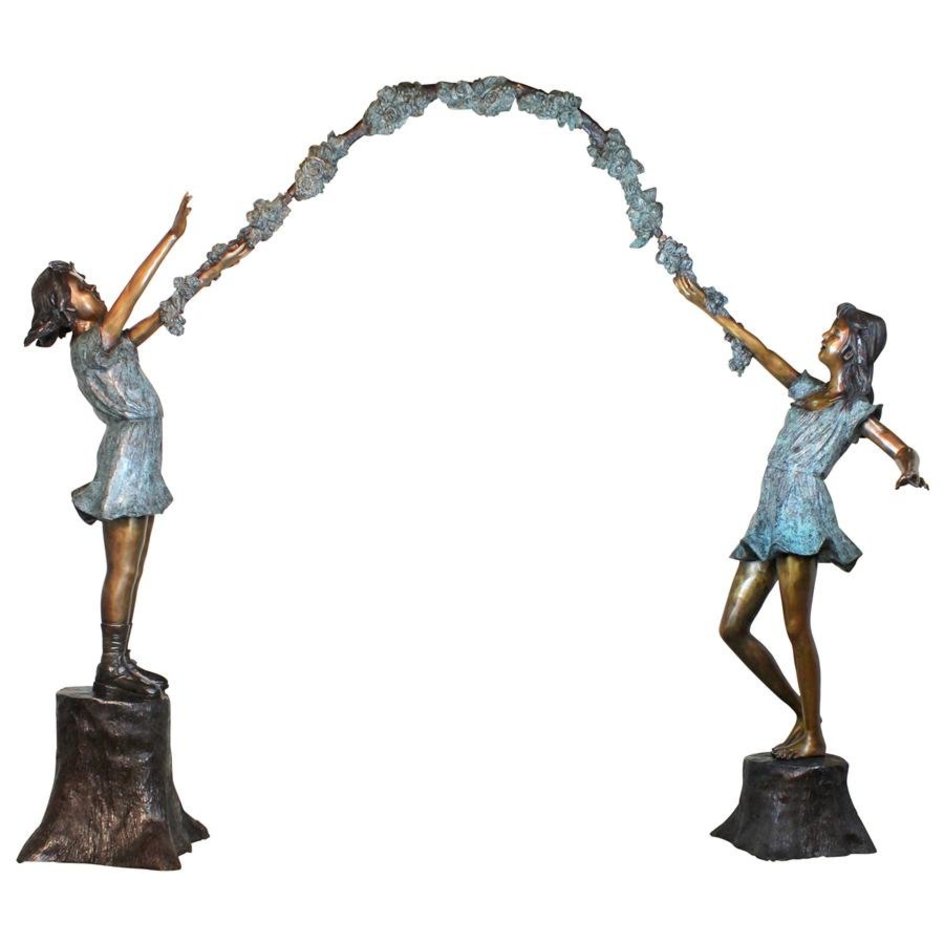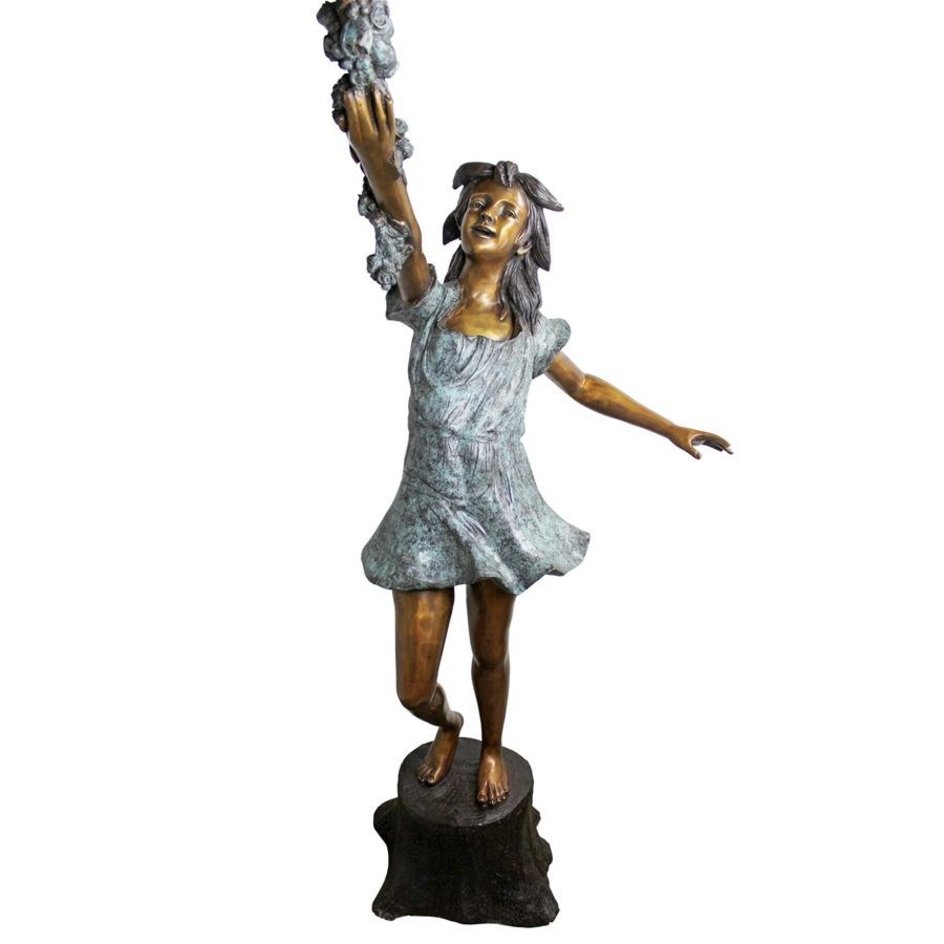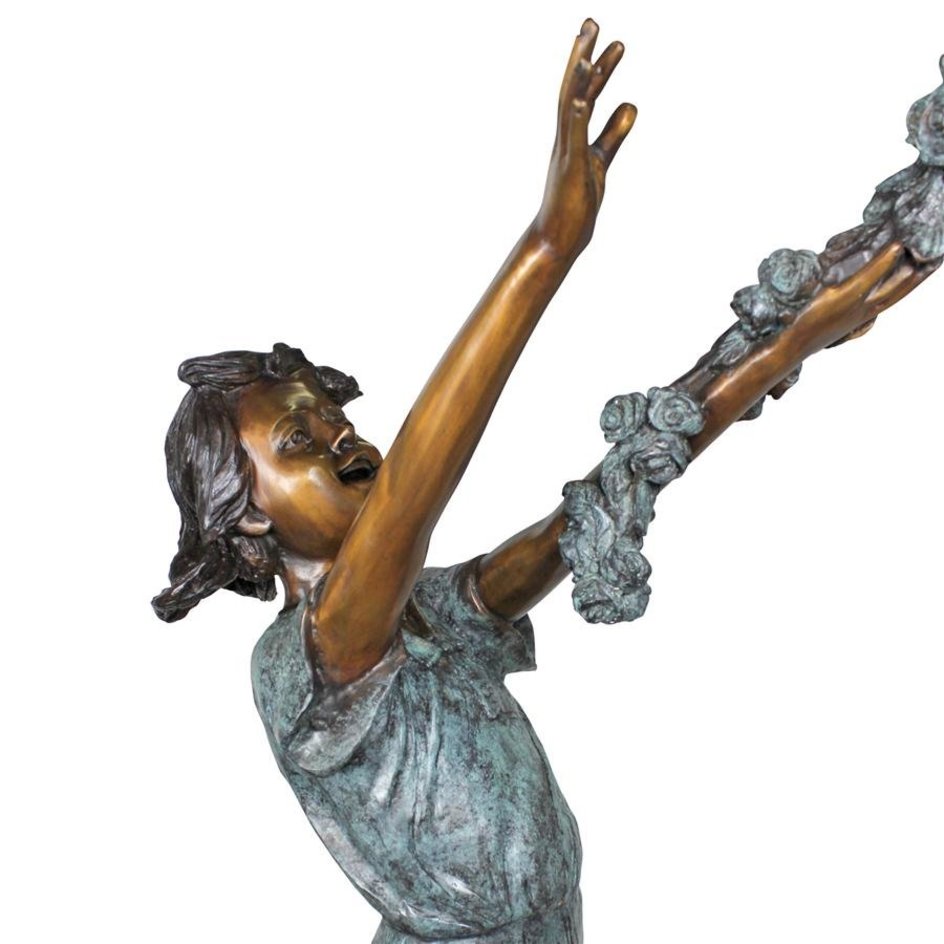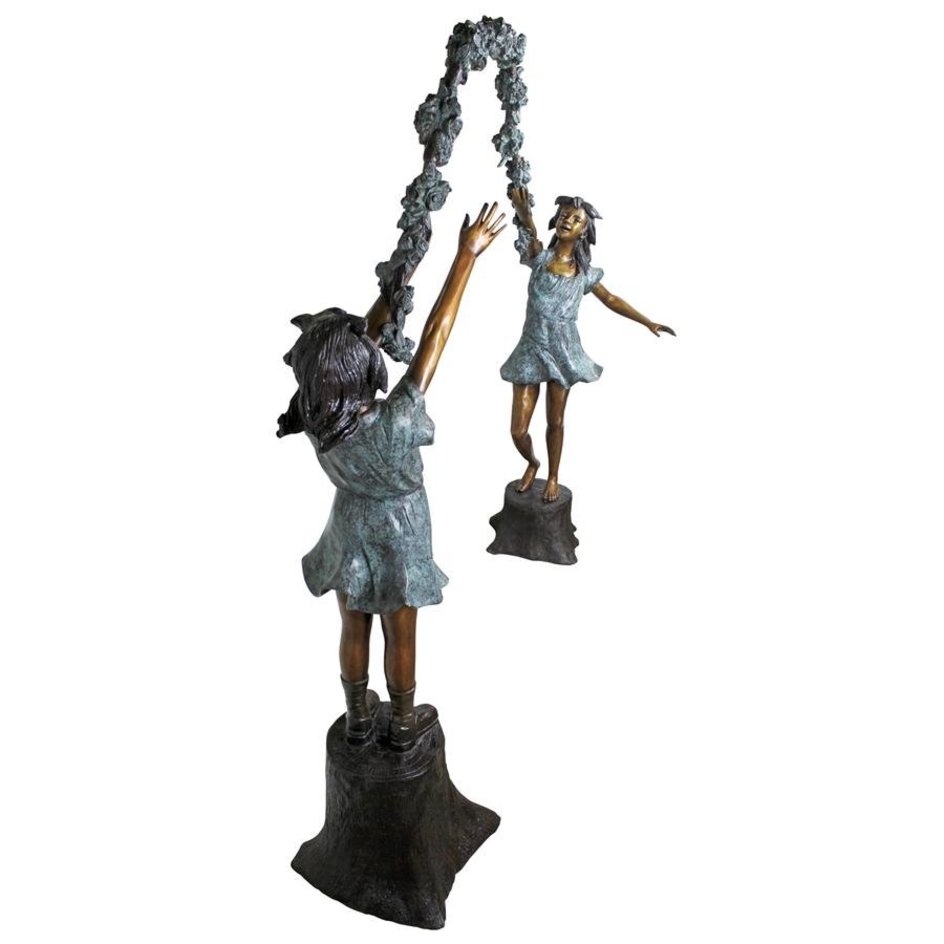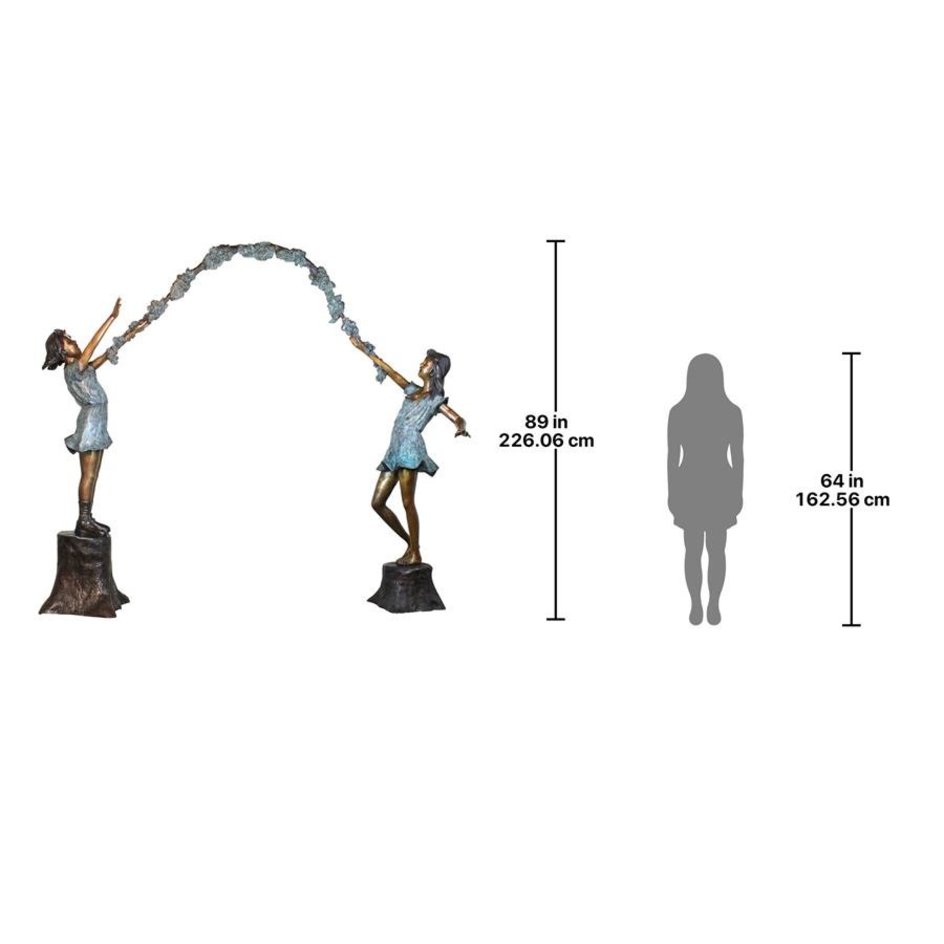 | | |
| --- | --- |
| Weight & Dimensions | 99.5″Wx34″Dx89″H. 217 lbs. |
| Material | Bronze |
| Price | Check Price |
Care and Maintenance of Your Bronze Fairy Garden Statues
Bronze statues can maintain their appearance for centuries, even in outdoor environments, as long as they are properly cared for. Luckily maintaining these statues is easy and involves just some basic periodic cleaning and waxing.
Warnings and Precautions
The patina (the colored part of the statue) is actually a part of the sculpture that has been converted chemically, it is not paint! Different chemicals can change the color of the patina so it is important to keep all forms of cleaning solutions, bug or fertilizer sprays, chlorine, or any other chemicals off of your statue. If your statue also serves as a water feature, do not use chlorinated water, this will erode it!
Sculptures usually have a coating of paste wax when they are new to keep oxygen from interacting with the surface and causing oxidization. Unfortunately this wears off over time and if not properly cared for, the bronze and patina can age prematurely. You should never use any abrasive cleaning pads on the sculpture and never mount bronze directly to a steel base (except stainless steel with an alloy number of 3/16 or greater) or it will cause electrolysis, which will deteriorate both metals.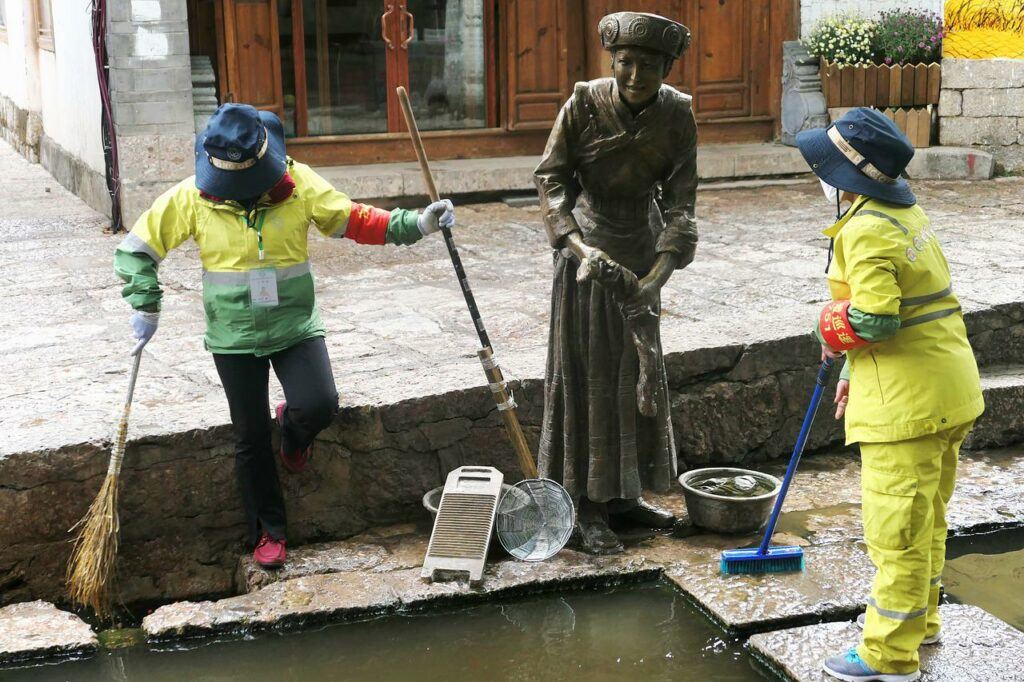 Washing and Waxing
If there are bird droppings or tree resin on the statue they should be washed off immediately. Otherwise, you will know its time to wash if dust, dirt, or etc. have accumulated on the statue. If the statue has become dull in appearance, it needs to be waxed. To wash bronze statues you should use warm water and cloths that are soft. You should use a non-ionic cleaner for this and make sure to thoroughly rinse the statue when completed.
Very rarely a hardened deposit of some sort may need to be removed, only soft plastics (like a plastic spatula) should be used to do this. Next allow the statue to dry completely, this may take anywhere from a few hours to a few days depending on the temperature outside. All the water must be completely out of the pores of the metal before performing the next step.
Then apply a wax (make sure it does not contain turpentine or spirits) to the surface. Use a soft bristle brush to apply the wax in a circular motion. It should be applied uniformly to the surface in a thin coat. You can wipe excess wax off the brush onto a paper towel to avoid applying too much. After allowing the wax to dry for at least 20 minutes, the surface should be gently buffed with soft cloths
Thank You for Reading!
Do you have any recommendations or feedback to add to the discussion? Maybe you know of some great bronze fairy garden statues that you think I should add to this article? Then comment below! I answer every comment. You can also email me at randi@fairycirclegarden.com or send me a message through social media as well!
Did you like this article? I hope so because I work very hard on every one. If you did, please share it on your favorite social media page using the buttons below! Please follow us on social media for more great content, you can use the links at the top right to follow us on Facebook, Twitter, Instagram, Pinterest and Gab.
Please feel free to share your gardening questions, comments, creations, pictures, and videos there too. We want to create the best community for gardeners anywhere and we need you to help us grow! You can also click here sign up for our newsletter to get access to exclusive content and discounts, we will send you a free seed starting eBook when you subscribe!
Thank you so much for taking the time to read my article and spend time on my website, I am so grateful for each and every one of you!
Wishing you all the best,
Randi