Fairy garden furniture is the perfect way to make your fairy garden creations come alive! Fairy gardens are a popular hobby for people of all ages. They can be a fun way to spend time with your children and create a sense of wonderment in your garden, as well as a place for your kids to imagine and play and learn about gardening.
Fairy garden furniture is essential for making the most out of your fairy garden. It can provide the finishing touches to your design or add some whimsy and charm to an already existing one. The first step in designing an outdoor fairy garden is deciding what type of furniture you want in it. There are many different types of furniture you can use, including benches, chairs, tables, and more.
There are a lot of different kinds of garden furniture that you can use to design your fairy garden. There are arbors, gazebos, benches, swings, tables and chairs. Just like the real thing, they can all be used in your own personal fairy garden.
Where is the Best Place to Buy Fairy Garden Furniture?
Our Favorite place to buy fairy garden furniture is Mini Fairy Garden World. They have the best reviews! I could not find any negative reviews about them actually, unlike other top fairy garden suppliers who have many bad reviews and customer complaints. You can click the orange buttons on this page to get the latest prices from their website.
They have been in business since 2013 and ship all orders out within 24 hours or sooner. Additionally they have a 30 day refund policy. Best of all we reached out to them and they have partnered with us. This means out of every purchase you make using the links from this page, a small amount goes to support this website at no additional cost to you, actually you pay 10% less by using our unique coupon code, FCG10!
Save 10% by Using Our Unique Discount Code! FCG10
Fairy Garden Furniture 1 – Arbors & Gazebos
Fairy Arbor Swing
Garden Arbor Gate
Mini Garden Arch
Fairy Garden Furniture 2 – Benches
Fairy Rocker
"Why use a boring bench in the fairy garden when this highly decorative rocker is a better option? It has been designed to appear as if it were made of sturdy old vines and branches. It is an inverted arch, making it capable of rocking, and features two seats facing one another. Each seat is made of a large leaf with backrests cushioned by oversized yellow blooms. Foot rests at the bottom give the rocker stability, and this would be a fun and unique element in the patio or terrace of any fairy garden."
Micro Mini Woodland Bench and Chair
"A teeny tiny bench and chair set meant for only the tiniest of fairies."
Mini White Patio Bench
Mushroom Bench
"A perfect wood bench made out of twigs perfect for a couple or a pair of fairy friends."
Twig Bench
"If you are designing a woodland garden or desire a more natural look to the fairy garden, you will want to choose furniture that is less formal and stuffy. This twig bench is just the thing. Bringing comfortable and generously sized seating into the garden, it is made of gnarled old branches woven together to create a comfortable backrest and oversized armrests. Visually appealing, it brings structure and also informality into any garden setting and creates a very welcoming image."
Fairy Garden Furniture 3 – Chairs
Butterfly Chairs
"Set of 2. Two beautiful butterfly chairs perfect for the fairies to sit and relax a spell."
Dragonfly Chair
"This dragonfly chair w/ table in brown stain has a wonderfully rustic and organic look, and it gives you a two for one type of seating. It uses the old-fashioned and popular Adirondack design but instead of a single seat it offers up two. They share an extra wide armrest that can do double duty as a side table for tall glasses of iced tea or lemonade! With a lovely dragonfly in burnt orange and gold carved into the backrests, these chairs are ideal in any fairy garden setting."
Mini Adirondack Chair
Mini Daisy Chairs
Mini Green Chair
Mini White Patio Chair
Mini Wood Stools
Mushroom Chair
"This adorable mini chair adorned with red mushrooms awaits a fairy or gnome to take a break."
Mushroom Stool
"This adorable mini stool adorned with red mushrooms awaits a fairy or gnome to take a break."
Rest Easy Chair
"Need to take a break after a long day in the fairy kingdom, come and set a spell in this chair adorned with the moon and stars, perfect to dream in."
Toad Stool
Having some little furnishings around the fairy garden helps to give it a feeling of being a real place where the fairies live and play. This Toad Stool is a fun example of furnishings that can add some whimsy and charm to your setup. It has white legs and a red top that has some white polka dots on it. It truly looks like it was crafted for the little folk who live and explore out in your fairy garden.
Fairy Garden Furniture 4 – Swings
Arch Swing
"This arch swing is a great piece that evokes a fairytale feel immediately. The swing is held aloft between two trees, one that has had the top bent and lashed to the other. Vines are crawling up the sides of these trees and sitting right in the middle is the swing with the lovely little fairy girl with pink wings and a green dress. She looks like she is having a marvelous time on the swing. Consider adding this to your own fairy garden."
Mini Leaf Swing Set
"This charming swing set covered in flowery vines features a curved green leaf seat that is the perfect size for a fairy. The brown wood-like structure curls into elegant feet and stands tall as the swing sways in the breeze. The frame can be built at the angle of your choosing and has green wire stakes to secure it in soil."
Swinging Fairy Girl
"Are you looking for a tiny fairy that you can use to brighten up some areas of your fairy garden? This could be a nice option for many areas. The Standing Swing Fairy in her yellow dress is grasping onto the swing's ropes, and she's looking skyward. It looks like she's thinking that if they can just get a bit of speed and height on the swing, she might be able to launch herself out into the sky and take flight."
Tree Branch Swing
"This tree branch swing is just what you need to make all of your fairies happy. The swing is attached to a lovely tree that looks like something right out of a fairy tale, and it has a swing attached to it with a leaf as the seat. Of course, every swing needs someone there to enjoy it, and that's what you will find with this piece. It comes with a happy young fairy having a great time swinging."
Tree With Swing Fairy
"This Tree with a Swing Fairy is a very nice piece that will look great in any fairy garden. You will find a tree that looks like it bears some type of fruit, such as apples, up in its green canopy. This tree also features a green door that opens and has some steps leading up inside. It also has some mushrooms growing around the base, but one of the best features is the tree swing with the cute little fairy in a yellow dress."
Fairy Garden Furniture – Tables With Chairs
"Celebrate the magic of the hidden world with a fairy garden. Inspired by butterflies and stump wood, this miniature table and chairs makes an enchanting addition to your display. Make your display even more whimsical with our Fairy Garden accessories and figurines (sold separately)."
Daisy Table and Chairs
Fairy Picnic Table
"These two fairy friends have packed a healthy picnic lunch and are having the time of their lives."
Fairy Table For Two
Log Table & Bench
"This cute log table & bench is a great addition to your collection of adorable fairy furniture and accoutrement. It has a very interesting and natural looking sculpt to it with two benches and a round table that even features the center rings of the tree from which it was made. Look closely, and you will see something else quite special. Curled up at the bottom of the table near one of the legs is a cute little rabbit that's sure to please."
Mini Chair and Table
"A porcupine adorned easy chair with a table attached, perfect for a mini drink or food."
Mini Leaf Table and Chairs Set
Mini Stone Table and Chairs Set
Mini Wooden Table and Chairs Set
Tic-Tac-Toe Bistro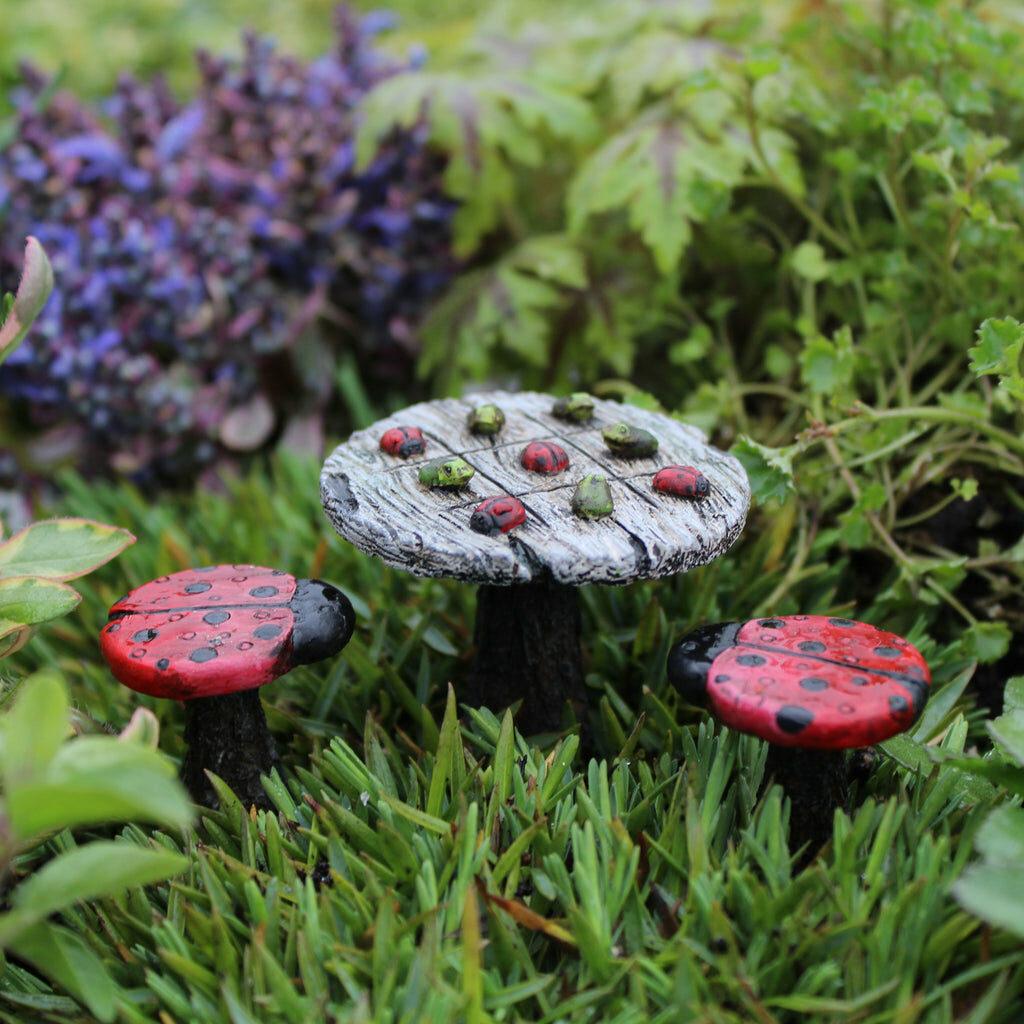 "Fairies and magical woodland critters enjoy their games just as much as everyone else does. They are certainly going to enjoy this great little Tic-Tac-Toe Bistro, which would look great sitting outside of a fairy house or anywhere else that you might want to put it. It includes two stools, which have been painted to look like ladybugs. It also has a table with a tic-tac-toe board, which uses red and green beetles rather than the typical X's and O's that you might expect."
Thank You for Reading About These Beautiful Fairy Garden Furniture Pieces!
Do you have any recommendations or feedback to add to the discussion? Then comment below! I answer every comment. You can also email me at randi@fairycirclegarden.com or send me a message through social media as well!
Did you like this article? Please share it on your favorite social media page using the buttons below! Please follow us on social media for more great content, you can use the links at the top right to follow us on Facebook, Twitter, Instagram, Pinterest and Gab. Please feel free to share your gardening questions, comments, creations, pictures, and videos there. We want to create the best community for gardeners anywhere and we need you to help us grow!
Thank you so much for taking the time to read my article and spend time on my website, I am so greatful for each and every one of you!
Wishing you all the best,
Randi