Best Gardening Boots for Women
The Complete Guide to the Best Gardening Boots for Women
It can be hard to find the best gardening boots for women because there are so many different brands, styles, and colors to choose from. Choosing the perfect women's gardening boots can be a difficult and time-consuming process, but don't worry! I've compiled a list of my favorite brands and styles that I think will work well for most people.
I truly hope that this review helps you find that perfect women's gardening boot that you have been searching for. Gardening is a great and healthy hobby but wearing the wrong footwear can turn it into a real pain. I would love to hear your thoughts and feedback so please feel free to comment below, I answer every comment!
I recently wrote about how and when to start gardening. However we decide to get started in this amazing and healthy hobby, a high quality pair of boots is a worthwhile investment.
Most of my top choices are from the Muck Boot Company. They offer free Shipping and free Returns for all footwear orders within the continental US within 30 days. Our other choices are from Sportsman's Guide, they offer free Shipping and free Returns for 90 days. If you have a favorite gardening boot you think deserves to be on the list, just email me at randi@fairycirclegarden.com to tell me why!
Best Gardening Boots for Women – A Comparison of Our Top Picks
Mid and Ankle-Height Women's Rubber Gardening Boots
If you are looking for gardening boots that are both fun and functional, these beautiful boots are my top choice! The Women's Muckster II MID is the best-selling, all-purpose shoe from the Muck Boot Company. With the same rubber outsole and waterproof membrane as their original Mucksters, these boots offer all day comfort for your gardening adventures. They feature high traction to maintain contact with wet surfaces.
Roll them down and they become a shoe! These boots are as versatile as they come, They will keep your feet dry and warm on those cool, wet mornings. Mucksters are famously known for their high quality and versatility, these are rated for subfreezing temps and feature odor and moisture control management as well. The best selling gardening boot now available in a Mid height, this is the classic Muckster boot that is well loved by many with a new twist and it is available in a ton of beautiful garden themed patterns and other colors pictured below! Just click on the color name or picture to learn more.
   

VEGGIE

                         

PURPLE
   

GREEN

                           

BLACK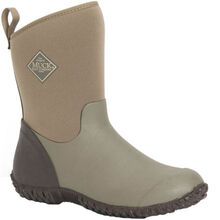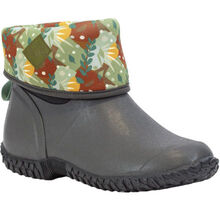 Say goodbye to worrying about your feet getting wet or cold! The next boot from the Muck Boot Company is a lace up style and is also waterproof, as well as being rated for below freezing temperatures! These boots can keep your feet cozy down to -65°F (-18°C). With the full neoprene booties, you're 100% guaranteed to stay dry and comfortable.
They're lined in soft, hand-laid rubber for a good fit and come with a memory foam insole for maximum comfort. They have an antimicrobial top cover that protects against odors and moisture so you can garden in these all day long. With easy on/off designs and durable outsoles with breasted heels, these shoes are perfect for your gardening lifestyle. They offer traction, style, and performance in any environment.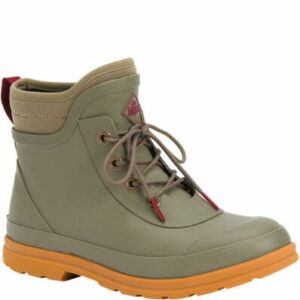 Women's Muck Originals Pull on MID
This is the final boot I am featuring from Muck boot and combines the extra height of the Muckster with the extreme cold resistance as well. Make your feet happy this winter with the Women's Originals Muck Pull On! Let the 100% waterproof, dual density footbed cushion your every step in memory foam. Stay comfy and dry with full-length neoprene booties wrapped in hand-laid rubber. Slip on and go in easy on/off style, the pull on design allows you to get your feet in and out of the boot with ease. This boot is perfect for many outdoor activities, so you can garden with confidence!
   

GREY

                                 

BLACK


The Legacy Waterproof Boots from XTRATUF are a step up from your standard rubber boots. The perfect boots for a rainy day, these Legacy waterproof boots keep you dry and comfortable no matter what the weather. They feature a slip-resistant rubber compound outsole that keeps you stable on slick surfaces. The seamless exterior prevents water from leaking in and the triple-dipped coating offers lasting durability. These boots triple-dipped for total protection and are resistant to organic and inorganic acids, chemicals, and contaminants. They also have a fold down collar to show off the fun multi-color print and cool off when you don't need the added coverage.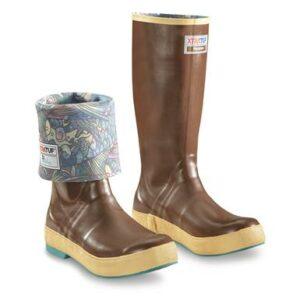 One of the most stylish waterproof boots for  women, you'll look fabulous sporting these boots with a stylish leather and flannel shaft. Kick off your winter gardening prep right with these waterproof insulated boots from "Kamik". With a Rubber(He) shell and outsole, you'll have traction even in snow and ice. The rubber shell gives it a duck boot style, and they are seam-sealed waterproof to keep snow and rain out while the moisture-wicking fleece lining keeps you warm in cold weather.
The insole has Cleansport NXT which eliminates odor-causing organic material while the fleece lining keeps you dry and comfy. It also has thinsulate Insulation that will keep you warm even if it's below zero degrees outside. Your feet will stay dry and comfortable with these boots!

Best Gardening Boots for Women Conclusion
Gardening is a great hobby for people of all ages. However, for some women, finding the right garden boot that will combine good looks with functionality can be difficult. We all know how it feels to wear uncomfortable shoes in the garden. Whether you are digging in the dirt or working on your flower beds, these boots can cause blisters and chaffing.
In this guide, we explored five high-quality options for female gardeners looking to find the perfect women's gardening boots. The list includes both work-specific and stylish fashion boots for garden wear and is designed to suit a variety of budgets and needs. Do you agree with these recommendations or have anything to add to the discussion? Let me know! I am looking forward to hearing from you about your favorite women's gardening boots!
Do you have any recommendations or feedback to add to the discussion? Please feel free to comment below! I answer every comment. You can also email me at randi@fairycirclegarden.com.
Did you like this article? Please share it on your favorite social media! For more great content please check out our other articles and follow our social media pages on Facebook, Instagram, Pinterest and more!
Gratefully,
Randi
Skip back to main navigation