Click and Grow Smart Garden Review
Have you been considering getting a Click & Grow Smart Garden system for indoor gardening? Traditionally I have only done gardening with soil so I was not really sure about this at first. This Click and Grow Smart Garden review is based on the model I have, The Smart Garden 9.
I think the coolest thing about this is that the plants pretty much grow on their own. I don't have to water them or fertilize them or even make sure they are in a lighted area. The plants grow a lot faster too!
As you can see, I ended up being very happy with this new addition to my indoor gardening ensemble. My model can grow 9 plants at a time however there is a smaller (3 plants) and bigger (much bigger!) models available. You can see all the models side by side here.
Click and Grow Smart Garden Review: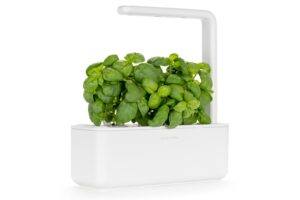 The Click and Grow Smart Garden 3 is perfect for the new gardener or countertop chef that wants some fresh herbs on occasion.
These small smart gardens are wonderful as an introduction to supervised educational lessons with kids on how plants grow. These are the smallest and most affordable Smart Gardens model.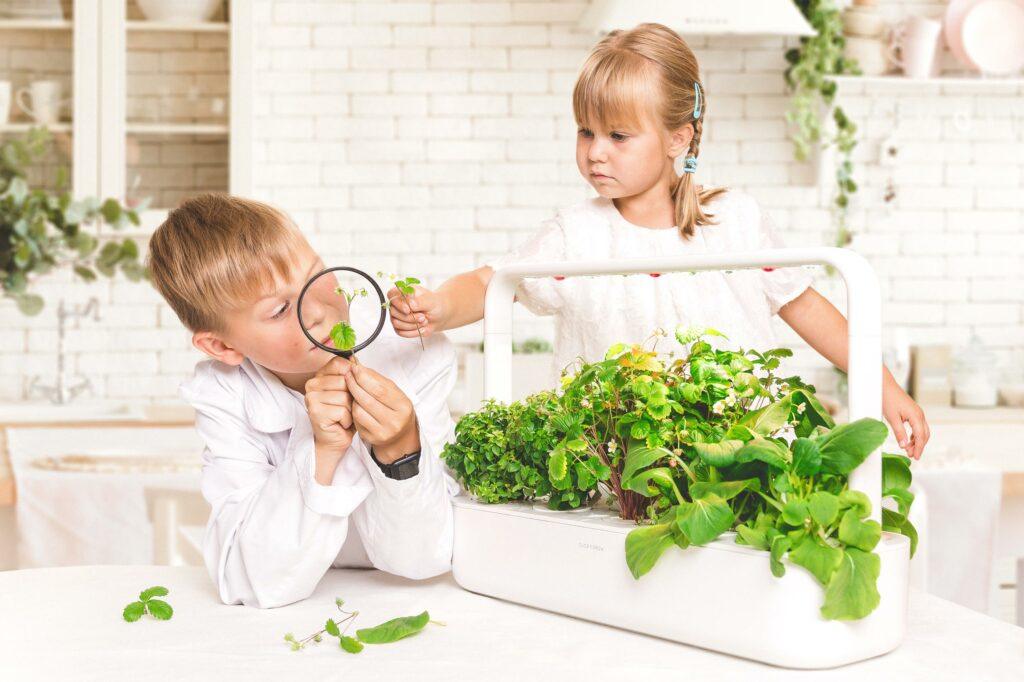 The Click and Grow Smart Garden 9  is just the right size for a small family that wants fresh fruit and veggies for their salads or pretty blooms no matter the time of year.  This is the model I have and there are pictures below of me taking it out of the box, setting it up and growing plants in it. Here is what it looks like right now on my counter, the fairies seem to like it! Do you? I have a many more pictures of the setup and first plants grown below.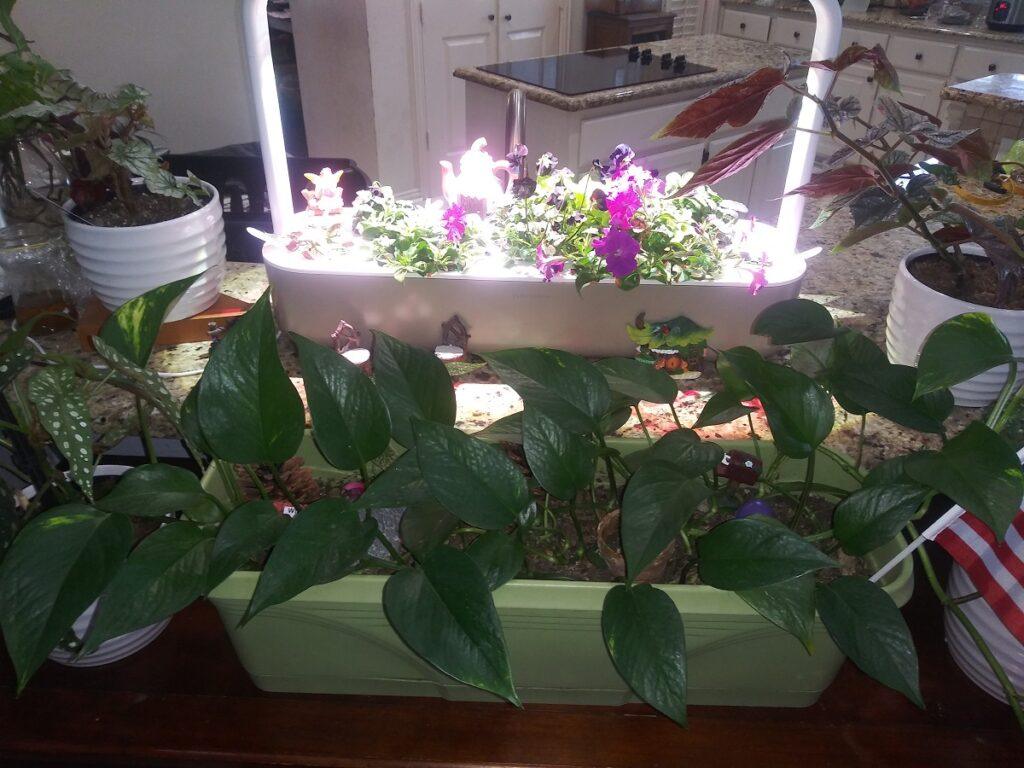 The Click and Grow Smart Garden 9 Pro is the same except that you can use an app to control the garden with Bluetooth from your phone.
That seems really cool but honestly I find the one I have works great and I have not ever missed not having an app to control it. That's why I recommend the cheaper model personally.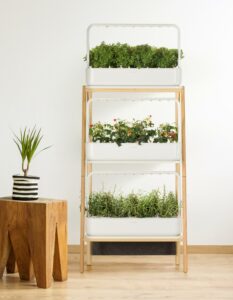 The Click and Grow Smart Garden 27 is a fantastic space saver that can provide an entire herb garden in a small space. The minimalist design makes for space saving sustainability in any size kitchen! Don't let small space keep you from getting the most out of the gifts from mother nature. Although I would really love to have one of these, the downside to this model is the higher cost compared to the others.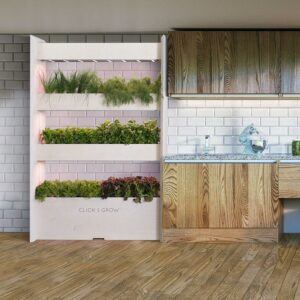 The Click and Grow Wall Farm is exactly what you're looking for to provide fresh fruits, veggie and herbs for the whole family year-round! With this essential kitchen addition, there will be a never ending supply of fresh salad greens and seasoning herbs. No matter which self-growing garden you are looking for, farm to table has never been more accessible for everyone! 

It's Not Just Fruits, Veggies, and Herbs!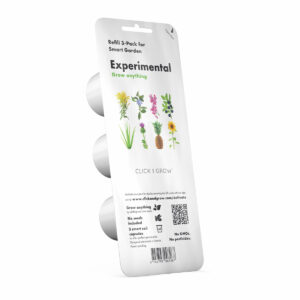 What if you're not culinarily inclined? The good news is that there is an ever-expanding selection of pre-seeded plant pods that provide a plethora of blooming and beautiful foliaged plants to catch your eye! Click and Grow also provides the option for what they call, "experimental seed pods" that are ready for you to put whatever seed you want to try! As technology continues to advance, the capabilities of indoor gardening continue to advance!
My Click and Grow Garden Review Experience
My personal preference for fairy gardens is to have living plants, preferably with some blooms, providing a peaceful place for our winged friends to visit. While doing this Click and Grow garden review, I discovered having fresh foliage is never a problem!  Changing up your fairy garden is easier than ever with the versatility that comes with having a fresh supply of healthy organic plants to choose from.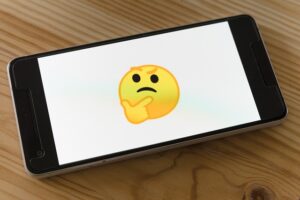 If you don't know how to plant a garden in your home, there is no need to worry.  If creativity and design is right up your alley for a fairy garden, but the actual gardening part seems to escape you, I've found just the thing for you!
I am so excited about my Click and Grow Smart Garden 9! I will be planting some beautiful flowers and foliage that will go perfectly in my next fairy garden project, and I will be able to successfully grow the entire garden while pulling a double shift of mom-duty as well as working overtime as a blogger-extraordinaire.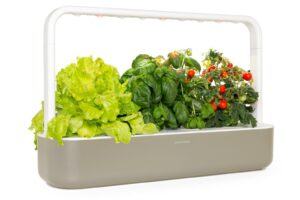 I am looking forward to sharing my progress with the new indoor garden with all of you as I get it in, un-box and set-up, and document the hands-off gardening approach that this system promotes.
Can I really grow plants all year?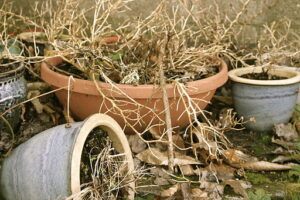 So what is a Click and Grow Smart Garden, and why do I care? Let me give you an example of how and why this self-gardening system is innovative.
It really is fun and a game changer for those who want to have a green thumb, but have more luck killing plants off than actually growing anything.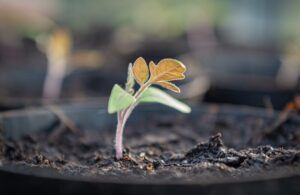 With it being mid-spring, the seasonal gardener in me knew that trying to get some tomato seeds planted in mid-April would lead to stringy seedlings.
They would never produce the kind of harvest they would had I started them on time, but not with Click and Grow. Technology, it seems, has provided an alternative to the cyclical and seasonal bounty of harvest time and made it nearly possible to be successful at growing plants year round!
Technology Meets your Backyard Garden!
Getting organic, non-GMO and pesticide-free fruits, veggies and herbs is no longer a matter of sore backs from spending hours weeding, pruning and tending the plants out in the yard.
With automatic timers for water, light and nutrients, Click and Grow allows you to grow traditional kitchen garden plants right there on your countertop!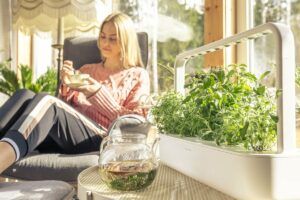 Even a room with inadequate light from a lack of windows won't stop Click and Grow from providing you with the freshest plants around!
Some models even have Bluetooth compatibility to provide you with even more control with even less direct interaction if you like!
Click and Grow Smart Garden Review Bottom line: The Benefits of Fresh Grown Plants With a Fraction of the Effort!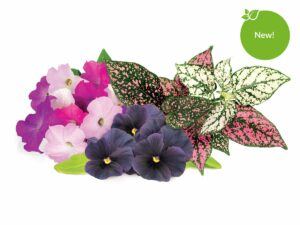 Are you are looking for an edible garden or one that is filled with beautiful blooms? You can rest assured that Click and Grow will get your indoor garden off to a running start!
You'll even get access to the companion app that helps you to become a plant expert with any of the Click and Grow plant varieties available!
My Click and Grow Smart Garden Review Pictures!
I received one of these as a gift from my awesome husband and am very happy with it over the past several months. I have used it to grow vegetables and flowers. It's great to be able to start the plants inside in a climate controlled environment before transplanting them outside once they are strong enough.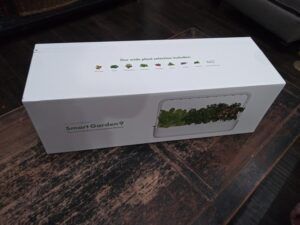 The best choice for our budget and inside space available was this model. We got the extenders for taller plants which came in very handy with the tomatoes!
Unfortunately I misplaced my pictures of the full grown tomatoes but they were tall… and delicious!
Unboxing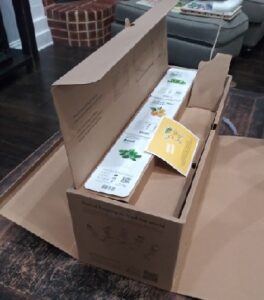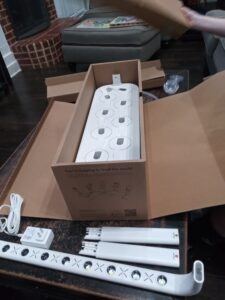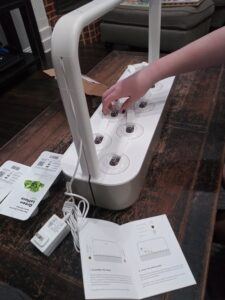 I was surprised how fast everything started growing. I spend a lot of time and energy out in the garden as well as taking care of the inside plants, it was nice to have one area that pretty much takes care of itself!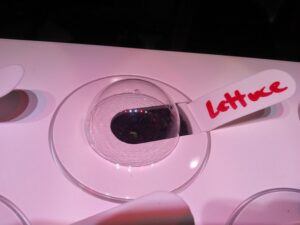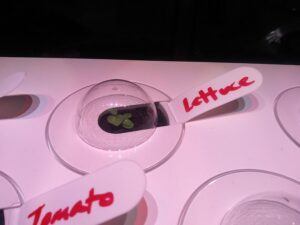 As you can see above, we started seeing sprouts the first day. Then you see the same plant just one day later, ready to reach for the sky! I ended up making delicious salads out of this crop.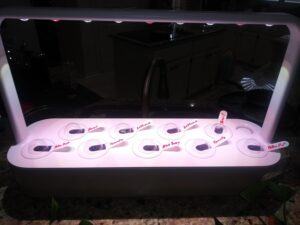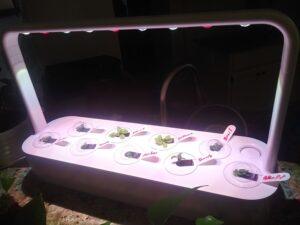 That lettuce was an overachiever but setting a great example for the other seedlings to follow. Just a few days later and 3 of the seedlings have already outgrown the protective covers. A day or two after this all the covers were removed.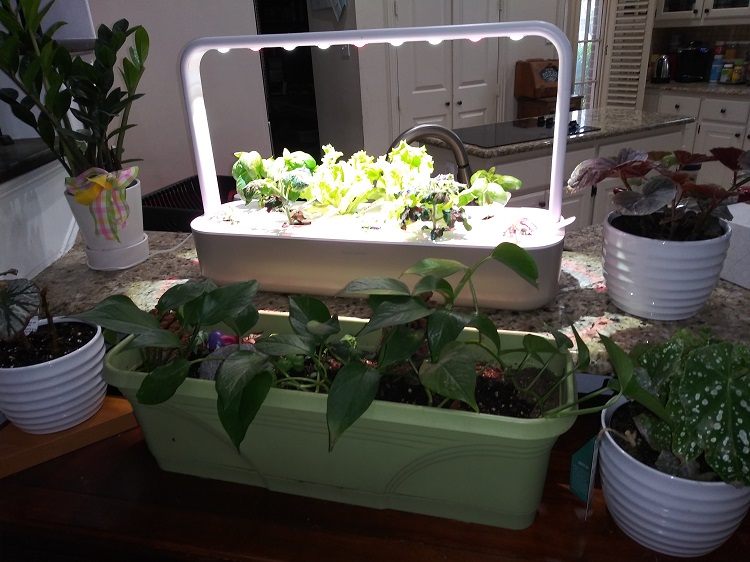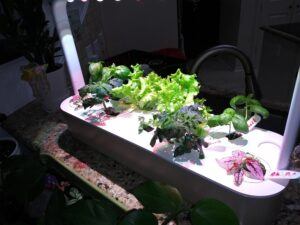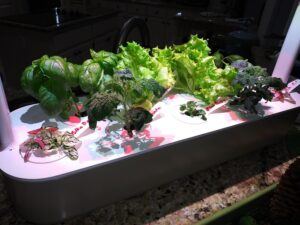 Ok so as you can see my husband definitely found the perfect present for me. I could literally post 100 pictures of plants I grew in it here! I will just throw in a few more of what I am growing right now. I plan to start posting these to our Facebook page so please check that out. If you ordered one I would love to see your pictures! You can send them to me at randi@fairycirclegarden.com.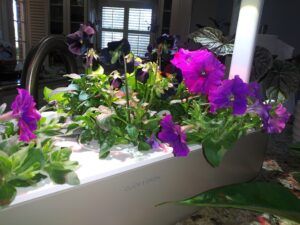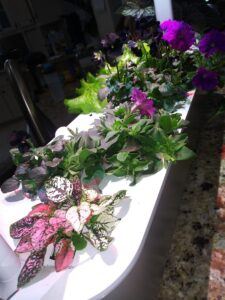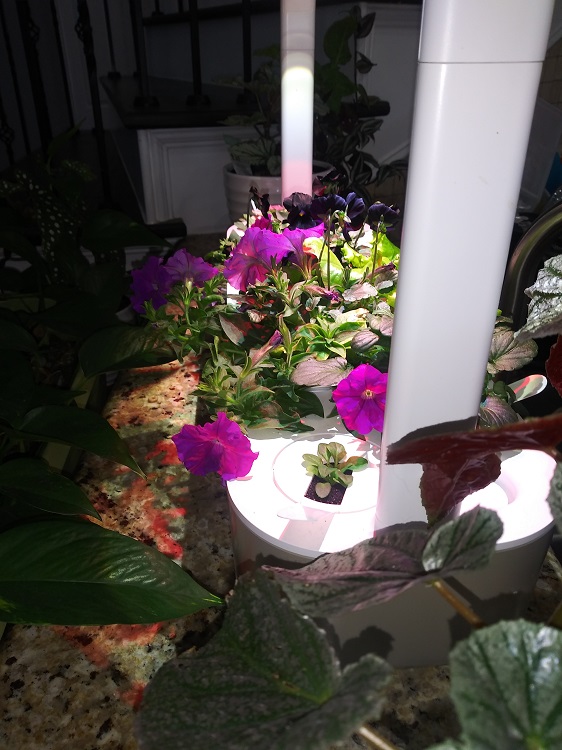 Click and Grow Smart Garden Review Conclusion
Did you like this article? Please share it on your preferred social media platform and help us grow!
Do you want to send me any stories or pictures of the start (and current picture) of your garden? Just email me at randi@fairycirclegarden.com
Do you have any questions, comments or tips to share with myself or the community? Leave a comment below and I'll get right back to you! You can also reach me on our Facebook and Twitter pages!
Gratefully yours,
Randi